Duration 23 Days

Trip Difficulty Strenuous

Travel Style Trekking

Destination Nepal
Transportation:

Private Vehicle / Bus

Meals:

Breakfast + Lunch + Dinner

Accommodation:

Hotel + Teahouses + Lodges

Maximum Altitude:

5160 mt.

Minimum Pax.:

2-15 Pax.
Show All
Show Less
Trip Highlights
High altitude trek to Larke Pass (5160 mt.).
Off the beaten path with verdant forest.
Deep gorges and colorful ancient monasteries along the way
Magnificent view of the Himalayas including Ganesh Himal, Siringi Himal, Pangboche Peak, Mt Himalchuli and Mt Manaslu (8,163 mt.).
Animals and vegetation: from tropical to subtropical to Temperate to sub-alpine to alpine beyond the tree-line with forests, home of many animals including the black-face-white-fur Langoors, white-on-the-tail but brown-overall deer as well as the kalij pheasant
Passes through numerous villages the ones that are found in the Hilly and Mountainous areas of Nepal
About Trip
Manaslu and Tsum Valley Trekking journey combines all the thrills of the Manaslu Circuit Trek with the extraordinary Tsum Valley. This Manaslu and Tsum Valley Trekking will be an unforgettable trip of a lifetime in spectacular landscapes rich with culture and natural beauty.
Manaslu Circuit Trek is one of Nepal's most exciting trekking routes. The popularity of the route has been growing exponentially over the last few years primarily as an alternative to the neighboring Annapurna Circuit.
The gradual rise from a fertile river valley through lush hills allows for proper acclimatization to altitude on the way up to the highlands. Eventually, the scenic trails arrive at majestic mountain surroundings with up-close views of the surrounding Himalaya.
The remote Tsum Valley reaches a hidden corner of the Himalaya. The residents of this highland valley follow a traditional lifestyle with a Buddhist culture. Tsum Valley Trek was opened to tourist in 2008.  Manaslu and Tsum Valley Trekking journey takes trekkers off the beaten path and offers cultural interaction and insights that cannot be found on the busier and more commercialized routes. The path travels through the beautiful landscape that will be unforgettable.
The highland Manaslu and Tsum Valley are surrounded by the snowy Himalayan peaks including Sringi, Baudha, Him Chuli, and the Ganesh Himal Range and more. To the north of the valley is the border of Tibet. The residents in this area have cultural ties Tibet and their customs and traditions adhere to a Buddhist way of life in the tranquil hills. Along the trails are exquisite monasteries, mani prayer stones, and prayer flags and other icons of Buddhist faith.
The journey returns to the main Manaslu Circuit Trek with its showpiece mountain, twin-peaked Manaslu (8156 mt, 26,758 ft). Manaslu stands out as the eighth highest peak on the planet. The feeling is otherworldly in this remote terrain. Eventually, the trail rises a mountain pass known as Larkya La (5160 mt, 17,200 ft), the highest elevation of the circuit.
Manaslu and Tsum Valley Trekking is ideal for trekkers looking for a thrilling adventure in a relatively unexplored area of the Himalaya with much of the same benefits of natural beauty, biodiversity and cultural richness as the more popular areas but with fewer of the crowds.
There is a lot to explore in the Manaslu and Tsum Valley area and it can be easily combined with the adventurous Ganesh Himal Trek and the Ruby Valley Trek as well as the classic Annapurna Circuit and more including Nar and Phu villages and beyond. Please let us know if you have the time and interest and would like to extend your journey to this region and beyond. We look forward to guiding you to all of its highlights.
Please Note: Our Manaslu and Tsum Valley Trekking has set departure dates from both Pokhara and Kathmandu and this trek can be personalized to accommodate your specific wishes and timetable. 
Outline Itinerary
Day 01Arrival at Kathmandu airport and transfer to hotel. Overnight at hotel.
Day 02Trip preparation day (Sightseeing optional ) . Overnight at hotel.
Day 03Drive from Kathmandu to Arughat (570 mt.) and further drive to Sotikhola. Driving 8-9 hours. Overnight at guest house.
Day 04Soti Khola to Machha Khola (870 mt.). Walking 6 hours. Overnight at guest house.
Day 05Machha Khola to Jagat (1340 mt.). Walking 6 hours. Overnight at guest house.
Day 06Jagat to Lokpa (2240 mt.). Walking 5-6 hours. Overnight at guest house.
Day 07Lokpa to Chumling (2386 mt.). Walking 5-6 hours. Overnight at guest house.
Day 08Chumling to Chhokang Paro ( 3030 mt.). Walking 5-6 hours. Overnight at guest house.
Day 09Chhokang Paro to Chhule/Nile (3360 mt.). Walking 5-6 hours. Overnight at guest house.
Day 10Chhule/Nile to Mu Gompa (3700 mt.) or Nunnery Gompa. Walking 3-4 hours. Overnight at guest house.
Day 11Mu Gompa to Chhokang Paro. Walking 7 hours. Overnight at guest house.
Day 12Chhokang Paro to Chumling. Walking 5 hours. Overnight at guest house.
Day 13Chumling to Deng (1860 mt.) . Walking 6 hours. Overnight at guest house.
Day 14Deng to Namrung (2250 mt.). Walking 6-7 hours. Overnight at guest house.
Day 15Namrung to Sama Gaun (3450 mt.). Walking 6 hours. Overnight at guest house.
Day 16Acclimatization day at Sama Gaun. Overnight at guest house.
Day 17Sama Gaun to Samdo (3780 mt.). Walking 3-4 hours. Overnight at guest house.
Day 18Samdo to Dharmasala (4460 mt.). Walking 3-4 hours. Overnight at guest house.
Day 19Dharmasala to Bimtang (3630 mt.) via Larkya-La pass (5135 mt.). Walking 7-8 hours. Overnight at guest house.
Day 20Bimtang to Tilje (2240 mt.). Walking 5-6 hours. Overnight at guest house.
Day 21Tilje to Dharapani (1430 mt.) and drive to Besisahar. Walking 2-3 hours and driving 4-5 hours. Overnight at guest house.
Day 22Drive back to Kathmandu by bus. Driving 5-6 hours. Overnight at hotel.
Day 23Transfer to airport for your final departure from Nepal.
Cost Includes
Pick up & Transfer to and from Tribhuvan International Airport (TIA) to your hotel in Kathmandu.
Three nights accommodation at 2/3 star hotel in Kathmandu (breakfasts included).
Transportation to and from trek starting point.
Tea-house lodging during the journey.
Standard Meals during the journey (breakfast, lunch, dinner).
Expert Guide (registered and licensed by the government) with accompanying porters (generally, one porter for every two clients). (High Camp Adventure covers the staffs' meals and accommodations as well as wages, transport, insurance, and essential gear.)
Equipment (Sleeping bag, Down jacket, Walking poles).
Conservation Area and National Park entry fees.
Trekker's Information Management System (TIMS) card.
Trekking Map.
Medical kit.
Government taxes.
Our service charge.
Farewell Dinner in Kathmandu the eve of your international departure.
Cost Excludes
International plane ticket to and from Nepal.
Major meals in Kathmandu (other than breakfast).
Personal Expenses including laundry, telephone calls, bar bills, drinks, and snacks.
Personal clothing and gear.
Travel Insurance.
Shower fees at lodges, fees for recharging electronic equipment, and personal expenses along the trail.
Tips for Guides, Porters and Staff.
Expenses incurred by cancellation and events beyond our control, for example, weather delays, trail detours, political unrest, illness, and et cetera.
Departure Note : Please take a look at our fixed departure dates for this Manaslu and Tsum Valley Trek. If they do not fit with your schedule, then please let us arrange an itinerary that is more suitable to you and your requirements.
Trip Map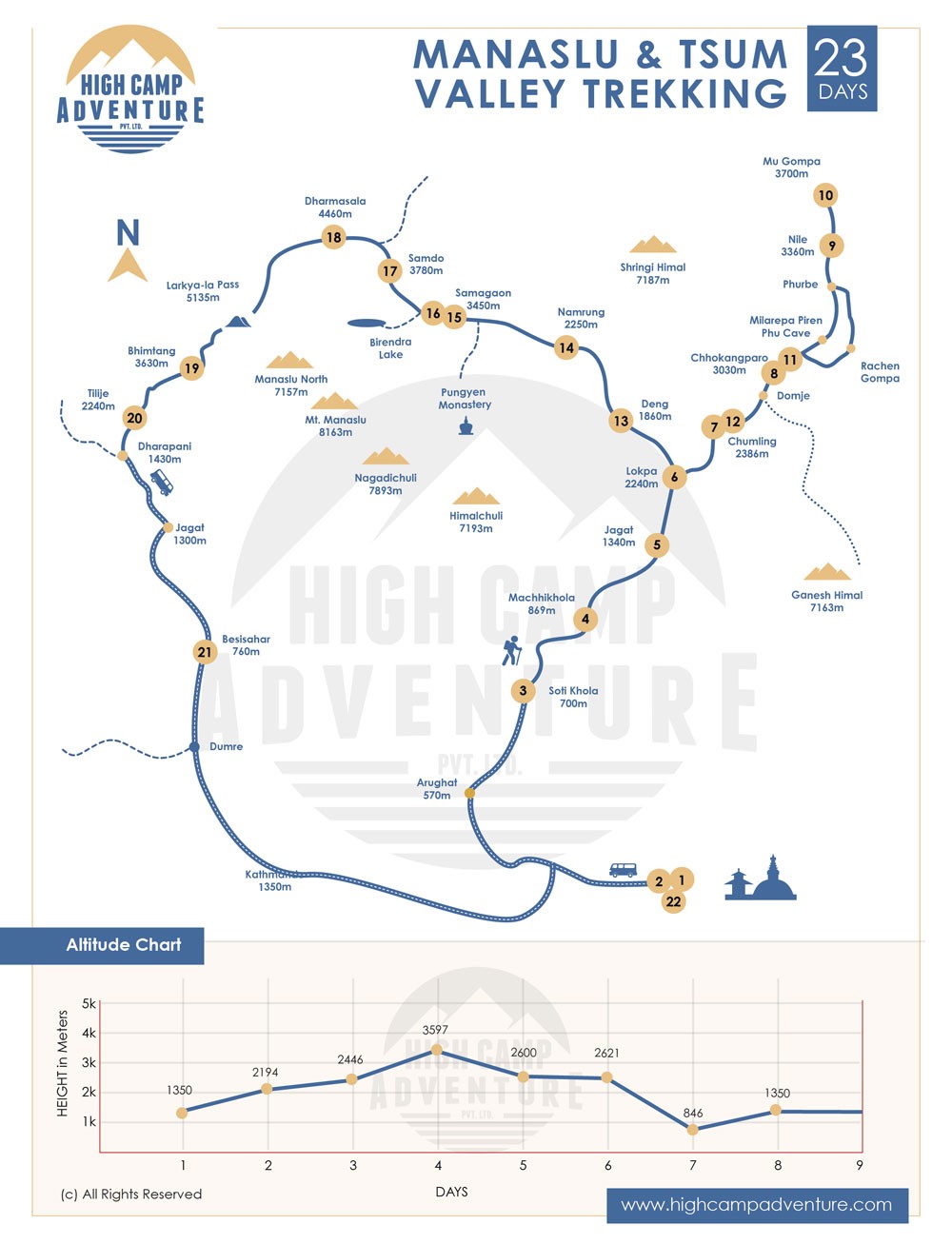 MAP DETAILS
Usefull Note
Accommodation
All the accommodation as per the itinerary is included in the package cost. We have chosen the 2/3 star hotel in the cities for your comfort and safety. The hotels can be upgraded to more deluxe ones upon your request. While trekking in the Mountain, our guides will choose the best available lodge of the village from their past experience. As some villages have limited number of lodges, in a peak season like in Spring and Autumn, you may have to share the room with some stranger trekker as well. Comfortable two men tent with mattress and four seasons sleeping bag will be provided for the camping trek. Our crew will try to set the camp in a scenic place. All the hotel and camping accommodations are as per twin sharing basis unless you are of different gender.
Meals
Nepal is such an easy place to get several vegetarian options so no worries if you are a vegetarian or vegan. You can enjoy typical Nepali food as well as continental, Italian, Indian and Tibetan. Freshly cooked and hygienic dinner and breakfast are served at the camp and lunch will be served on the way to the next destination which will be prepared by our own chef. Only breakfast is served in Kathmandu whilst farewell dinner on the eve of your international departure is served from our side. All the meals (B/L/D) are on full board basis during the trek.
Trekking Crew
An experienced and licensed Guide and necessary porters will assist you during the trek. In a group with more than 8 clients, 2 guides will be provided for the betterment in service. In a teahouse trek, generally, one porter is provided for every two clients who carry between 15 to 20 kg. However, on a camping journey, more porters are required. All the camping equipment such as kitchen, dining, dome and toilet tents, kitchen equipment, fuel, and all consumable goods has to be carried from Kathmandu which needs more manpower. All of our guides and porters are fully insured so you don't' have to worry about them in case of emergency. Our team believes that our customer care is the first priority.
Physical Fitness and Experience
Manaslu Circuit and Tsum Valley Trek is a strenuous trek which is fit for those who has the ability to walk 5-6 hours of walking up hill and downhill in a day carrying a personal day pack. Some days are longer with 7- 8 hours of walking as well. Manaslu Circuit and Tsum Valley Trek is high altitude trek which demands more physical, however having strong determination, positive vibe and average physical fitness can complete this trek. Some time mental aspect also plays the vital roll in an altitude. Doing some physical exercise few weeks prior to the trip is better but technical skill is not required for this trek. If you are taking medicine for heart, lung or blood diseases, please kindly consult your doctor and inform to High Camp Adventure.
Travel Insurance
This is a real adventure in high altitude so obtaining a travel insurance is always a good idea for your safety and is highly recommended too. Your travel insurance policy should cover helicopter evacuation and medical expenses in an emergency. There is not any Nepalese insurance company to sell travel insurance policy so you better buy the good one from home. There are some insurance policies which covers only in low altitude below 4000 mt. and some only in high altitude above 4000 mt. So before you purchase it, please double check the policy what it covers and where are you going.
Best Seasons
Spring (March to May) and Autumn (September to November) are the best months for Manaslu Circuit and Tsum Valley Trek. Where normally days are sunny, the temperature is perfect, the sky is clear and Mountain remains crystal. This trek can be done in Monsoon (June to August ) but you should not expect the great weather and Mountain view. You can do it in Winter (December to February) if you are used to with extreme cold temperature.
Ground Transportation
Highway in Nepal is safe, however, sometimes transport can be halted due to landslide, strike or by political unrest. Add a cushion of a few extra days in your onward travel schedule, advised as a margin of safety for your international flight from Nepal. We, therefore, advise that you schedule at least an extra days cushion in your itinerary to avoid conflicts with international flights out of Nepal. In that case, High camp Adventure can arrange activities with your additional days in Kathmandu before your flight home.