Langtang valley trek in 7 days is one of the shortest treks in Nepal. This trek to Langtang region takes you to the breathtaking view of Mt. Ganesh and Mt. Langtang along with the gorgeous glaciers.
It is known as the valley of glaciers and this trek to Langtang valley is one of the journeys of the wilderness into the lap of Himalayas. Such adventure makes it one of the wildest trekking in Nepal.
This valley is one of the closest places from Kathmandu valley and there you can get a mouthwatering view of snow-capped mountains and glaciers from Kyanjin Gompa. Langtang region trek is one of the very popular trekking regions for trekkers who wish for a short trek from Kathmandu.
This is the trek into the lives of locals of the Himalayas influenced by Tibetan lifestyle and mixed up with the Himalayan culture of Nepal. Moreover, along with the variety of national flower rhododendron, amazing bamboo forests, and splendid majestic waterfalls make it one of the most diverse and mesmerizing trek.
It is located to just 19 miles north of Kathmandu that's why you can reach beautiful Langtang after around 7 hours drive from Kathmandu. The valley nestles under Mt. Langtang (7246m) which looks sophisticated with the pine tree forest, huge rocks, and diverse vegetations.
In this trek, you get to walk inside Nepal's first national park, Langtang National Park which boarded Nepal with Tibet. On the trek, you get to walk to the lap of Langtang Lirung (7,245 m), the highest peak in the area. It looks like any Tibetan highlands with the very beautiful and tranquil scenery.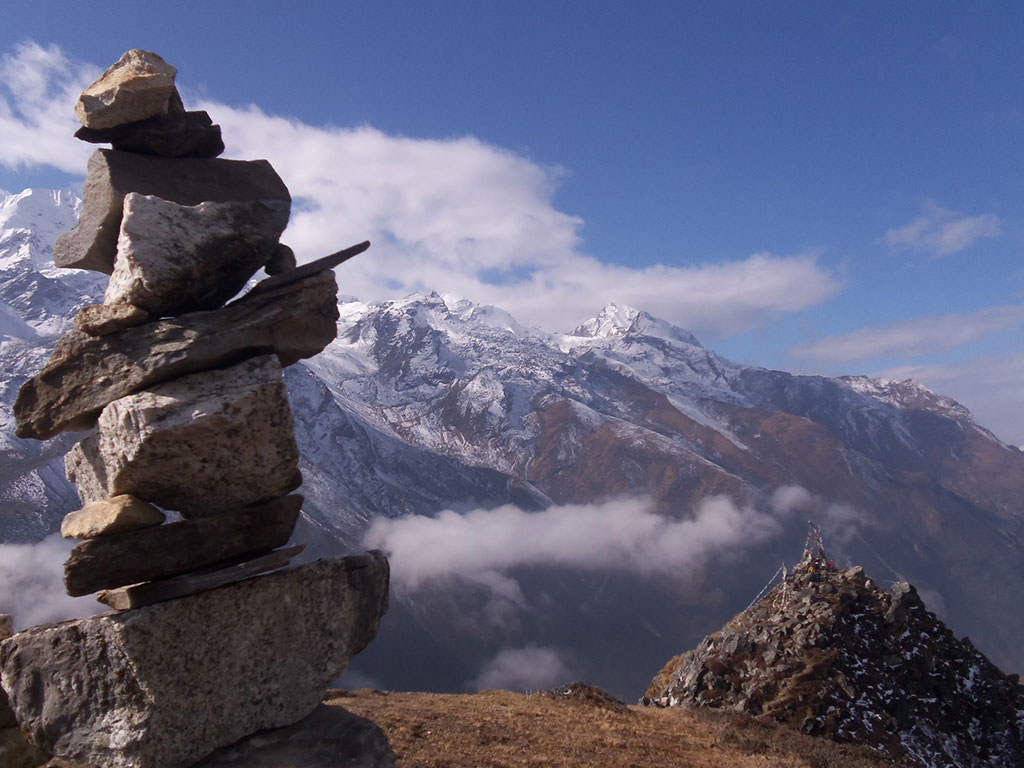 For this Langtang trek in 7 days, you start from Syabrubesi after a bumpy yet scenic drive from Kathmandu. You can see the forest of Rhododendrons and oaks when you pass through the natural and varied landscapes to reach the Langtang valley.
Once you reach to Langtang valley, you can feel warmer hospitality of prayer flag in the tracks, brightly painted chortens and Mani walls with the innocent smiles of yak herders.
In the Langtang valley, you can see a lot of attraction to makes you feel lucky to be there like Langtang Lirung, Langshisa, ganja la peaks. The Langtang region is Tibetan influenced area, therefore, you can see a lot of religious aspects during this cultural trek and, you will get some chance to see some ancient Buddhist monasteries over there.
You will be pass through the local villages where you get a good chance of short conversation with the local Tamang, Sherpa and Lama people who are known to be very friendly in that area.
This special short trekking to Langtang valley starts and concludes in the Kathmandu. This is one of the most beautiful and best trekking in Nepal because you can be closer to the glacier, alpine valley, and grazing yaks in a very short period of time.
Best Time for Langtang Valley Trek in 7 Days
The trek to Langtang valley can be done throughout the year as this is among the easy and short treks near Kathmandu. But, the months of March, April, May (Spring) and September, October, November (Autumn) are among the best time for Langtang trek.
These months have the temperatures that are neither too hot nor too cold thus offering the bearable temperatures. Plus, even though it is a mountain trek the weather remains quite stable during these seasons. And you will catch the sharpest views of the mountains, landscapes, and the vegetations under the clearest skies.
Unlike the summer and winter, you do not have to walk on the slippery trails with fluctuating weather conditions. However, if you prepare well and be physically and mentally prepared for the trek then you can do the trek even in summer and winter.
If you are planning to trek Langtang Trek? Do not hesitate to contact us. We will help you to make your trip memorable.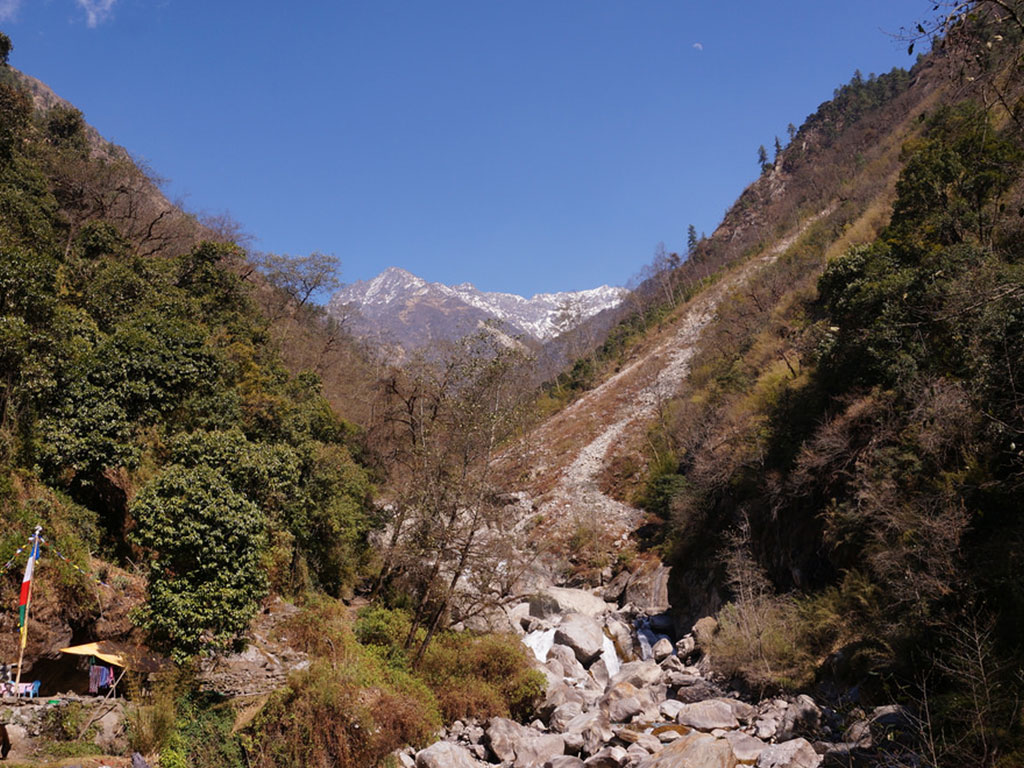 Detailed Itinerary of Langtang Valley Trek in 7 Days
Here's the detail of our 7 days itinerary which we have planned to help you collect the fondest of the memories in 7 days. But if you want to spend extra on the valley, or want to do side trips like Gosaikunda Trek or Helambu trek, or Langtang Helambu combined trek then we can help you plan the itinerary accordingly. For this, do drop your mail mentioning about your preferences and conveniences.
This itinerary is customizable. We are happy to plan any time as per your convenience.
Day 01: Kathmandu to Syabrubesi (1420 meters) by Bus. Driving 7-8 hours. Overnight at Guesthouse.
In the morning after breakfast, we will drive through the north-western area ie Kakani of Kathmandu. You will enjoy the view of the Himalayas and marvelous lifestyle along with the green and awesome fields, and Nepali traditional rural towns. You can enjoy lunch at the Trishuli Bazar before heading to Dhunche.
From Dhunche of Rasuwa district, you will drive forward to reach Syabrubesi- the actual trailhead. After this bumpy ride for approximately 7-8 hours, you can enjoy your overnight in the guest house/teahouse at Syabrubeshi.
Day 02: Syabrubesi to Lama Hotel (2340 meters). Walking 5-6 hours. Overnight at Guesthouse.
This is your first day of trekking so you need to be prepared to walk for 5-6 hour. During the walk, you can grab a chance to explore nature closely. You can see the Langtang Khola and walk through the thick woodlands forest. You can cross a few suspension bridges on the way.
You will see some tea houses on the trails for the lunch and rest. From Syabrubesi to Lama Hotel you will walk along the trail for approximately 5-6 hours. And at the end of the trek, you can rest at Lama Hotel in the tiny village Chongong (2400m) for overnight.
Day 03: Lama Hotel to Langtang village (3480 meters). Walking 5-6 hours. Overnight at Guesthouse.
After morning tea at Lama Hotel, you will start your second day of trekking and it is along the lush trees and exquisite pastures. At that times the trail becomes very sloppy but it is only for short distances. After some time, gradually the air becomes thinner and the climate colder.
Later on, you will be able to see the grand views of the Langtang Lirung. The sight of the stunning hills and nature have all kinds of painkiller to the pain of your body while walking. You can see the Langtang National Park's headquarters also.
Day 04: Langtang Village to Kyanjin Gompa (3870 meters). Walking 4 hours. Overnight at Guesthouse.
It is the trail of approximately 4 hours and you will reach the highest elevation of the trek ie 3870 meters. At high elevations, you can feel some thin mountainous cool air. So, for your safety, you need to walk slowly and maintain hydration.
Before reaching the Kanjin Gompa (3800M) you can cross several streams, you will see some better views of Yansa Tsenji (6580m) and Kimshun (6750m) to the north and the Mount Langtang to the northwest.
You can take a good rest at the guesthouse. And give your body time for relaxation despite the high altitude mountainous weather. You should feel relieved and healthy as much as possible for the next day.
Day 05: Kyanjin Gompa to Lama Hotel (2340 meters). Walking 6-7 hours. Overnight at Guesthouse.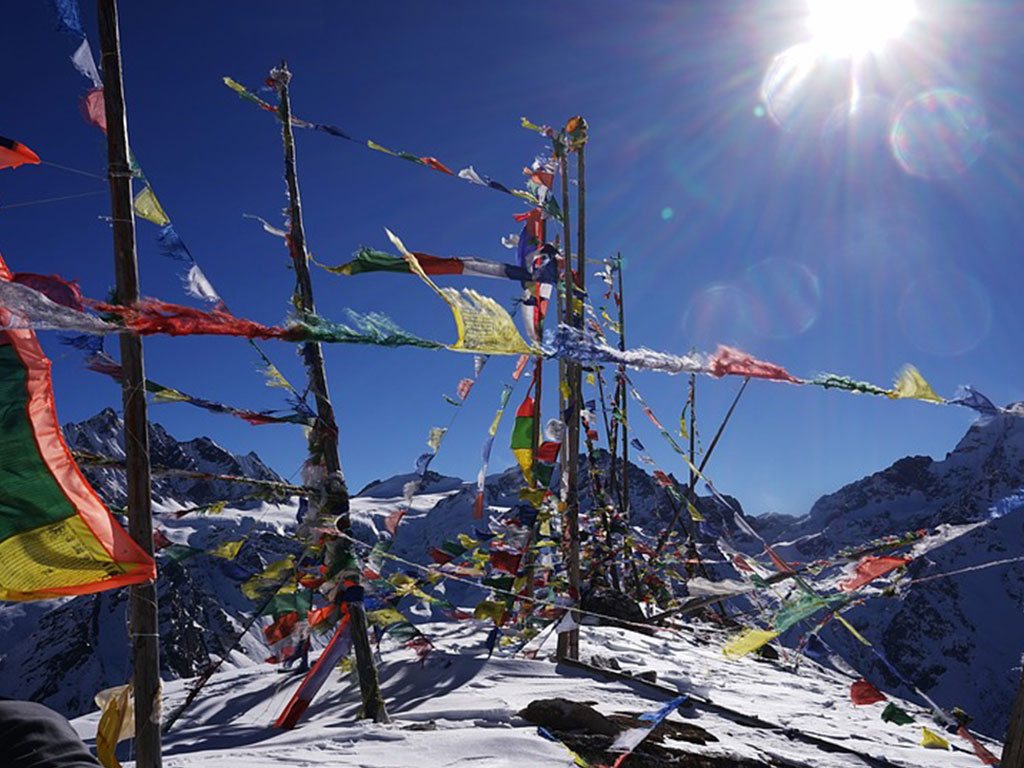 You have to return to the same trail to reach Lama Hotel which takes approximately 6-7 hours of walking, and it is basically the downhill. You can pass through some traditional Tamang settlement on the way. And, the valley with the great breathtaking scene of Langtang Lirung.
Later you will pass through a thick forest to reach the green meadow where you can see yak and some wild goats grazing. You will stay in the beautiful Langtang valley for the day and overnight at guesthouse.
If you are planning to trek Langtang Trek? Do not hesitate to contact us. We will help you to make your trip memorable.
Day 06: Lama Hotel to Syabrubesi via Sherpa Gaon. Walking 5-6 hours. Overnight at Guest House.
After breakfast, you will trek down to Syabrubesi from Lama Hotel which will take 5-6 hours. You can feel enjoyment while descending through the downhill trail full of splendid green vegetation. After arriving at Syabrubesi you can take your lunch because there will be enough time to take lunch. You will spend the night there.
Day 07: Drive back from Syabrubesi to Kathmandu by Bus. Overnight at the Hotel.
After finishing breakfast, you will drive back to Kathmandu. After arriving Kathmandu, you will check in to your hotel. You can spend the day at your own preferences and set up your plan for the evening.
You can take strolls around the streets of Thamel or you can relax at the spa. In the evening you will join our farewell dinner and share your trekking memories. Overnight in Kathmandu.
Things to Consider During Langtang Valley Trek in 7 days
Pack light and pack wise. Also, consider the weather and temperature of the valley before you pack for the trek.
You should come mentally prepared for the frequent weather changes and the possible trek delays.
If you are trekking in peak season, do not forget to pre-book the room and food. Because the teahouses get packed easily.
Carry enough hand cash because you do not find ATMs on the trails.
Maintain hydration and walk gradually to avoid symptoms of altitude sickness.
If you are trekking in summer do not forget to pack insect repellents, or table salts to prevent leech bites.
Expect the basic services regarding the food and rooms while on the trek as this is the remote area.
If you wish to trek in solitude choose off-seasons as you will find the least number of trekker during the time.
Lastly,
Langtang valley trek in 7 days gives to time to explore the hidden beauties of the Langtang valley. In this easy trek, you can go solo or in groups as per your preference. And if you pack wisely, trekking in this region will be much fun.
For more info on this trek, contact us.