Everest Base Camp trek is the most popular trek in Nepal. Around 30 thousand trekkers from around the world visit Everest Base Camp in a year. The enchanting glimpse of Everest, the roof of the world is a major highlight of this Everest Base Camp trek.
Walking to the base of the soaring Everest isn't so easy. Many types of Everest Base Camp difficulty comes along with the adventures of this trek.
However, trekkers of all ages and sizes are found doing the trek. It only needs good preparation and a strong ambition to overcome the EBC trek difficulties.
Traversing the remote villages at very high altitudes is a unique experience in itself. Far away from the loud and busy life in cities, the trek is serene, soothing, and refreshing.
Everest Base Camp trek does not include any technical climbings. With basic physical fitness and strong determination, the trek isn't so hard. However, this does not mean the trek is easy.
There are various factors that determine the difficulty level of your trek. Altitude, length, training, trekking gears, time of trek are few factors that add or reduce to the trek difficulty.
Take into account the affecting factors, and the trek shall be easier. Prepare the EBC trek wisely and your journey is going to be splendid!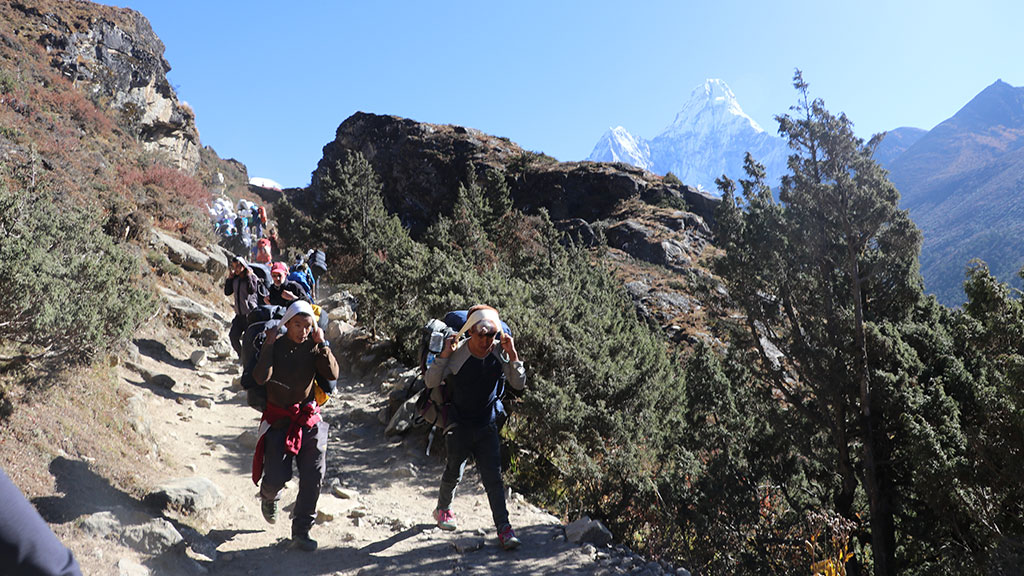 Altitude Variations in the Everest Base Camp Trek
The high altitude profile is one of the most challenging things about the EBC trek. Altitude makes EBC trekmore difficult than an average altitude trek of the same length. If the EBC was a low altitude trek, it would have been a basic trek with lesser trek difficulties.
You might hear about Himalayan Sherpas who are fond of scaling Everest several times. But you cannot compare to them. They are already adapted to the high altitude Himalayas since birth.
Higher the altitude, more variable is the weather and climate. If you are new to the Himalayas, you might have difficulties in adjusting to the climatic conditions at the Everest Base Camp. Be more careful!
The trip begins at Kathmandu with a short mountain flight to Lukla. Lukla itself sits at an altitude just below 3,000 meters. This attitude in itself is enough to inflame altitude sickness.
The trekking route now leads you towards Namche Bazaar, 3500 meters. You must get proper acclimatization at Namche. Spending a night or two at Namche is fine.
The trek route winds a steady climb up to the Everest Base Camp, 5,400 meters. The trek gains altitude gradually. Kala Patthar, the most popular viewpoint of Everest, is the highest point an altitude of 5,554 meters.
This attitude sickness isn't something regular. Even the Himalayan Sherpas are prone to altitude sickness at such a height. Altitude sickness is the most common difficulty faced by many trekkers.
Altitude Sickness
Altitude sickness is a collective syndrome that a trekker can see while trekking above 3000 meters. Everest Base Camp trek is a high altitude trek having a starting altitude of 3000 meters itself at (Lukla).
Trek to Kala Patthar 5545 meters is where you must be extra careful. The altitude is challenging and another difficulty during your Everest Base Camp trek.
The early symptoms of altitude sickness include a headache, nausea, difficulty in breathing etc. Also, you could get chronic symptoms afterward. They include hallucinations, running out of breath during walks, inability to walk in a straight line etc.
Some Tips to Deal with Altitude Sickness
Watch out for the symptoms. Do not take them lightly or try to avoid them. Get to the lower altitude immediately. Take some rest and seek some medical help.
The key to reducing the risk of altitude sickness is to acclimatize properly. Go slow maintaining your own pace of the walk. Don't try to overdo fast walks at sharp altitude points (even though you feel energized).
Everyone is potentially at risk of altitude sickness during the EBC trek. So, seek professional medical advice before trekking. Be aware of the symptoms and its treatments.
Trekking in a group is a great decision. Traveling in a group is slower than individual treks. Also, you will have your group to help when you need them.
Take proper acclimatization. The more time you spare for it, your body gets a better adjustment to the Everest region.
If you are planning to trek Everest Base Camp in February and need help, do not hesitate to contact us. We will help you to make your trip memorable.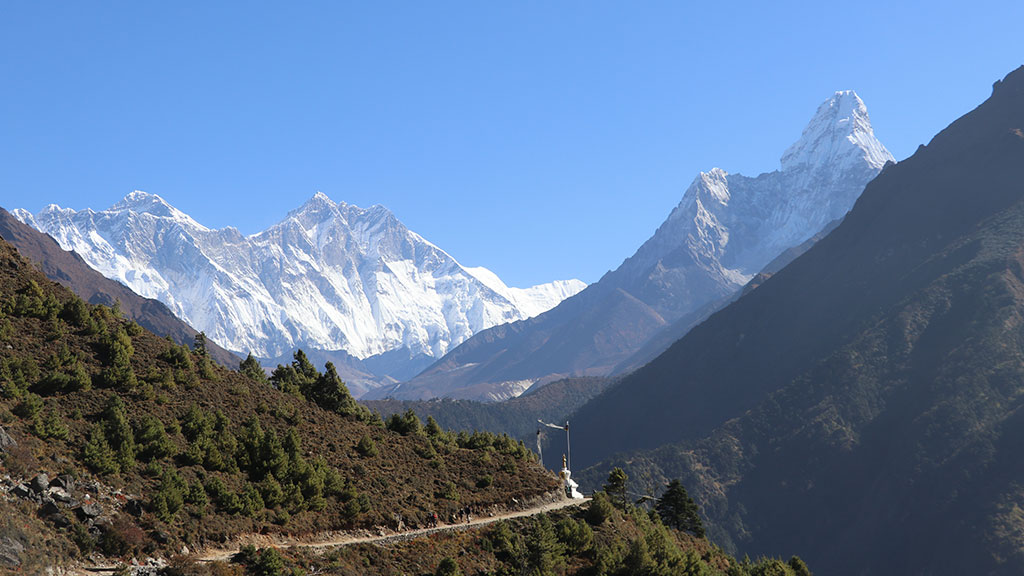 Length of the Everest Base Camp Trek
The total length of EBC trek from Kathmandu is 203 km. But this isn't the official trekking distance. You will cover 138 km distance in a Kathmandu- Lukla flight. This is a short flight of around 40 to 45 minutes.
The actual trekking distance from Lukla to Everest Base Camp is 65km. For 14 days itinerary, you must walk for 6 to 7 hours per day to cover the trek. The trek isn't so simple. You might have to take many detours along the trail.
Walking through steep, and rugged trails for hours is a challenging task in itself. The terrain is fairly slow going. Depending on the seasons of the trek, the trail could be more difficult and risky.
During monsoon, the paths are too wet and slippery. However, they are covered in snows during winter. The trek difficulty varies as the trekking season varies.
The remote trek into the wilderness is always hard. Thus, the trekking time can even double when the topography is harder.
Make sure not to over-exhaust yourself during the trek. Over exhaustion may pull you away from success. Proper rest and foods are absolutely necessary to cope with the challenge of walking into mountains.
The ascends and descends often for 6 to 7 hours trek is tiresome. But with appropriate training, you can absolutely undertake it. Also, make sure you rest often to prevent over-tiredness.
Season of Everest Base Camp Trek
Gearing up for the four different seasons is also a sort of challenge. EBC Weather and climate changes with changes in the seasons. Thus, gearing up also determines how difficult your Everest Base Camp trek will be.
The autumn and spring have quite stable and fair weather. However, trekking in monsoon and in winter is so difficult. You will need some special gears for monsoon and winter trekking to EBC.
In monsoon, you will encounter heavy downpours. You might experience accidental slips in wet trails.
For monsoon, you'll need rain cover and rain protection clothing. Also, you'll need trekking shoes with sturdy grips. Don't forget to include insect repellent to prevent insect bites.
Likewise, winter chills at EBC can be too cold for you to stand. Experiencing the cold winter mountains isn't less challenging.
The treks are more difficult in these months due to snowfalls. Due to heavy snowfall and snow storms. Some parts of the trek can remain closed too. Keep in mind! Look out for the weather in the region before you go.
Night temperatures in the Himalayas are always cold. So, for all seasons you need to pack warm gears for the night. Also, a good quality sleeping bag is a must.
Watch our Everest Base Camp trek packing list for detailed gears.
Unpredictable Weather and Flight delays during Everest Base Camp Trek
The flight delays at Lukla airport is a difficult and unpredictable thing during the EBC trek. The difficulty level of Everest Base Camp trek changes along with seasons in the region.
Sometimes, the climate can be too harsh. Sometimes, it can be mild even in non-trekking seasons. The weather is somehow predicted by the seasons.
The weather in the off-season remains unsuitable usually. The environment does not remain still favorable for the trek for long. Even the temperature range that may occur in a single day is surprising. There is a huge difference between the night and the daytime temperature.
Lukla Airport is a high altitude airport. Landing at and taking off from Lukla airport is technical and challenging. In cases of bad weather in the area, there can be flight delays or cancellations.
If the visibility is poor due to bad weather, the take off is not allowed. This usually happens in monsoon season. There are lots of delays and flight cancellations then.
If you are planning to trek Everest Base Camp in February and need help, do not hesitate to contact us. We will help you to make your trip memorable.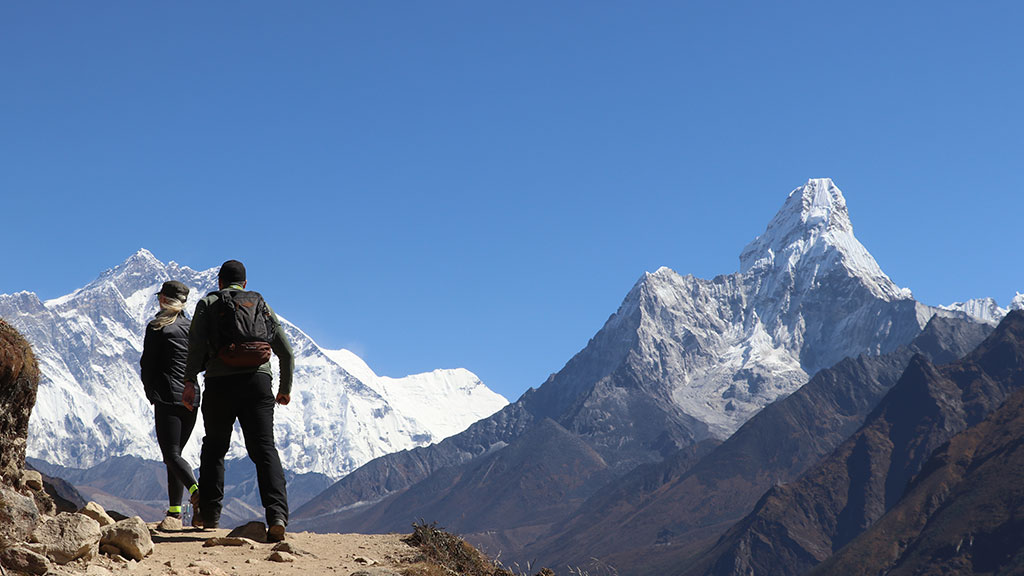 Training to Cope with the Everest Base Camp Trek Difficulty
Trekking to Everest Base Camp isn't so easy to approach. You must undergo numerous difficulties during the trek.
Everest Base Camp trek requires a certain level of fitness and training. A good level of fitness means a more enjoyable trek.
Don't worry! The training isn't so hard. After all, you aren't going for an Olympic athletics.
The trek is a remote trek into difficult places. The landscapes may be very new to you, and difficult too. Not just the walk is difficult, but also many things associated with trekking.
Carrying your luggage while trekking is a challenge in itself. If you are not hiring a porter, you will have to carry all your items with yourself. This certainly adds difficulty to the trek. But you can hire a porter to avoid the weight of your luggage while walking.
You have to have a certain level of physical fitness. Thus, you must build up your strength before you leave. Prepare for the 6 to 7 hours walk you'll have to do every day.
You need not hire a personal trainer or quit your day job for the training for this. Start your training 2 to 3 months before going on the actual trek.
Spare some time for jogging, gym, and longer hikes. These shall definitely help you prepare for the strenuous trek to the base camp of Everest.
You can start 2 to 3 weeks prior to the trek with a light jogging or running for about an hour every day. Make sure your thigh muscles are strong and tight.
After learning to run, run with some weight on your back. Upgrade the weight as you get used to it.
Do shoulder training as well. For that, you can go to the gym. Do push-ups and playing with the punch bags.
Aerobic exercises like jogging, sprinting and swimming will help your body to increase the ability to circulate oxygen. This comes in handy at the higher altitudes.
After all these pieces of training, you are good to go to the Everest Base Camp trek.
Final Say,
So, what do you think? Is Everest Base Camp trek really difficult? Throw your fears away! Nothing is difficult when you prepare your best to see every possible obstacle.
Also, it isn't a single factor that makes a trek difficult. So, take in a variety of factors and train for all them. Arrange everything properly.
Do not rush or hurry during preparations, and the trek shall be easier and rewarding.
For more details on this trek, contact us.