Everest Base Camp Trek in March is indeed a good feeling. Days are longer, warm and bright. The entire Everest region experiences spring by March.
March unveils the charm of the most romantic trekking season, the Spring. Nature awakens from her winter hibernation. The Himalayas looks more magical. The forests are glooming with sprouts of green grasses and buds of the wildflowers.
The lower elevations start to get warmer. The green hills unfold the blankets of snow to exhibit the most magnificent views. However, you can still enjoy the glamorous shapes of sugar-coated landscapes in early March.
The atmosphere tends to become more clear day today. So, the visibility gets better. Even the distant sights are clearly visible. You will see the Himalayan ranges standing tall touching the blue sky.
The temperature during March is more suitable for the trek. The base camp embraces the leftovers of winter in early March. It will still be cold up there. However, as you descend downwards, the Sherpa settlements at lower altitudes are much warmer.
As the time rolls onto late March, weather in the Everest region is more ideal. The fine weather is something that makes the trek relatively easier and more enjoyable. This makes March quite a busy time for the Everest Base Camp trek.
Prepare for your March trek to EBC with proper trekking gears and bubbling excitement. We assure you a safe and most satisfying trek.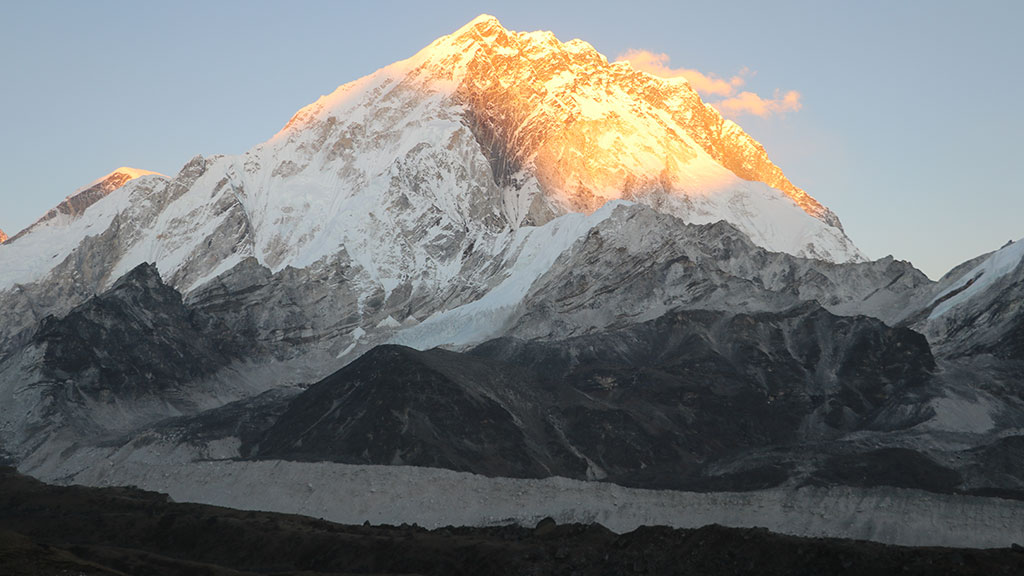 Main Attractions of the Everest Base Camp Trek in March
March is the beginning of the Spring. It's time for the frozen world to smile with warmer sunrays and Rhododendron buds. The Everest Base camp trek in March has uncountable highlights.
Here we have listed some of the major attractions of the EBC trek:
The short and thrilling flight to and from Lukla airport, one of the dangerous airports in the world.
Tour in and around the Sherpa capital, Namche Bazaar.
Floral and faunal diversity while walking through the Sagarmatha National Park. You might see the alpine wildlife including Musk Deer, Himalayan Thor, and Ghoral.
The holy Buddhist monastery at Tengboche. The sounds of chants and prayers are spirit awakening.
Khumbu Glacier and Icefall. Khumbu glacier is the largest glacier of Nepal.
The stable and pleasant weather condition during March makes the trek worthwhile. The enchanting mountain vistas along with the splendid trekking environment is boosting.
Kala Patthar; the most popular vantage point of Mt. Everest. From there, you'll see outstanding views of Everest and its neighboring peaks including Lhotse, Nuptse, Pumori, and Cho Oyu.
The unique ancient tradition and culture of the Himalayan Sherpas. The warm hospitality they serve is remarkable.
The Everest Base Camp itself. Standing at the base of the world's highest peak, Mt.Everest (8848 meters) is itself the biggest achievement.
The festival of colors in Nepal, Holi generally falls in March. Trekking to the base of the Everest while celebrating colors is a unique experience. Festival brings joys to Nepalese communities.
Weather and Temperature of Everest Base Camp Trek in March
Are you planning a trek to the Everest Base Camp trek in March? If yes, it is mandatory to know about the temperature and weather on the trek. The weather is dry. In early March, you might see snow or light rain for the arrival of spring.
The weathers at Himalayas are always changing. However, the weather and temperature generally remain stable during March. If bad weather hits you during your EBC trek in March, it's your bad luck.
The trek can be warmer during the day. However, the nights are colder, especially at higher altitudes. Bring some extra layers for cold nights. Include a down jacket and a sleeping bag of course!
Keep in mind! Build a strong mindset and prepare yourself for any kind of weather changes.
If you are planning to trek Everest Base Camp in February and need help, do not hesitate to contact us. We will help you to make your trip memorable.
Everest Base Camp Weather in March
March, beginning of spring, is the time when the Everest region experiences a wave of warmer weather. Though early March can be cold, but it is still warmer than the chilly winter temperatures.
The climate is dry and more stable. The daily wind speed in March averages around 15 km per hour. The moisture content in the air is also lesser. So, there are fewer chances of formation of clouds and so is of rainfall.
Days become longer as the time progress towards late March. The weather is also affected by the altitude. You might see occasional snow falls at the base camp in early March.
During March, the expected sunshine hours per day averages to about 7 hours. This means your trek is going to be more exciting with unobstructed views.
You will see all the plants, animals, and birds brisking back to life after a tough winter life. All in all, the favorable weather makes a perfect time for the trekkers to go on Everest Base Camp trek.
Everest Base Camp Temperature in March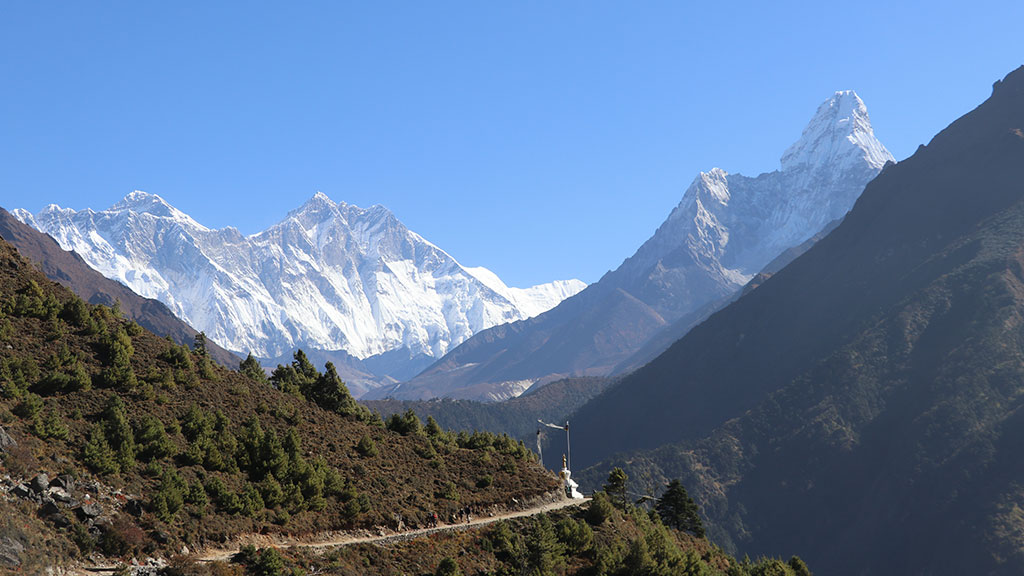 During your Everest Base camp trek in March, you will experience a great difference in the daytime and nighttime temperature.
Also, the variation of temperature is dependent on the altitude. Higher you ascend, lower will be the temperature. This means the base camp is always colder than the lower altitudes.
In early March, you will even see the leftovers of winter at the base camp. It can be snowy and the temperature will be less. But as time shifts towards late March, direct rays of the sun strike the base camp.
In the lower altitudes, the average daytime temperature is around 12 to 15-degree Celsius. However, the temperature can drop between 5 to - 10-degree Celsius during evenings and nights.
At higher elevations, daytime temperature marks a maximum up to 7/8 degree Celsius. Likewise, the temperature at nights can drop below to - 14-degree Celsius.
| | | | | |
| --- | --- | --- | --- | --- |
| Place | Altitude | Maximum Temperature | Average Temperature | Minimum Temperature |
| Lukla | 2829 meters | 12.7°C | 7.2°C | 7.2°C |
| Namche | 3463 meters | -3°C | -6°C | -10°C |
| Dingboche | 4483 meters | 4.7°C | -2.0°C | -10.5°C |
| Lobuche | 4910 meters | 2.1°C | -5.6°C | -13.3°C |
| Everest Base Camp | 5380 meters | 0.9°C | -6.8°C | -14.5°C |
Why Everest Base Camp Trek in March?
Spring is the second best season for trekking in the Everest region. And March is the first month of Spring.
You'll see the tiny sprouts of grasses and the delicate buddings growing in the trees. Walking past them while they are sharing their stories of victory over the dragged out winter. It's fun!
Here are some other reasons why you should choose to trek to the Everest Base Camp in March:
Dry Weather and Unobstructed Scenic Views
During March, the sky is tranquil. The weather is stable. There is very less chance of snow/ rainfall. The air is less humid. Thus, you can see the beautiful mountain sceneries so clear. Trust me, March is amongst the most pleasant times of the year for EBC trek.
Less Crowd than Autumn
March is the time when spring just begins. Though it is a much sorted time for trekking, it is less crowded in March than in Autumn. It is also less crowded than the other months of spring itself.
The Enchanting Rhododendron Forests
As the cycle of seasons outstretches to Spring, colorful Rhododendron petals start peeking out from their buds. You will see different species of Rhododendrons blossoms along your trek. The views of snow-clad peaks and hills full of greenery and colors are splendid.
Lower Rates of Flight Cancellation
The weather is most stable in March. So, the chances of Lukla flights cancellation due to bad weather is less. This means you shouldn't be worrying about having to spend more days there. (during bad weather mostly in monsoon and winter, flight gets delayed or even canceled)
Holi
March is when Nepalese people celebrate Holi, the festival of colors. Holi is a celebration of the arrival of the season of colors, Spring. To Hindus, Holi has a religious significance too.
Being in Nepal during the time of festivals is rejoicing. Everyone is cheerful at that time. They play with dry colors and colored water. You can also enjoy the festival.
If you are planning to trek Everest Base Camp in February and need help, do not hesitate to contact us. We will help you to make your trip memorable.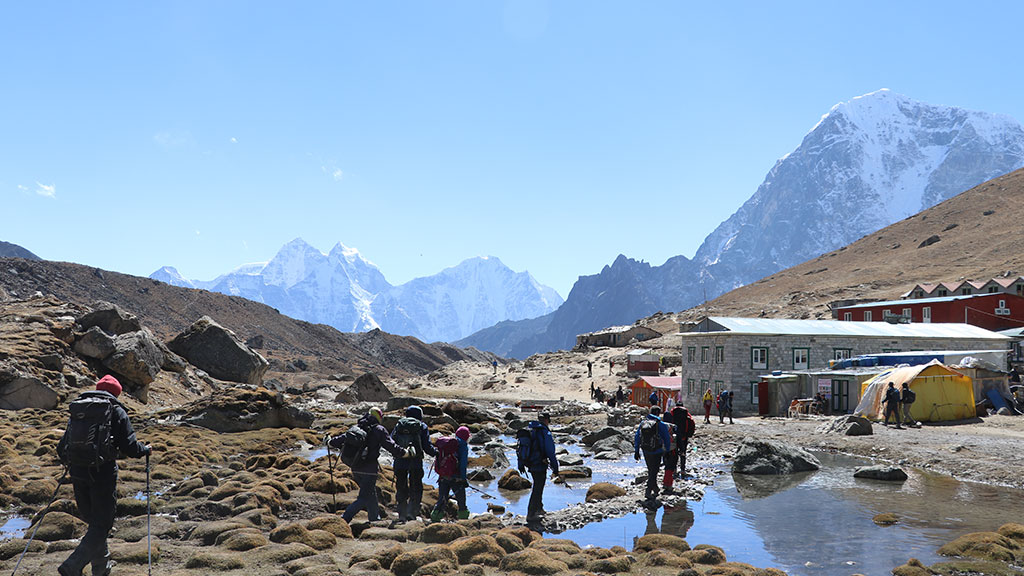 Tips for Trekking Everest Base Camp in March
Maintain your own pace while walking. Do not overdo yourself. Do not try to walk fast as a feeling of competitiveness with fellow trekkers.
March is the popular season for the trekkers. There can be a high inrush of tourists during late March. So, it will be wise that you book for the tea houses earlier during the trip.
Make proper acclimatization schedule. Trying to travel more distance towards the higher distances at once is silly. Since the EBC trek is a high altitude trek. So, by skipping the acclimatization schedule, you are adding the risk of altitude sickness in EBC trek.
Hydrate yourself from time to time. Your body dehydrates faster while you are trekking in higher altitudes. To prevent dehydration by drinking plenty of water. Make sure you are drinking clean and safe drinking water.
Carry your favorite snacks. Despite having three meals a day, you might feel low in energy sometimes. So, if you carry snacks, they will supply you energy during long walks. Carry some Granola bars, chocolates, and cheese. They are good sources of energy.
Help to keep the area clean. Try not to leave your empty water bottles and other trash after having snacks. They will not just pollute the environment but the drinking water sources too. You can take a trash bag to bring everything back while returning.
Everest Base Camp trek is not easy. The trek requires strong physical and mental stamina. So, you might require proper training and preparations prior to the trek. Do physical exercises and small hikes before going on the actual trek.
Hiring Porters and/or Guides for EBC trek can be helpful. During March there are few trekkers than in Autumn or other spring months. So, there can be chances of getting off track. Hiring guides or porters not just ensures your safety and reduces your load, but has other advantages too. They will help you book a teahouse for a stay. They will help you out of any kind of difficult situations.
Packing Lists for Everest Base Camp Trek in March
Sunglasses
Sunscreen lotions
Sun Hat and a Warm Cap
Face and body moisturizer
Lip Balm
Trekking Shoes and socks
Trekking Tops and Trousers
Trekking Poles
Thin Insulating Trekking Gloves
Down and Fleece Jackets
A good quality Sleeping Bag
Thermal Flask for warm water
A refillable water bottle and water purifying tablets
Personal Hygiene Kits like Toothpaste, Toothbrush, Shampoo, Sponge, Towels, Toilet paper, etc [include tampons or pads if you are menstruating]
Medical Kit and a general medicines for cold, diarrhea, etc.
Camera and accessories (Battery, tripod, memory cards)
Notebook and Pen (optional)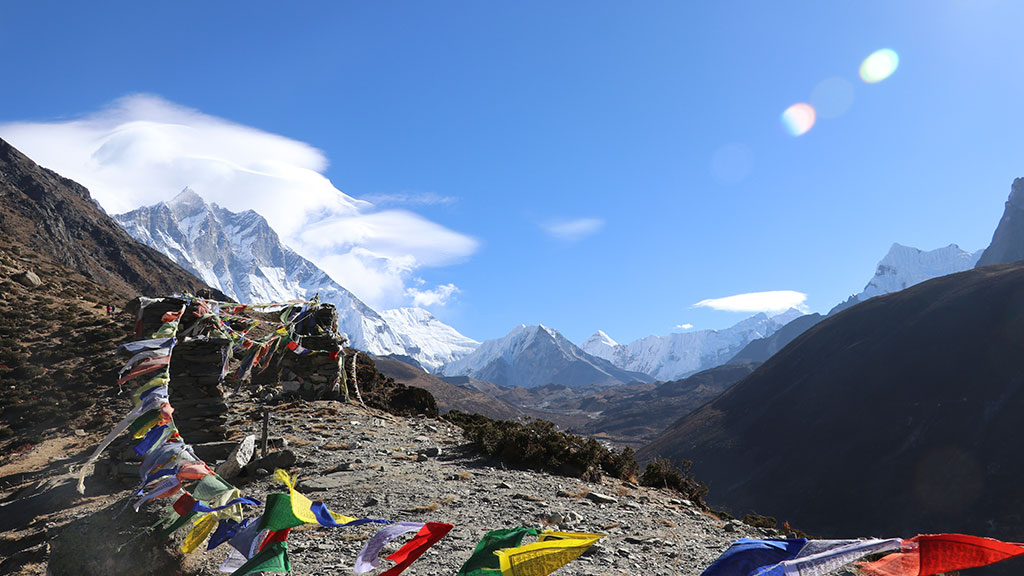 At Last,
Trekkers who have done EBC trek several times say that Everest Base Camp trek in March is an ideal one. The stable weather and climatic conditions enhance the beauty of the trek. Trust me! The towering mountains and the blue skies are waiting to exhibit their best to you.
So, have you decided if you want to do the Everest Base camp trek in March? If yes, start planning your trek, contact us.
All you need to do is to get ready for the trek. Pack your backpacks and fly to Nepal. We are here to take care of the rest. We assure you the best trek ever. Hope to see you soon!