The Everest Base Camp Trek is a trek into the remote areas of the Everest region. So, you must focus on the Everest Base Camp Trek Packing List before you go for this trek.
As the area is least developed it is hard to find the accessories that you might need during your Everest Base Camp trek. Thus, it is necessary that you carry all the essentials with you while going there.
Trekking into the Himalayas is never easy without a proper planning. The major challenge during Himalayan treks is the unpredictable weather conditions there.
Before going on the actual trek, you must be clear about when you are scheduling the trek. With respect to the time of trek, you must properly pack up things in your backpack. And prepare for EBC trek both physically as well as mentally.
In this article, we have tried to enlist the items of clothing and other accessories that you should carry with you. Hope it helps!
Some of the Must-Carry Documents during your EBC Trek
Your Passport
ACAP Permit
TIMs Card
A Trek Map
Travel Insurance Paper
Plenty of Nepali Rupees. It's hard to find ATM's along the trekking trail. Get enough money while you are at Kathmandu or in Pokhara.
Clothing for the Everest Base Camp Trek in Autumn and Spring
Although you are trekking to the base of the gigantic snow camp, you need not always keep wrapped inside a blanket of clothes. You might want to bring everything warm, but you shouldn't.
What you should bring depends utterly on the time of trek. If you plan the trek in winter, bring warmer clothes. You mustn't let the cold upset you anyways.
For the rainy season, you must pack up waterproof clothes. The evenings and nights after rainfall are very cold.
Packing for Spring (March to May) and Autumn (September to November) is quite easy as you do not have to pack heavy winter clothes nor the rain gears. With the common packing lists, you can join trek in this moderate temperatures during these peak trekking seasons of EBC trek.
Thus, you must not miss the few key items. And, you are done packing your clothes!
Here is a list of clothes that you should include in your packaging for the EBC trek in peak seasons.
A Fleece Jacket
An Outer Down Jacket
A pair of lightweight Trekking Pants
Trekking Shirts (Quantity: 4-5)
Comfortable Underwears (Quantity: 5-6)
Comfortable sports bra (for ladies)
Include the lightweight quick-dry fabrics and cotton fabrics. They are easy to carry and comfortable to wear.
For shirts, you can wear short sleeved or long sleeved ones. As you get to the higher elevations, it gets colder. Wear thermal undershirts as it gets colder.
Wear trekking trousers. It is even best if they are windproof. The underwear garments must be comfortable to prevent rashes and blisters.
If you are planning to trek Everest Base Camp in February and need help, do not hesitate to contact us. We will help you to make your trip memorable.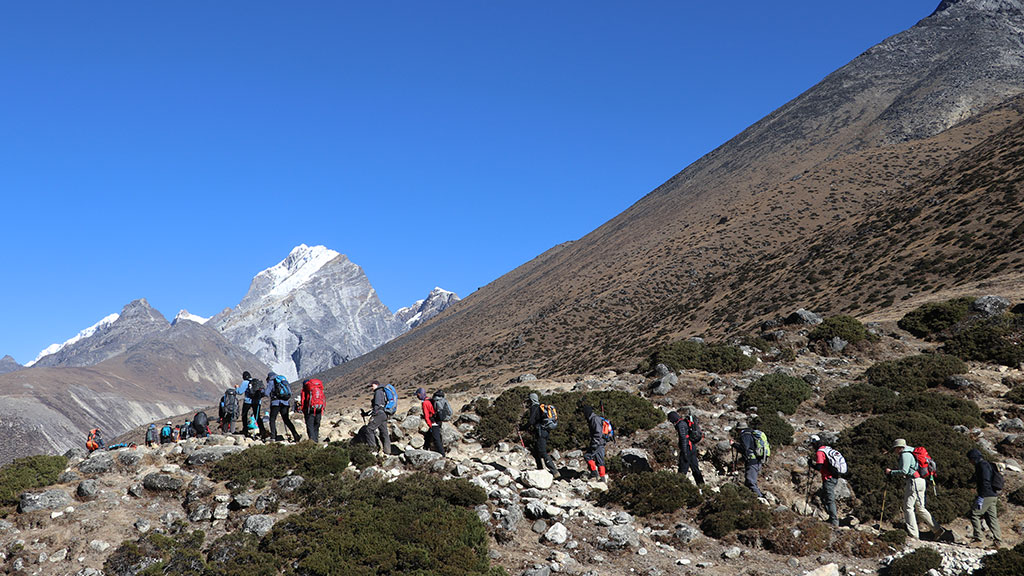 Weather Centric Accessories for Everest Base Camp trek
Monsoon Clothing
The time from June to August marks monsoon in Nepal. Walking over the wet and slippery trail, while fearing insects and bugs are the drawbacks of trekking in monsoon/ summer.
Here are some of the extra items you will need to carry during your monsoon/ summer trek:
Hiking shirts made of sweat absorbing material as the temperature is so hot
Hiking shirts
Rain gears for monsoon rains
Plastic cover or a waterproof backpack cover
Waterproof trekking shoes (with sturdy soles for monsoon)
Insect repellent/ table salt
Plastic bags to keep safe your important documents, cameras, and batteries
Winter Clothing
Everest region is extremely cold during winter. The region is covered in a white blanket of snow from December to February. You will need to have proper planning and trekking gears for your EBC trek in winter.
Here we have listed some of the gears that you must pack during your EBC trek in winter:
Thermal windproof jacket
Thermal trousers
Thermal innerwear (thermo coats are best)
Warm woolen socks and thermal gloves
Rain gears (during snowfall)
Woolen cap and Muffler
Snow-proof hiking boots
Trekking Footwear for Everest Base Camp Trek
Trekking to EBC means walking over the rugged Himalayan landscapes for many days. You cannot afford to suffer from lots of blisters on your feet by wearing a bad pair of shoes. Thus, wearing a good footwear is absolutely necessary.
A pair of Trekking Boots
It is obvious that you will want a high-quality comfortable boot for your trek. After buying/ renting your shoes, make sure you wear them on a few treks before going on the EBC trip.
For monsoon trek, choose the boot having sturdy soles.
A pair of Trekking Sandals
You will need sandals while in tea houses. After a long walk, on reaching your tea house, you will want to take off your trekking boots. Thus, carry a pair of comfortable sandals with you.
Trekking Socks
Quantity: 3 to 4 pairs
You must wear socks while wearing boots. Pack up the socks depending upon the season of the trek. You will need warmer socks for winter. However, lightweight breathable socks are good for summer.
You can also get leech socks for your monsoon trek.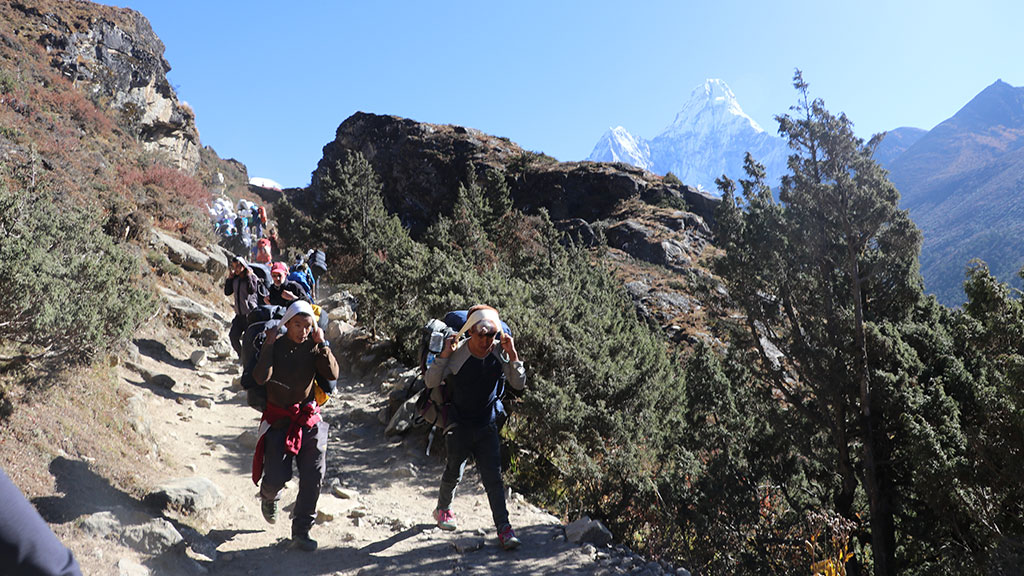 Everest Base Camp Trek First Aid Kit
Diamox, to prevent altitude sickness.
Painkillers
Cold medicines
Water Purification Tablets
Throat lozenges, for dry throats.
Electrolyte powder, to help during becoming sick and dehydrated.
Bandaids for blisters. Get plenty.
Moleskin for blisters
Athletic tape
Small Ace bandage
Antibiotic ointment for cuts or wounds, if you get any.
If you are planning to trek Everest Base Camp in February and need help, do not hesitate to contact us. We will help you to make your trip memorable.
Everest Base Camp Trek Toiletries
The list of toiletries that you might need on your EBC trek are as follows:
Toothbrush and toothpaste
Deodorant or body sprays
Wet wipes
Dental Floss (Optional)
Soap
Shampoo
Baby powder
Tampons or sanitary pads, if you are menstruating
Dry sheets
Toilet paper
A medium size quickly drying trekking Towel
Hand sanitizer
Face Wash
Bags for Everest Base Camp Trek
Backpack
You must have a comfortable backpack to fit in all your trekking gears. You will need a larger backpack around 50 liters if you are carrying your trekking gears by yourself.
Day Pack
Even if you are hiring a porter, you must carry a daypack. Carry all your travel essentials with you in your daypack. Choose a daypack that has enough compartments to keep all your essentials.
Waterproof Duffel Bag
For porters, get waterproof duffel bags. Most of the porter ask you to get them as they are easier to pile on for carrying. Whatever bag you get, make sure you have a rain cover for them.
Electronic Gadgets to Pack for Everest Base Camp Trek
You should not accumulate everything from your collections during the trek. But while trekking you need to pack a few electronic gadgets as well. The electronics below are what we carry. Feel free to adjust this list to your needs.
Camera with charger, extra batteries, and a tripod
Mobile phone: A Nepali SIM card is optional
Headphones
All charger cords, outlet plugs, and adapters
A power bank and an extra charger
Have you Packed Some Snacks for Your Everest Base Camp Trek?
You will have three meals a day during your EBC trek. However, the strenuous walks and long day treks can be tiring. In cases when you feel low in energy level, you can eat the snacks that you are carrying. They supply you energy for the trek.
Pick up the snacks earlier. It is better to bring snacks from your home if you are a foreigner. You can buy them at Kathmandu. But they cost more expensive here.
Here we have suggested some snacks that should be good for your EBC trek. However, it's again your pick. Get something that you love to eat and supplies you energy.
Granola bars: The granola bars are high in calories. It is nutritious, lightweight, and easy to carry. It is good to carry granola bars for hiking, or other outdoor activities.
Muesli mix: The muesli mix makes a good diet for a perfect breakfast. During days when you start earlier, it is more convenient. Also, you can save your money on breakfast. All you have to pay for is hot water.
Protein bars: Protein bars are nutrition bars. They are rich in high protein content. Trek isn't always perfect as scheduled. Some days, you might not reach your destinations on assumed times. There can be a delay in meals.
You might feel weak and low when you cannot get your meal on time. Your body might crave for some food and energy.
For such times, protein bars will serve your purpose. Also, they will fulfill the demand of a variety of nutrients in a meal.
Chocolate: Carry some chocolates. They are rich in sugar and carbohydrates. If you are fond of dark chocolates, take them. They are even better. They are not just loaded with nutrients, but can positively affect your health in high altitudes.
Instant coffee mix or tea: If you are a tea or coffee person, you can pack your own. Carrying them isn't so heavy. It will also save you money. All you need to buy is the boiling water.
Dried juice powder (your own flavor): You can carry your favorite flavor juice powder. Mix it with water in your bottle. Drink it from time to time. Drinking plenty of water is absolutely necessary to avoid altitude sickness during trek to Everest Base Camp.
You can even bring the fresh ginger/ ginger powder for a ginger tea. If you have an upset stomach, drinking it helps soothe your stomach.
Trail mix of dry fruits, almonds, cashews, raisins, and walnut: Carrying these helps you keep your mouth moving. Also, it is a good source of various nutrients. It supplies you sugars, proteins, vitamins, and vital minerals like potassium, magnesium, phosphorus, and iron.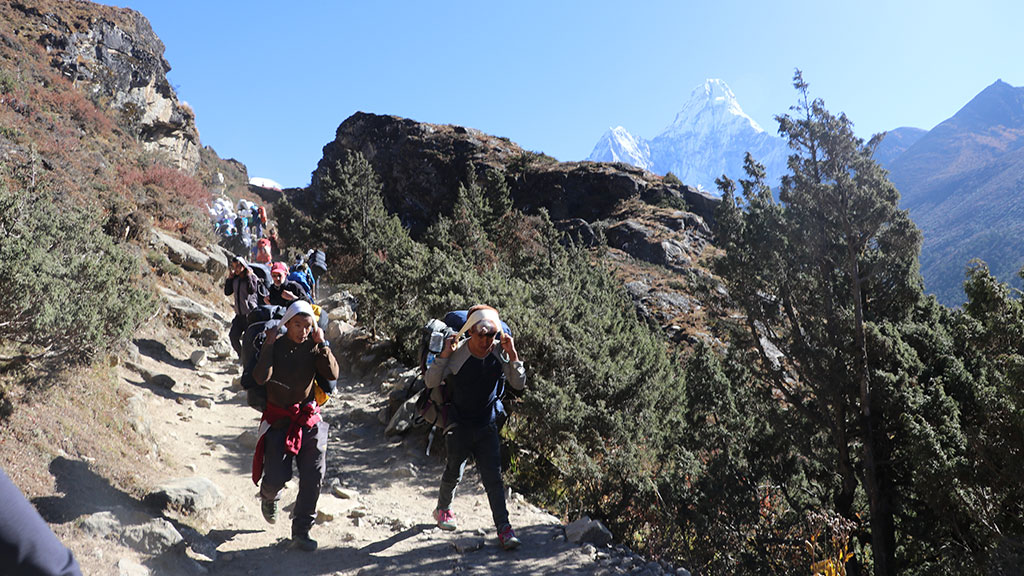 Some Tips while Packing for Everest Base Camp Trek
Whichever season you are trekking, do not forget to pack a four-season sleeping bag.
Carry along trekking poles. They are your real supporters while ascending or descending down the trails.
Choose lightweight and good quality clothing. Dress in layers.
Do not carry unnecessary items such as jewelry, laptop, Makeup kits, and hair accessories.
Carry small packs of shampoo, hand wash, and creams to lessen the weight in your luggage.
Carry plastic bags to prevent your documents, clothes and important items from getting moist.
Get extra batteries for your cameras as backups. You might not get to charge them in various places.
Conclusion,
During the trek, you will find bottled waters and snacks along the trek. However, they are much costlier there. So, better you carry all the essential gears with you.
Are you done packing up for your trek? Well, check the Everest Base Camp Trek packing list again. Make sure you don't miss the must-have accessories.
Do not forget to carry a refillable water bladder. Get a one or two liters water bottle.
Whichever season you are trekking the mountain weather may change frequently causing some inconveniences while trekking. So, you must come prepared for such unpredictable.
For more information on this trek, do drop us a mail.