Helambu is a beautiful trekking region inhabited by Tamang and Sherpa people. Though this trail is close to Kathmandu valley, the trek still is a less traveled route. The villages in Helambu are less influenced by modernity. Thus, this trek is a beautiful opportunity to surf through the typical village and beautiful tradition and culture.
The Helambu trek route is an exotic one. You'll walk across some slow moving rivers, streams, and wide meadows. During the trek, you will walk through the beautiful forests and ridges. You will also see the beautiful views of sunrise and sunsets.
You will also see the views of beautiful Himalayan vistas. During the trek, you will see splendid views of white peaks including Langtang Lirung 7227 meters, Dorje Lakpa 6966 meters, Jugal Himal, Annapurna Himal range, and the Manaslu Himal range.
The Helambu region is a great trekking destination in the Langtangregion that has maintained its cultural uniqueness. During the trek, you'll see the beautiful combo of unique traditions, lifestyles, and cultures of the locals. You will also see beautiful monasteries.
You will see that the lifestyle at some places in the region has influences of Tibet lifestyles and culture. Here, in the Helambu region, the Sherpa and Tamang races are the major dominants. The Sherpas are often called as the Yolmos. People believe that Yolmos are the migrants from Kyirong area of Tibet. So, you can see the influences of the Tibetan cultures during your trek.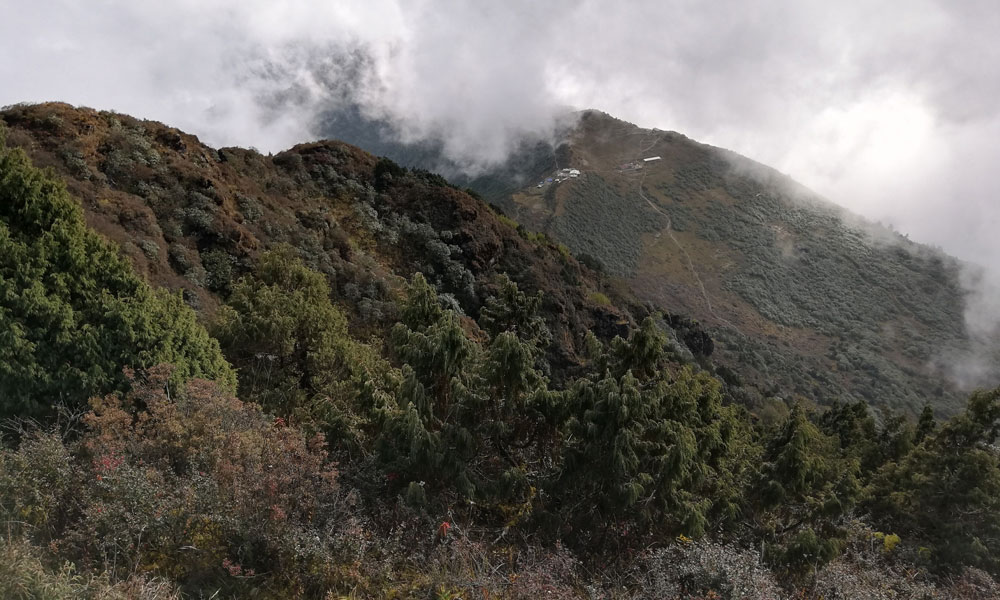 The ideal short Helambu trek passes through the Langtang National Park. Trekking through the national park means you will have the company of rhododendron and bamboo forests. You will also see the waterfalls, glaciers, tranquil valleys, and majestic peaks.
The Langtang National Park is home to some rare species of wildlife and birds. If you're lucky, you'll also see Red Pandas in the bamboo forests of Langtang region.
Helambu trek is only 70 km from Kathmandu Valley. The trek begins and ends in Kathmandu. You will drive to Sundarijal in a bus and trek from there to Chisapani. You will trek through beautiful ridges and villages. The part of the trek from Talamarang to Tarke Gyang via Timbu provides a glance into typical Sherpa culture in Helambu. There, you will see lots of local farmers and yak herders.
Though this trek passes through the lower elevation areas, you can still experience variable climatic ranges. You will walk across the green vegetation of temperate forests, the terraced rice fields, and up to the alpine region.
The Helambu trekking is a teahouse trek. You will find some simple tea houses en route where you can stay overnight. You can enjoy good food like different local, Nepalese, Indian, and other international cuisines.
Limelights of Helambu Trek 5 Days
Easy and short trek near Kathmandu valley
Several Buddhist monasteries en route
The sweet Apples of Helambu
The delightful forests in Spring
Unique culture, tradition, and lifestyle of Hyolmo people
Walking through dense forests of Rhododendron and pine
Mesmerizing views of Himalayan ranges including Annapurna, Manaslu, and Dhaulagiri
Traditional villages with different ethnicities
Outline Itinerary: Helambu Trek 5 Days
Day 01: Drive from Kathmandu to Sundarijal (1350m) takes about one hour and then walk uphill to Chisopani. 5 hours walk
Day 02: Trek from Chisopani to Kutumsang (2446m.) 6 hours walk
Day 03: Trek from Kutumsang to Tharepati Pass (3650 m.) 6 hours walk
Day 04: Trek from Tharepati to Tarkeghyang (2743m.) via Melamchi Gaon (2640m) 7 hours walk
Day 05: Trek from Tarkeghyang to Timbu 3 hours walk and the drive from Timbu to Kathmandu takes about 5 hours. Trek end.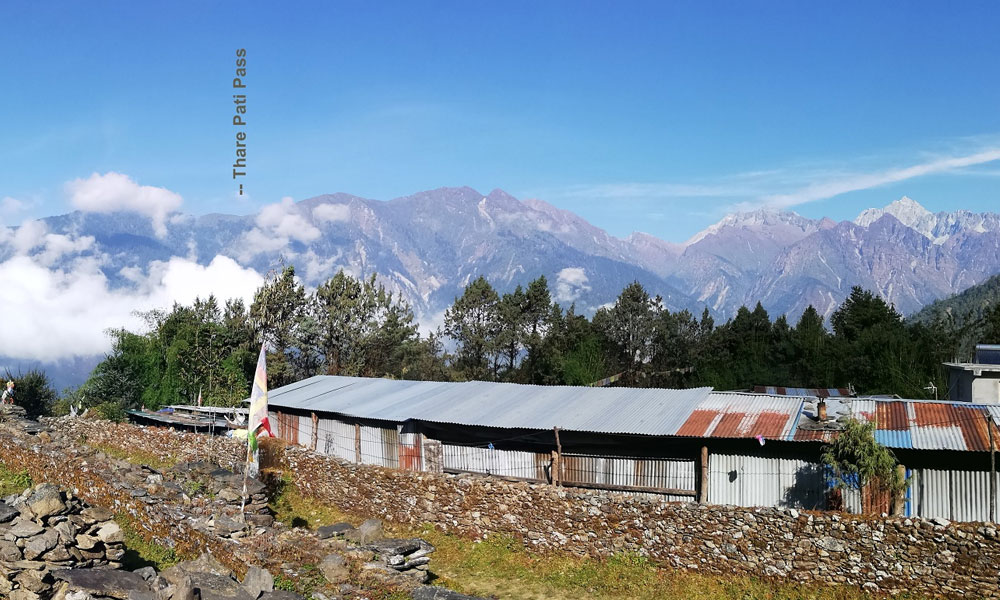 Best Time for Helambu Trek
Helambu trekking is a short and easy trek in Nepal. The seasons of Autumn, Spring, and Winter are the most popular time of the year for this trek.
Helambu Trekking In Autumn
Autumn (September, October, and November) is the peak trekking season in Nepal. This is the time when the monsoon ends and the weather clears up making the Helambu region bright and beautiful. The air quality improves in Autumn. Thus, you can distinctly see even the objects at a distance.
During Autumn, you'll see the blue skies and crispy surrounding views. The weather is warm and pleasing. In Autumn, the daytime temperature varies between 10°C to 20°C. Nights are a bit colder than the days. The temperature at nights can drop down to 5 °C.
While trekking in Autumn, you will see the beautiful Langtang Himalayas around you. Trekking through the autumn colored forests in Langtang valley is a beautiful experience.
Autumn is a beautiful time with beautiful weather and temperature. You can have an easy and light trek with light clothing and trekking gears.
It is a popular trekking season; you will find many fellow trekkers on the route. So, this is the time when you do not have to walk monotonously on the trekking trails.
Helambu Trekking In Spring
Spring (March, April, and May) is the second-best time after autumn for Helambu trekking. Spring is the time when the forests and hills become colorful with petals of Rhododendron and other wildflowers. The melodious chirps of Spring birds will make the trekking more joyous.
The weather in Spring is beautiful with fewer chances of rainfall or snowfall. The temperatures are moderate and are pleasant for hiking and trekking. The temperature during the days is warm. It varies between 10°C to 20°C. Night time temperature may drop below 5°C.
The highlights of Spring treks to Helambu are the colorful forests, fresh air, and alluring aromas of wildflowers en route. While trekking, you'll walk across the sprouting bushes and budding forests. On top of all, you can see the splendid views of snow-covered Langtang peaks.
Trekking in spring means trekking in the most beautiful time of the year. Wherever you go, whatever your eye catches is the nudity of exotic nature!
Helambu Trekking In Winter
Unlike in the high altitude treks in Nepal, Winter (December, January, and February) is also a popular time for Helambu trekking.
Winter is the coldest time of the year in Helambu. Since the trek does not pass through very high altitude places, you need not to worry about having trek difficulties due to bad weather or harsh conditions due to heavy snowfalls on the trail.
In winter, the vegetations en route turn brown due to increasing cold. Both the days and nights are cold. However, the cold is bearable after you wear sufficient gear for cold. During the days, the temperature is around 6°C to 15°C. Nights are so cold. The temperature at nights can drop down to around -15°C.
While trekking in Helambu during winter, you might also encounter some blizzards and snowfalls. Prepare yourself for the trek and you will see the best views of Langtang Himalayas blanketed under lumps of white snow.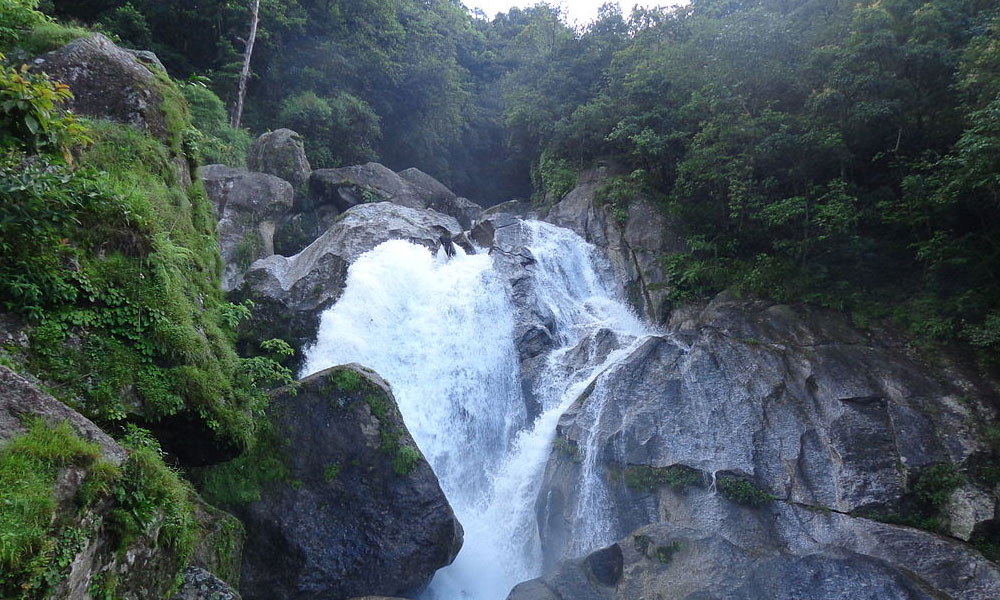 Can I Do Helambu trekking in Summer?
Well, you can go on Helambu trekking at any time of the year. However, trekking in summer may not be the right decision. Since Summer and Monsoon coincide in Nepal, trekking in summer means trekking during monsoon.
June, July and August are the winter months in the Helambu region. On a summer trek to Helambu, days will be quite hot. The temperature in the places that we trek usually ranges between 20°C to 30°C.
In monsoon, it rains almost every day. It usually rains in the evening time. The rainfall continues through the night till the next morning. Due to the frequent rainfall, the trekking trails will get muddy and slippery. Also, the summer and monsoon bugs like mosquitoes and leeches will be more active on the trekking trail.
Also, the atmosphere becomes more blurry due to heavy moisture content. This might sometimes cover the beautiful surrounding vistas of Himalayas and landscapes. You might not see the beautiful sunrise and sunset views due to the rain.
Sometimes in monsoon, rain might continue for days. If that happens during your trekking period, it will spoil your trek. This means your Helambu trek in monsoon might be more difficult and unpleasing.
In general, we do not recommend Helambu trek in Summer. However, if it is the only free time that you have, you can go on the trek. But remember, you need adequate rain protection gears. Moreover, you should be ready for any sorts of unwanted hazards that might spoil your trek.
Helambu Trek Difficulty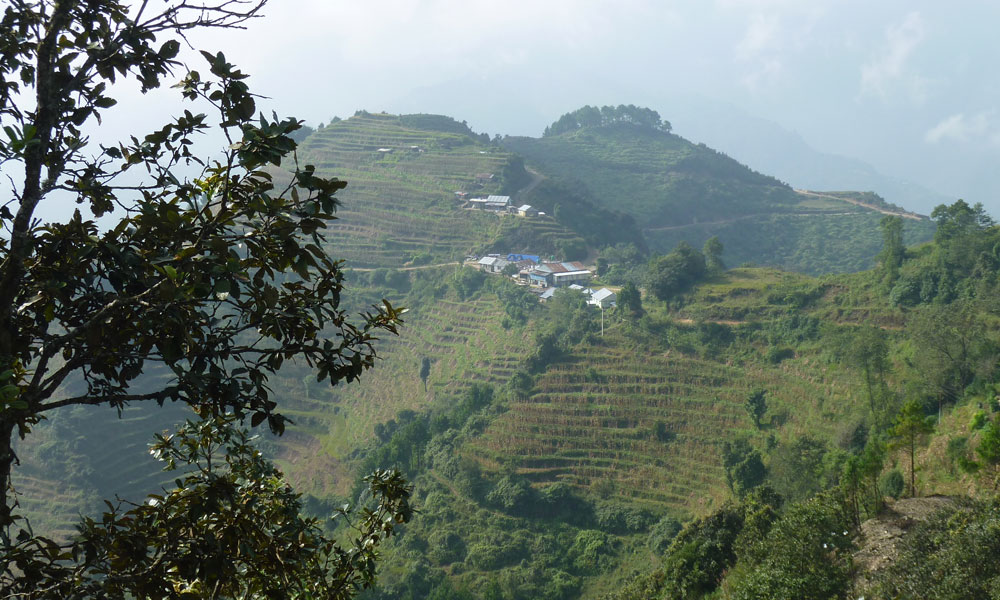 Helambu trek is an easy level trekking in Nepal. This trek does not require any kinds of previous trekking experiences. This makes this trek route suitable for the beginners as well.
The maximum altitude on the Helambu trek is 3650 meters at Tharepati Pass. This isn't a very high altitude. Also, you won't be staying for long at that altitude. So, the risk of altitude sickness is very less.
It is very important that you have a comfortable and proper pair of boots; or else you will end up with painful blisters on your feet. Also, this trek will be difficult for people with knee problems. But if you do a few training and exercise before you go, this trek will be an easy one.
At Last,
Helambu is an ideal trekking destination to those who want to experience an easy Himalayan trek in limited time. Helambu region is a beautiful trekking destination. Here, the villages, people, and their lifestyle are not influenced by modernism.
This trek is an easy trek. If you are someone who loves trekking alone, then you can go on solo treks to Helambu. However, due to your safety concerns and others, we always advise you to trek with a guide, a trekking partner, or in groups.
If you want to explore the beautiful trekking trails of Langtang region via Helambu trek 5 days, you can contact us. High Camp Adventure will organize a perfect trek for you.