Ghorepani Poon Hill trek is the shortest and yet the most beautiful trek in the entire Annapurna region. The main attraction of the trek is Poon Hill, which is a 3210 m high hill. It offers you the most amazing views of peaks in the Annapurna region, like Annapurna, Machapuchhre, Dhaulagiri, even Manaslu, and so on. People generally climb on top of the hill for amazing sunrise and sunset views. Needless to say, Poon Hill trek difficulty level is considerably low, when compared to other treks in the region.
The other attractions of the trek are the wonderful villages of Ghorepani and Ghandruk. Settled in the beautiful hills, these villages offer the most scenic lodging experience to the trekkers. The majority of people living in these settlement areas are from Gurung community, who are known for their caring and loving attitude. They will offer you great hospitality services; you would want to stay here forever.
Ghorepani Poon Hill trek is an 8 days long journey, however, you will spend only 4 days walking on the route. The villages and settlement areas that you'd cover during the journey are Ulleri, Nayapul, Tadapani, Syane, and so on. The short duration, and the attractions that Ghorepani Poon Hill Trek offers, makes it an ideal journey for someone who's got less amount of time to spare. In such a short duration, they can witness the beauty of the hills of Nepal, and get an overall taste of trekking in Nepal.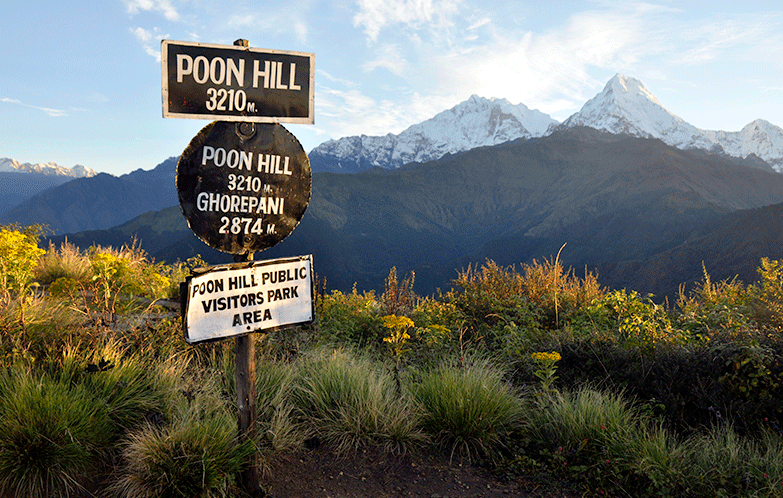 If you want, you could extend the length of your Ghorepani Poon Hill Trek by a few days. You can do so by adding places such as Jhinu Danda, Pothana and Phedi to your itinerary. Of course, then, it will no longer be Ghorepani Poon Hill trek, it will, then, be Annapurna Panorama trek. Annapurna Panorama trek is a lengthier version of the former trek, and it is preferred by individuals who are absolutely in love with the hills in Nepal, and can spare a few more days for trekking in the region.
Ghorepani Poon Hill Trek Difficulty
Considering the features of Ghorepani Poon Hill trek mentioned above, Poon Hill trek difficulty level is easy. The fact that the journey keeps you grounded at a low altitude, the length of the journey is short, and the terrain you'd be walking on is decent enough, Poon Hill trek difficulty level is easy. As the Poon Hill trek difficulty level is simple, it is ideal for first time trekkers, or the ones who're not as physically groomed to take on other more extreme and lengthier treks.
Because of the low Poon Hill trek difficulty level, a lot of people, from around the country, and different parts of the world come to Nepal and embark of this journey. Undoubtedly, the simplicity of Poon Hill trek difficulty level has contributed to its popularity up to a great extent. However, if you feel that despite the simple Poon Hill trek difficulty level, you can't go for this journey, you can try out certain things to prepare for this trek.
Generally, one of the best ways to prepare for any kind of trek is to start doing some form of cardio exercises in the morning or in the evening. Your cardio exercises should focus on increasing your stamina. You could also try running up and down a slope area or stairs to prepare for the trek. Doing so will help you become comfortable with the steep terrain of Ghorepani Poon Hill trek. Overall, if you practice these activities for a couple of months before your actual journey, you will easily be able to overcome Poon Hill trek difficulty, or the challenges of Poon Hill.
Annapurna Circuit Trek
Annapurna Circuit Trek, without a doubt, is one of the most preferred trekking destinations in Nepal. It takes the trekkers to the unbelievably beautiful Annapurna region, which is the home to numerous spectacles of nature, cultural and religious diversity, and numerous enormous white mountains. Annapurna Circuit trek covers the entire Annapurna region, so if you're looking to have most number of attractions and side trek possibilities in a single trek, go for Annapurna Circuit.
Altogether, Annapurna Circuit trek is an 18 days long journey, and during this time, they walk for a duration of 13 days. The trekkers spend the rest of the days acclimatizing, traveling in vehicles, moving around, and basically having a good time. The different villages that they cover during Annapurna Circuit trek are Manang, Pisang, Chame, Marpha, Tatopani, and so on. They are located in beautiful hilly and mountainous settings, and living in them are people belonging to numerous indigenous tribes, each one of them with their own distinct cultures and traditions.
One of the major attractions of the trek is Muktinath, which is a significant pilgrimage site for both Hindus and Buddhists. As challenging as it is to reach there, you are rewarded with excellent views of the peaks of the region when you do so. There are so many possibilities of side trips on the Annapurna Circuit trek route. One of such routes lead the trekkers to Tilicho Lake and Tilicho Peak. Walking up to this location will award you wonderful views of mountains in the region.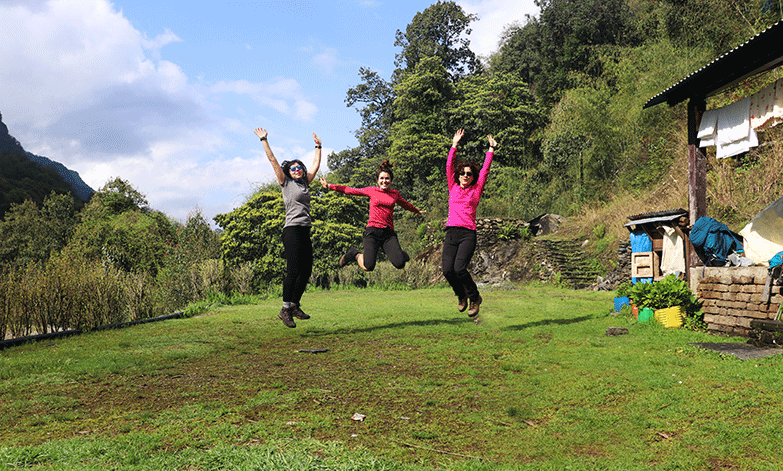 A lot of time Annapurna Circuit trek is referred as Poon Hill Annapurna Circuit Trek or Annapurna Poon Hill trek as it also covers Poon Hill. So, if you think that Ghorepani Poon Hill trek is too short for you, and you'd want it to be further challenging and exciting, go for Poon Hill Annapurna Circuit Trek or Annapurna Poon Hill trek. Mardi Himal trek and Nar Phu valley trek along with the Mohare Danda trek are other popular trekking destination of the Annapurna region. Annapurna Circuit trek has all the features that makes it an amazing trek.
Annapurna Trek Difficulty
To be very straightforward about it, Annapurna Trek difficulty is challenging overall. What makes it challenging is the trek duration. When you have to walk for an average of 6 to 7 hours every day, for 13 days, you're bound to feel exhausted and even give up. This is something that a lot of trekkers do. And it's not like you're walking on a plain surface. Majority of trek route consists of rough terrains, with gravely and uneven road, steep slopes, and snowy slippery path. At one point of the trek, you might even start cursing yourself, for signing up for this trek, especially if you're not used to walking as much.
Another factor that makes it tough is the high altitude. The highest altitude that you'd cover on the Annapurna Circuit trek is 5416 m, which is the elevation of Thorung La, a high altitude mountain pass. Altogether, you'll spend around 7 days staying or walking at an altitude above 3000 m. This increases the chance of the trekkers suffering from altitude sickness, which is the most problematic thing that could occur to you during your trek. High altitude also invites problems such as extreme cold, windy and unpredictable climate, which doesn't just make the trekking tough, but can also make you sick.
Annapurna Base Camp Trek
Annapurna Base Camp trek, quite like the name suggests, takes you to Annapurna Base Camp. During the journey, you will also cover Machapuchhre Base Camp, which also acts like your overnight rest spot. The facilities offered here aren't too fancy, but when you're at a place like this, you have to take what you can get your hands on. Both the base camps offer you the most spectacular up-close views of mountains in the Annapurna region. Standing so close to the mountains, you won't believe your eyes.
Annapurna Base Camp trek takes you close to nature, as you'll make your way through lush green forests of rhododendron, pine, magnolia, and so on. The entire trekking route is a part of Annapurna Conservation Area Project, which is one of the richest protected areas of Nepal, when it comes to rare and endangered wildlife and vegetation. You're bound to come across one or the other creatures, so don't act surprised and make sudden movements, else you'll miss the chance to click their pictures.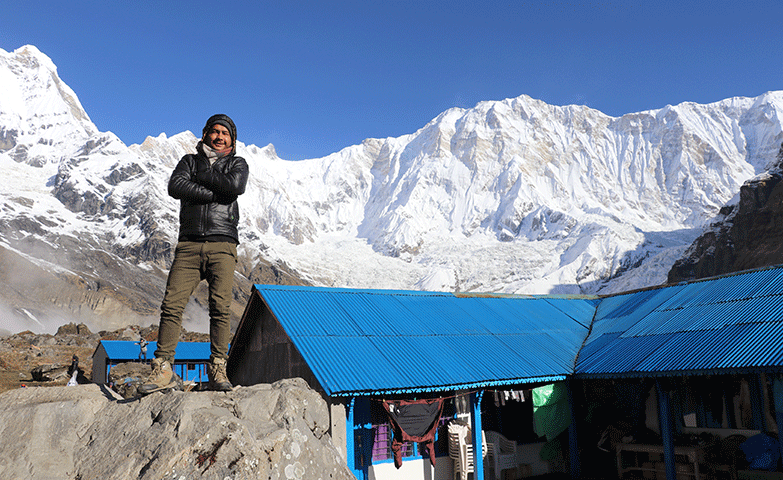 The overall journey is 13 days long, but the trekker walks for a duration of 9 days. During the trek, the trekkers cover villages and settlement areas such as Sinuwa, Deurali, Bamboo, Jhinu Danda, Tadapani, and so on. The Annapurna Base Camp trek difficulty level is moderate. Though the trek is an easy level journey, things get tough when you cross 3000 m, which happens on the seventh day. You spend around 4 days at an altitude above 3000 m. This probably is the toughest part of the journey.
Overcoming the Poon Hill trek difficulty is a piece of cake when you think about it. As Poon Hill trek difficulty level is easy overall, just a little bit of dedication into physically grooming oneself, a couple of months, or even weeks, before the trek is enough. As Poon Hill trek difficulty level is simple, generally, the trekkers, no matter their age, experience or physical fitness level, don't really feel the need to prepare for the trek. It's easy, short and beautiful, making it fit for trekkers from all walks of life.
High Camp Adventure is one of the best travel and tour operators in Nepal. It offers packages like expedition, trekking, heli tour, mountain flight, luxury tours and so on. Their itineraries feature the most popular and off-the-beat tourist destinations in countries like Nepal, Tibet, Bhutan, and so on. What makes their services different from others is their focus on client satisfaction. They will leave no stones unturned to ensure that you have the best possible time during your trek. They are experienced with the most amazing group of travel experts working for them, and so, they're able to offer you great packages and outstanding services at an affordable cost. If you're looking to spend your next holidays in any of these Himalayan countries, make sure to choose High Camp Adventure as your travel partner. With them by your side, your holidays are never going to be the same again.