It wouldn't be an exaggeration to say that going on the Everest Base Camp trek could be one of the riskiest things that you'd ever do in your life. Extreme terrain, high altitude, and unpredictable climate are few of the attributes of Everest Base Camp tourthat make it quite risky. Features as such don't just make the trek quite tiring to attempt, but also invite others risks like altitude sickness, which makes trekkers more nervous than the other difficulties do.
Having said all that, it is to be kept in mind that what makes Everest Base Camp Trek a risky one also makes it worth the try. You know that during your trek you are going to suffer, you are going to get tired and bruised, and tortured by cold, and still you'd want to keep moving. And all the efforts that you've put on the journey is highly reimbursed in the form of that sense of achievement that you get when you finally reach the Everest Base Camp. You get to stand face to face with Mt Everest, the highest peak in the world, and that's what makes the journey, and all its challenges totally worth it.
Everest Base Camp Trek
Everest Base Camp trek is one of the most popular treks in Nepal. Around 30,000 trekkers from different parts of the world come to Nepal every year, for a trek to Everest Base Camp. Everest Base Camp tour is one of the best ways for someone to experience Mt. Everest closely. The other two ways are to climb Mt. Everest and to go for a mountain flight.
The former one is too tough for everyone to attempt, however, it takes you to the top of the peak. And there're no experience in the world that can beat this. The latter one doesn't require any effort at all, but you feel that distance and the wall between you and Mt. Everest. Trek to Everest Base Camp, therefore, amalgamates both the experiences and gives you the best of both the worlds- the closeness to the mountain, and as well as the ease of experience.
Features of Everest Base Camp Trek
To understand what makes Nepal Everest Base Camp trek so worthy, we need to get a deep insight into the trek. When you get to know the features of the trek to Mount Everest Base Camp, you're sure to get all excited and pumped up. There's a reason why Nepal Everest Base Camp trek is so popular, and why calling the trek to Mount Everest Base Camp simply a good trek is an understatement.
#1 Everest Base Camp Trek Itinerary
Everest Base Camp Trek is a 10 days long trekking journey, with 2 days allocated for acclimatization. The length of the route is about 130 km. During your trek, you'll come across settlements like Lukla, where your trek officially starts, Namche Bazaar, Tengboche, Dingboche, Gorakshep, and so on. The trekkers generally acclimatize at Namche Bazaar and Dingboche. Here, they have the option to either take rest, or go for a side trip exploring the nearby villages. The 130 km journey also includes a side trip that the trekkers take from Gorakshep. They do so to climb the peak of Kala Patthar.
#2 Everest Base Camp Trek Attractions
There are so many different kinds of attractions in the Everest Base Camp Trek. Natural attractions include the up close views of peaks like Mt. Everest, Thamserku, Nuptse, Lhotse, Ama Dablam, and so on, which can be viewed from different settlement areas and viewpoints that appear on route throughout the trek. Religious attractions include the numerous monasteries, gompas and Buddhist relics that are scattered throughout the route, as majority of population living in the region are Buddhists. The major one among them is Tengboche Monastery, situated at Tengboche. It was built by Lama Gulu, one of the prominent Buddhist preachers of his time, in the early 20th century.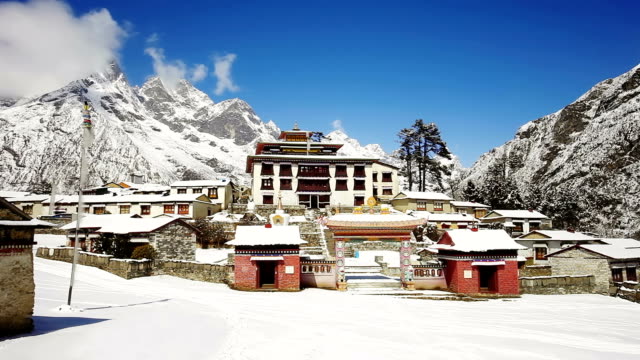 #3 Everest Base Camp Trek Cost
Cost is one of the most amazing aspects of Everest Base Camp trek. Considering all the features and attractions, Everest Base Camp Trek cost is fairly moderate in comparison to others. It's the universal truth that the cost of any kind of travel or tour package depends on two things – the company offering the package, and the features included in the package. When you book a trekking package for yourself, make sure to consider these two aspects very carefully. Choosing a wrong company as your trekking partner, or a package with features not suited to your needs, can ruin your experience entirely.
#4 Everest Base Camp Trek Map
Carrying the Everest Base Camp trek map is crucial for any trekker trekking on the Everest Base Camp trek route. There are so many benefits of carrying a map. Firstly, it helps the trekker stay well informed about the trek. He knows what's coming next, and is prepared throughout the time. During acclimatization days, he could plan a side trip himself, and do a lot of exploration on his own. And secondly, anyone who carries a map, knows his way around the route, so there's a very less chance for them to get lost. And even if they do get separated from the group, it'll be quite easy for them to find their way back.

#5 Everest Base Camp Trek Packing List
You need to keep your Everest Base Camp trek packing list quite simple, if you plan to go for Everest Base Camp trek. Gone are the days when you had to go for the trek with an extra bag containing only the trekking gears. These days, the trekking companies who offer trekking packages provide trekking gears at a very nominal cost, which is often included in your package cost. All you need to pack are your clothes, sanitary essentials, and recurring medications, if you have any, and you're good to go. However, make sure to properly inquire about all this, way before you even book your trek.
Best Time To Trek Everest Base Camp
The best time to trek Everest Base Camp is from mid-March to mid-June, and from mid-September to mid-December. As a matter of fact, you can go for Everest Base Camp trek throughout the year but it is recommended that you avoid the time when there's extreme snowfall or cold in the region. During this time, trekking would be tremendously tough, and on top of that, people in the villages of the northern part of Everest Region tend to migrate to the southern part to escape all the cold. So, during your trek, you may not find anyone offering food or accommodating services on the route.
Everest Base Camp Trek Extensions And Side Trips
Everest Base Camp trek can be made further adventurous and exciting by extending it to include side trips or other trekking routes of the region. The following two are the best Everest Base Camp trek extension options in the region.
#1 Gokyo Lake Trek
Gokyo Lake Trek route take the trekkers further westwards from Namche Bazaar, and after a couple of days of trek, the route ends at Namche itself. Gokyo Lake trek's main attraction is a complex of high altitude mountain lakes called Gokyo lakes. The trekkers also get to visit Gokyo village, a pristine settlement area closest to the complex, and take a trip to Gokyo Ri, a beautiful mini mountain in the region. During the trek, the trekkers also get to cross villages like Machhermo, Dole, and so on.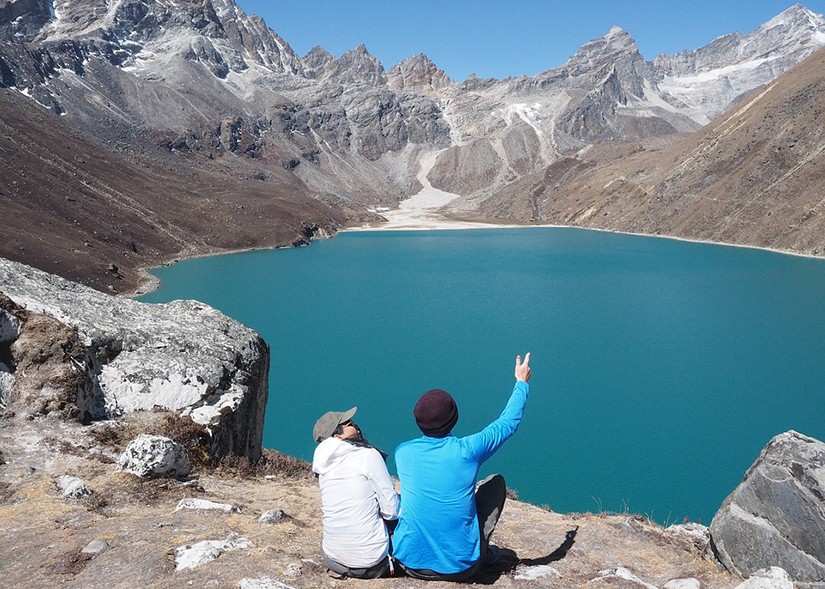 #2 Everest High Passes Trek
Everest High Passes Trek takes the difficulty of Everest Base Camp trek to a whole new level. Finishing the Everest High Passes Trek requires the trekkers to cross 3 extremely difficult high altitude passes, namely Kongma La, Cho La, and Renjo La. Everest High Passes Trek also covers Gokyo Lake trek route, with all its features and attractions. The trekking package gives you the best of all the three treks, letting you experience most of the attractions in the Everest region.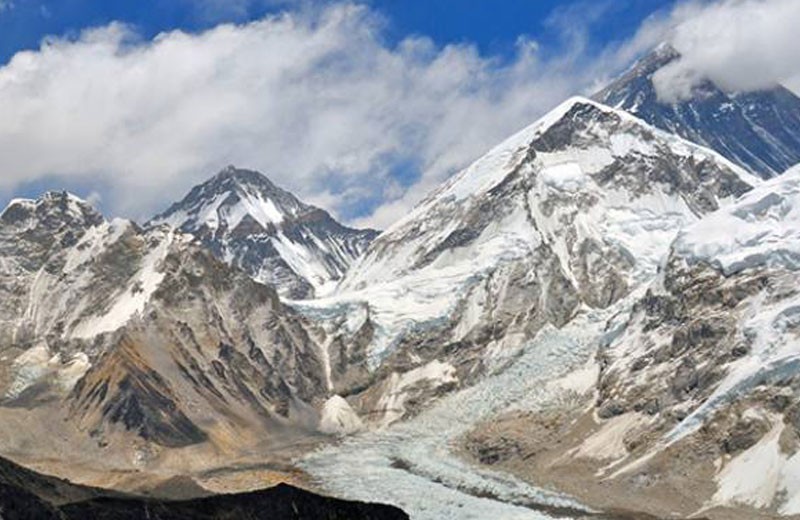 How Hard is Everest Base Camp Trek
Everest Base Camp trek difficulty level is quite moderate, and often it is advertised that Mount Everest Base Camp trek can be attempted by trekkers of all age groups and health status. That is definitely the truth, but not entirely. How hard is Everest Base Camp trek is something that is quite challenging to determine, as its toughness is not just based on its attributes, but the capabilities of the trekker as well.
#1 Low Air Density
One of the factors that make Mount Everest Base Camp trek quite challenging is the high altitude. The village with the lowest altitude in the trek is Phakding, around 2610 m, and the area with the high altitude is Kala Patthar, around 5545 m. It is a known fact that when you go higher, the air density gets thinner, which may cause problems to people who're not used to such high elevation. The body does get used to such an environment, but it requires some amount of time to do so. Depending on the individual, this duration could be long or short.
#2 Altitude Sickness
During the trek, the trekkers could suffer from altitude sickness. Breathing Problems, Vomiting sensations, indigestion, and so on are the symptoms of altitude sickness. It can be cured easily with a tablet, or by simply taking rest. That is the reason why 2 days are assigned for acclimatization during the trek. Now, depending on the individual, altitude sickness can cause hurdles during the trek.
Few trekkers are able to cope up with it fairly easily and continue with their trek as if nothing has happened, where as in case of certain other trekkers, things might get serious, with their health condition getting worse by the hour, requiring them to seek medical assistance.
Altitude Sickness isn't quite big of an issue on its own, however, it can play a great role in worsening health problems like heart diseases, breathing issues, and so on, that are either occurring, or the trekker once suffered from in the past. Everest Base Camp trek difficulty level can get quite challenging for individuals with such conditions.
#3 Extreme Climate
Apart from low air density and altitude sickness, another challenge that high altitude invites is extreme climate. The region is prone to snowfall, and cold climate throughout the year. The average temperature of Everest Base Camp throughout the year is 4⁰C during the day to -14⁰C during the night.
Now, if the trekkers are used to weather as such then there's no issue, otherwise several problems might occur. Extreme cold can cause the trekkers to have cold, cough, fever, pain in their bones, low appetite, indigestion, weakness, and other health issues. Treating such diseases in an environment like that, with lack of medical experts and medicines, is quite a challenge.
#4 Tough Terrain
Rough terrain is yet another feature that makes Everest Base Camp Trek challenging. When you go from Lukla to Kala Patthar, there is an altitude jump of about 3000 m. To reach such a high elevation, you would have to walk uphill throughout the trek. In the same way, the route of the trek covers various landscapes like river banks, steep slopes, rocky grounds, muddy roads, and so on.
Now, you might do ok for a little while, but after walking on paths like these for a few hours, your legs would definitely hurt, and would want to give up. And the saddest part is that this is not just a one day thing; you'd have to walk every day for the next ten days. Now, there might be a few trekkers who're experts and are used to all this, and a few others who're able to bear the pain and complete the journey somehow. But the rest- what options do they have? It makes sense that quite a few trekkers tend to return from the middle of their trek, without completing their journey.
#5 Trekkers' Fitness Level
All the problems mentioned above have very slight effect on trekkers who are in their peak physical condition. So, the trekkers who exercise daily, aren't over weight, and have no serious health problems can complete this trek without even breaking a drop of sweat. Altitude sickness could trouble them for a little while, but things can get normal for them overnight.
In the same way, even climate wouldn't have much effect on them due to their high immunity, and the issue of coldness can be solved by simply putting on more clothes or an extra blanket. And lastly, if the trekkers are used to walking, running, or doing some form of cardio on a regular basis, then even the terrains wouldn't raise as many hurdles. A lot of times, the issue is less about the pain in the legs and more about stamina. So, people with decent stamina level can easily complete this trek.
How hard is Everest Base Camp trek, if you're concerned about a question like this then probably Everest Base Camp trek is too risky for you! You could still go for the trek, walk on the tough terrains, bear the extreme climate, and emerge successful in the end, but in order to do so, you need to kill all your doubts. Yes, Everest Base Camp Trek is risky, but the level of risk depends entirely on the trekker.
You will realize during your trek, when you talk to the guides and other trekkers, that often, it's the people with the will to finish the trek that actually complete the trek. A lot of times it's the attitude, purpose, and a little bit of motivation that helps you move forward, and this principle implies in case of trekking as well. You will have to take the risk to reach the end of the trek, and stand face to face with the giant, and the experience that you'll gain throughout the time will make your journey worth it.
Everest Base Camp trek doesn't just test your physical strength but your mental abilities as well. At the end of the trek, you would not just have gained the experience, but would have also gained a different level of confidence. All that fear, doubt, physical pain, and everything that you endured throughout the journey, would transform into great joy and a sense of achievement. That is why it's absolutely worth it going for Everest Base Camp trek, despite all the risks.
High Camp Adventure is the provider of the best travel and trekking packages to all the major tourist destinations in Nepal, Bhutan, Tibet and India. The company is operated by a group of highly experienced travel and tour enthusiasts, who make sure to offer the most amazing services to the tourists. Affordability, Tour Customization, Client Safety and Satisfaction are few of the significant attributes of the company that makes it stand apart from other tour operators. If you're looking for an exciting Everest Base Camp trek package or an adventurous Everest Base Camp tour itinerary, make sure to choose High Camp Adventure as your travel partner.