Trekking in Nepal in May is one of the best time among all the months. May holds the best time of the year for trekkers all around the year. It is a transition month from spring to summer season. You may expect some light rainfall in late May.
If you want to explore the greenery and natural beauty of Nepal, you should visit Nepal in the month of May. As May is a transition month from spring to summer, you will witness some blooming rhododendrons in trees and all over the side paths on the way to your trek.
Trekking plan to Nepal in May requires a good preparation as it brings rainfall along. It will be a wise decision to have a proper rain gears with you once you decide to trek in May.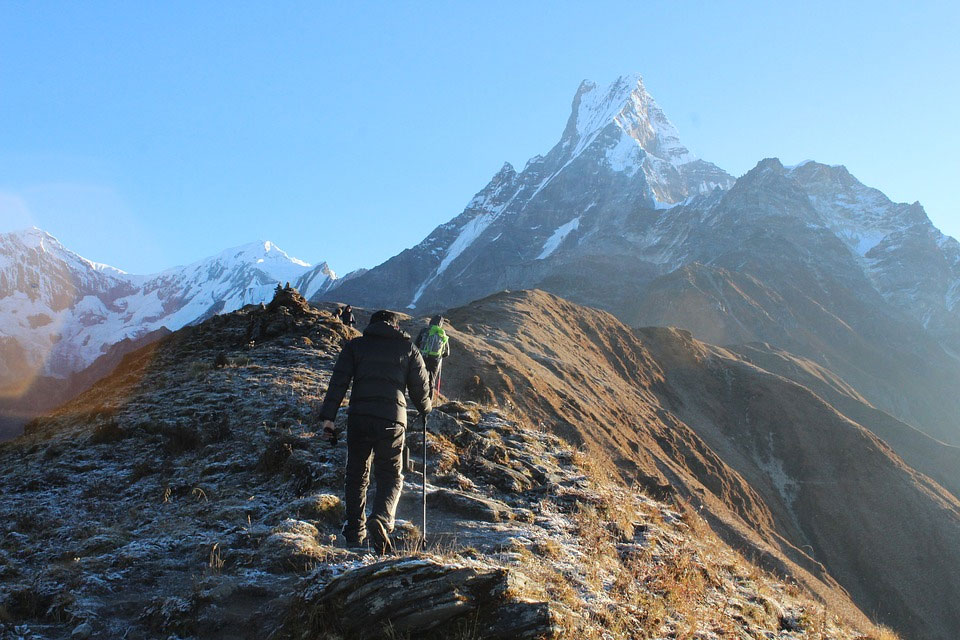 Weather Condition in Nepal in May for Trekking
The temperature is usually hot in the month of May in Nepal. However, it may vary according to the type of place you are going. The weather in May is uncertain. Sometimes it rains heavily and sometimes it is dry. So it depends according to places and weather condition of that place.
The average temperature in the hilly region is about 30-degree Celsius during the day and 20-degree Celsius at the night time. The temperature of the Himalayan region is comparatively low than the temperature of Hilly and Terai. The weather gets colder as you move to a higher altitude.
You will also face some warm climatic condition. However, it is not one of the hottest months. So, as you trek, you will not feel very hot and can enjoy your trek smoothly.
Some rainfall and thunderstorm in late May can be expected. But, do not worry, the rain falls only during late evening or at night time. The next day of the rainfall will give you clear mornings where you can have breathtaking views of the mountain ranges.
Popular Treks in Nepal in May
Everest Base Camp Trek in May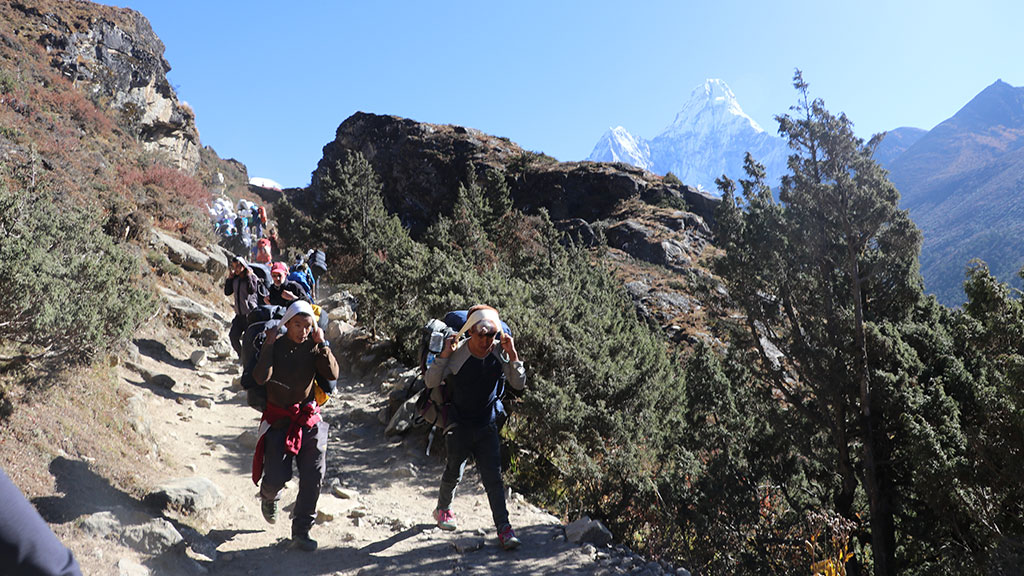 May is a perfect time for Everest Base Camp Trekking in Nepal. May is usually warm due to which there is no snow at the Everest Base Camp. Because of this, you will have an easy and comfortable trek.
Month of May is popular for Mount Everest expedition. You can see a lot of fellow trekkers and mountain climbers on the way to Everest Base Camp. The visibility of the mountains in May is clearer than in any other months.
The highlight of the Everest Base Camp Trek is the Sagarmatha National Park, one of the UNESCO world heritage sites. You will explore some rarest species of wild flora and fauna inside the national park.
Annapurna Circuit Trek In May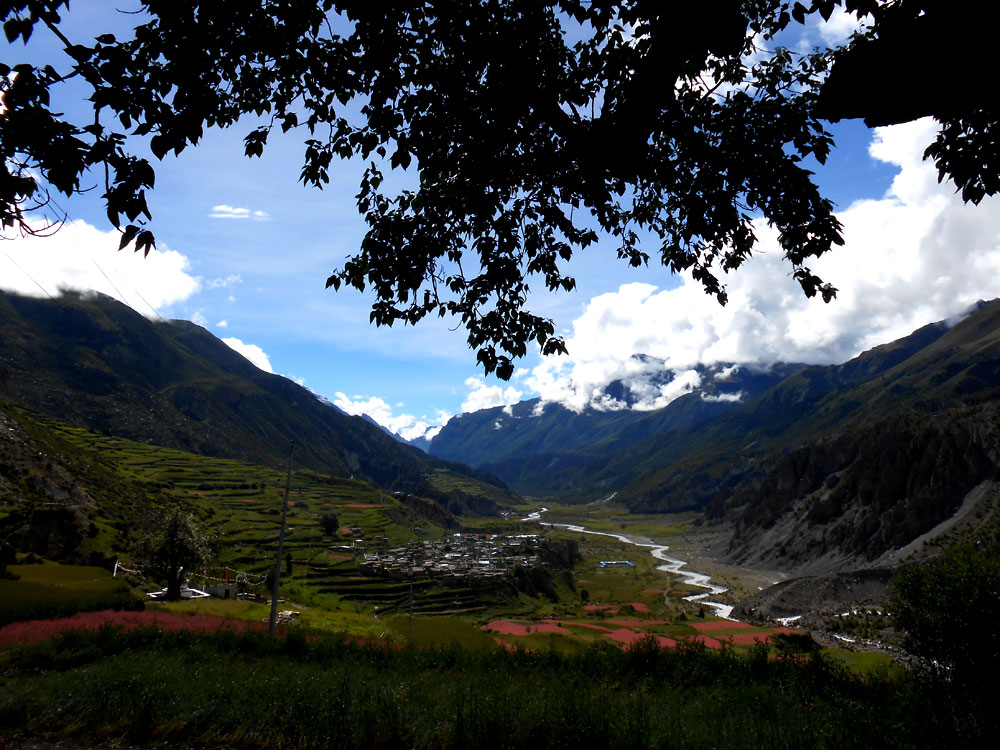 The third most popular trek in Nepal is the Annapurna Circuit Trek. Trekking in the Annapurna Circuit is ideal for Nepal. In this trek, you get to experience the diverse culture and tradition of the ethnic groups such as Magar, Tamang, Sherpa, Limbu and many more.
The Annapurna Circuit Trek includes some of the best mountain sceneries in the world. Warm and humid temperature is quite fair to bear while walking along the Annapurna region.
Annapurna Circuit Trek is quite a challenging trek as you will have to pass through the Thorang La Pass which is at the height of more than 5000 meters. It is best to trek the Annapurna Circuit in May if you are an experienced trekker. If you are a beginner, take proper training before leaving for Annapurna Circuit Trek.
Manaslu Circuit Trek In Nepal in May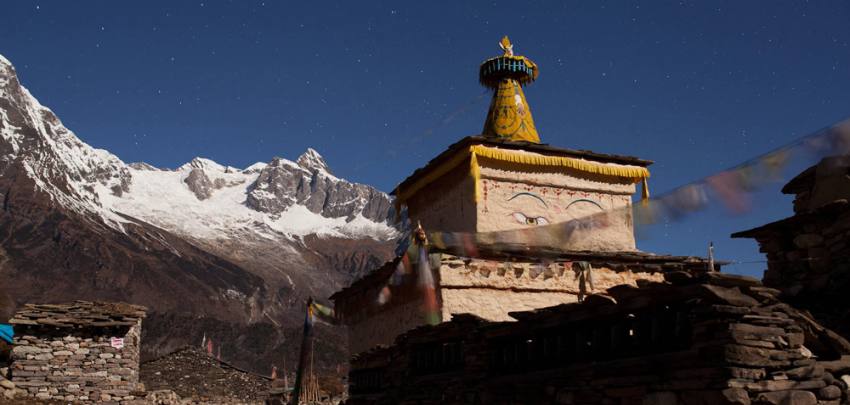 Manaslu Circuit Trek is opened during May whereas in the other times of the year the trek is usually closed. It is one of Nepal's most exciting trekking routes. If you want to explore the exciting adventures of Manaslu Circuit Trek, you should definitely visit Nepal in the month of May.
The highest altitude of the Manaslu Circuit Trek is at Larke Pass, which is at the altitude of 5160 meters. Along the route, different mountains such as mount Himchuli, Mount Manaslu, Siringi Himal and many more will be witnessed.
During May, you will not find any snow on the way to Manaslu Circuit Trek, not even in the highest altitude at Larke La Pass. This helps trekkers easily complete the trekking to Manaslu circuit.
Langtang Valley Trek In May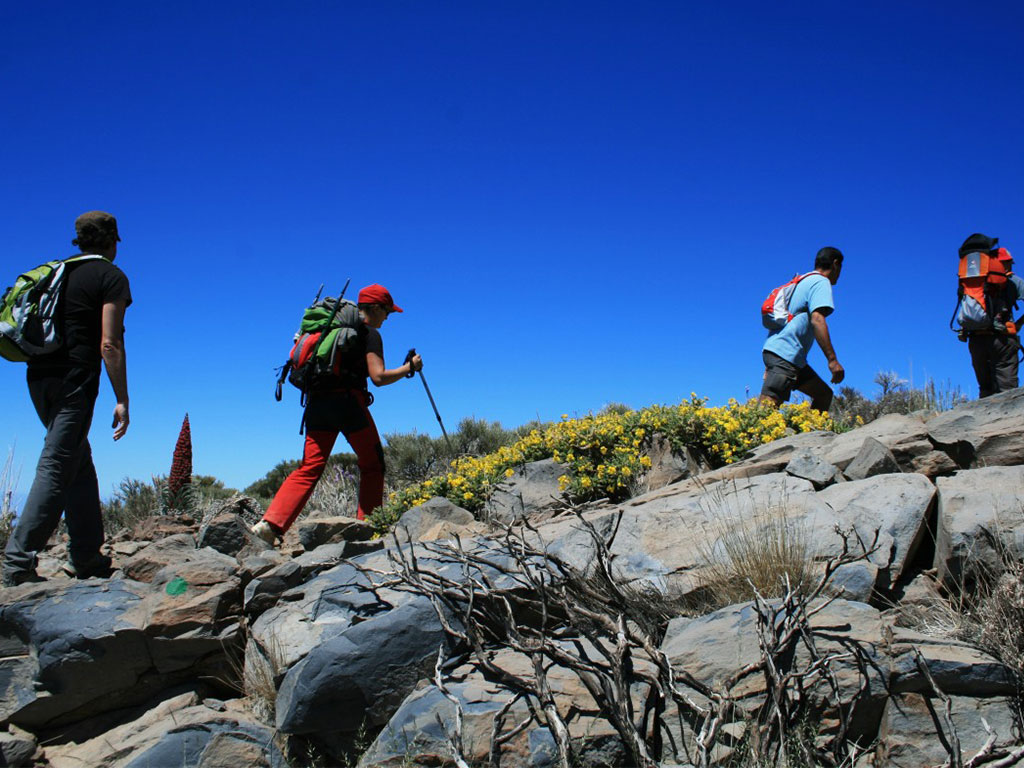 Langtang Valley Trek is one of the shortest treks in Nepal. The highest altitude of the trek is Kyangin Gompa which is at the altitude of 3070 meters. The temperature is usually warmer in Langtang Valley in May. Because of this, you will feel comfortable as you trek to Langtang Valley.
You can see the magnificent views of the mountains from the Langtang Valley such as Manaslu, Ganesh Himal, Tibetan Mountain Range followed by Langtang Mountain range. Beginners can also trek to Langtang Valley because of its easy accessibility.
Ghore Pani Poon Hill Trek In May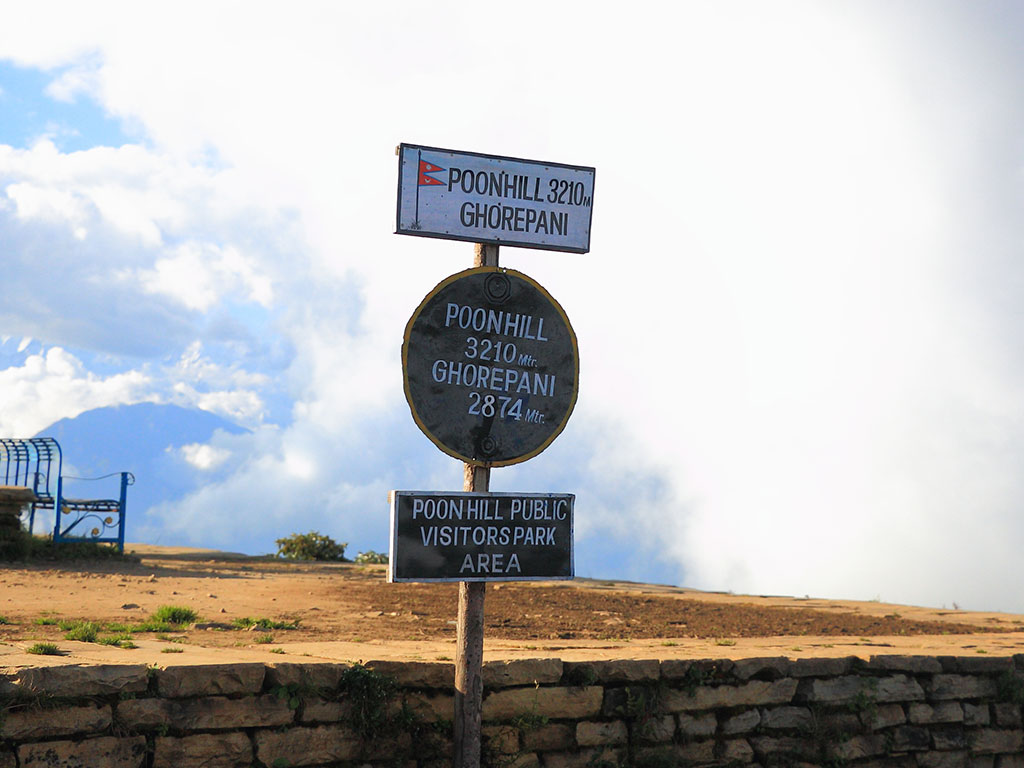 Ghore Pani Poon Hill Trek is one of the easiest treks in Nepal In Annapurna Region. The highest altitude at the Poon Hill Trek is at the altitude of 3210 meters. In this trek, you will pass through numerous villages of the hilly region of Nepal.
May is one of the most suitable times of the year for Ghore Pani Poon Hill trek. But, be careful in late May. It may rain heavily during the night time due to which the route gets slippery and muddy.
Since May is the ending of Spring season in Nepal, you can still see some of the rhododendron blooming along the way to Ghore Pani Poon Hill. This trek is also best for beginners as there are no rough paths and you do not need to be physically fit too.
Advantages of Trekking In Nepal In May
You will get to see clear mountain views during May as you walk towards your destination.
Although May is a transition period from Spring to summer, you can still find some rhododendron blooming on the trails of your trek which will give you a good feeling.
In most of the trekking areas in May, snow does not fall due to which the trails get clearer and your trekking will become more comfortable and easy.
You will experience a warmer climate which is not too hot for your trekking.
You can find many trekkers along the route as May is popular among different trekkers.
Disadvantages Of Trekking In Nepal In May
In late May, heavy rain falls during the night time due to which the path gets wet, muddy and slippery resulting in difficulty to walk.
There is a less chance for you to fall as you trek in the muddy paths.
The weather is usually irregular.
There is a high risk of landslides in the hilly region because of the rain.
If you are going on a camp trekking, you might face some problems with mosquitoes and other insects.
There is a change in temperature due to sudden rain.
Tips For Trekking In Nepal In May
As May is the pre-monsoon season, there is a high chance of heavy rainfall. Therefore carry plenty of rain gears with you.
Bring a good pair of trekking boots. It is best if the boots are waterproof and durable.
Hire an experienced guide and a porter for an easy and comfortable trek.
Go slow. Do not rush in the aim of reaching the destination.
Take rest and do not walk continuously. Walking continuously for many hours may tire you.
It is best to dress in layers.
It is best to leave for trekking early in the morning.
Take proper training if you are a beginner and want to explore more difficult treks.
Carry insect repellents and ointments which will protect you from mosquitoes.
Packing For Trekking In Nepal In May
Before you leave for trekking there are certain things you need to pack. Proper packing is very important. Make sure you do not miss any of the following items.
Waterproof Hiking Boots
Bring a pair of hiking boots. It would be nice if the boots are waterproof as you are trekking in May. It will protect you from the heavy rainfall while you are trekking.
Waterproof Jackets
It is best to bring a couple of jackets that are waterproof when you trek in the month of May. Rain may fall uncertain at any time while you trek. So, it is best to carry a waterproof jacket with you.
Gloves
Bring a pair of woollen gloves with you to protect your fingers from getting frostbite. A warm and durable pair of gloves is necessary to pack.
Other extras
Toiletries
Toothbrush
Toothpaste
Soap
Shampoo
Hand sanitizers
Cotton towels
Lotions
Moisturizers
First Aid Kit
Antibiotics
Bandages
Antiseptic cream
Mosquito repellent
Scissors
Tweezers
Sunglasses
Sunscreens
Sleeping bags
Tents
Water bottles
Rain gears
Are Restaurants and Accommodations Open during May?
Almost all restaurants and accommodations are opened during May. You do not have to worry about your food and accommodation while trekking in May. There are plenty of teahouses and restaurants along the route which will provide you with proper facilities.
It is best to book for your food and accommodation a few months before you leave for trekking in May. May is one of the peak seasons for trekkers due to which teahouses and accommodation might get full.
Conclusion
May is one of the festive months for trekkers around the world. It is neither too hot nor too cold. If you are a nature lover, it is best to visit Nepal in May where you can see greenery all around. The mountains of the Himalayas and the lush jungles of the Terai are beautiful than ever.
Although trekking in Nepal in May has some disadvantages, the beauty it offers is innumerable. If you are planning on trekking in Nepal then the month of May is best for you.
You do not have to worry about the teahouses and accommodation as it will open in May. The routes are also comparatively easy as there is no snow on the trails of the trek.
For further questions and queries, please feel free to contact us. High Camp Adventure is more than happy to help you find your perfect trekking destination in Nepal.