Meta Description: One can attend Trekking in Nepal without a guide in all the regions except for the restricted trekking areas. Hiring a guide is mandatory to trek in such areas.
Nepal is one of the most popular trekking destinations for passionate trekkers. Thousands of trekkers from around the world visit here for trekking. There are some who prefer trekking in groups and some who prefer to trek alone.
According to the solo trekkers, trekking alone is the best way of trekking. For a beginner, choosing Nepal for your first destination is the best choice. Many solo trekkers claim that Nepal is best for beginners to start their trekking journey.
Trekking independently has its own perks. But you must keep concerns about your security and safety while doing so. There are chances of bad things happening on the mountains.
Can you trek in all parts of Nepal Without a guide?
No, the government of Nepal has banned certain areas for solo trekking in Nepal. These areas are restricted trekking areas. You must hire an experienced and a licensed guide to trek there.
If you are trekking to the restricted trekking areas in Nepal, you'll need a restricted area permit. Solo trekking in such areas is not possible. You need to get the restricted-area permits for trekking in Manaslu, Nar-Phu, Tsum Valley, Upper Mustang, Dolpo, Kanchenjunga, and Humla.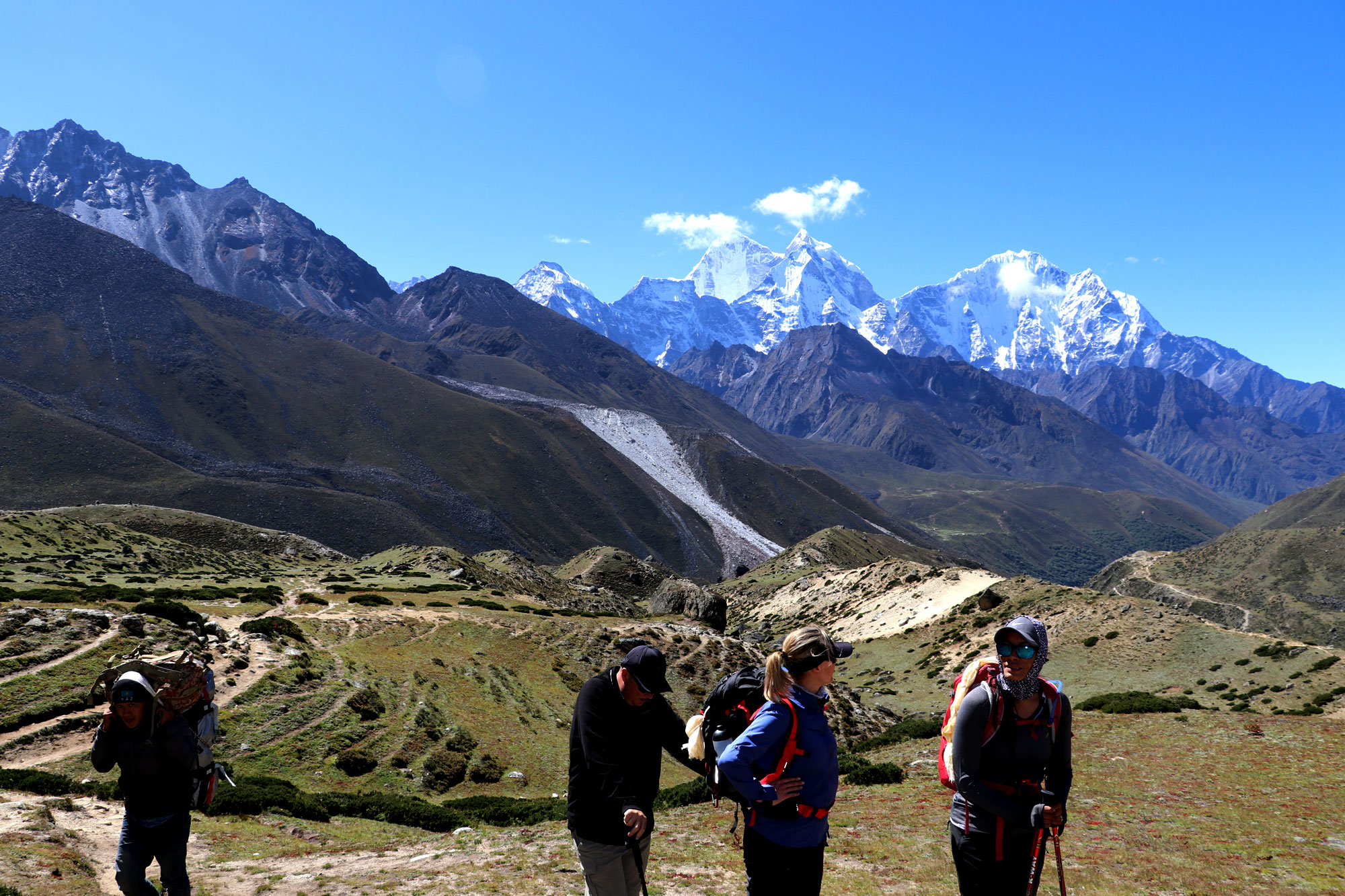 Solo Trekking in Nepal as a Woman
Nepal is a safe country to go for a solo female traveler. People in Nepal are cheerful, friendly, and always ready to help. Nepal is a beautiful trekking destination to those who are new to international travel.
While in cities like Kathmandu and Pokhara, you'll come across lots of English speakers. This will make it easier for you to ask for directions. But as you trek into the mountains, you are less likely to find locals who can communicate in English. But people are helpful; they will signal you to show the directions of the trekking trails.
Solo trekking for women in Nepal is safe and legal. But there are cases of solo female trekkers disappearing on the trek (very less). So, we always advise you to trek with a guide while trekking to the high altitudes or remote areas.
Hiring a guide is always an advantage. But if you are willing to do solo treks in Nepal, here are some tips that could help you:
Start early. Make sure you arrive at your destination before sunset. It is difficult to spot the signs on the trails. Also, you'll have difficulty in finding villages when it gets dark.
Be aware of altitude during the high altitude treks. Hydrate yourself, take rest, and eat a balanced diet to keep you energized.
Keep a distance with alcohols and narcotics.
Trust your intuition. Trek alone, only if you're confident about it. You don't have to hike alone. If you feel like hiring a guide or a porter, that is okay. Hiring them ensures your safety. Also, you'll have helping hands if you get in trouble.
Always let someone reliable (your friends or family) know where you are going.
There are some people who try to mug you by asking for money. There are some who'll charge you more for items that you want to buy. Be ready to handle such people.
Permits for Solo Trekking in Nepal
When you choose to trek alone in Nepal, you must arrange all your permits by yourself. Make sure you collect all the essential permits before your trek.
A trekker in Nepal requires a TIMS card. For a solo traveler, this permit is very useful. They keep a record of all your trekking information and will call out for search if you go missing. TIMS card costs around $20.
For trekking in the Everest region, you will not need the TIMS Card. Instead, you must get a Khumbu pass at Lukla. This costs USD 20 per person.
You must pay the conservation areas and national park fees if the trek route enters their area, this charges around $20-$30 per person.
Note: Arrange for all your permits before you go. You can pay for the national park and conservation area fees on the trail. But it is always easier to get everything before going on the actual trek. The TIMS card and other permits are available at the office of Nepal Tourism Board in Kathmandu and in Pokhara.
Do I Need Travel Insurance for Solo Trekking in Nepal
Have travel insurance if you are planning solo trekking in Nepal. Trekking in Nepal mostly involves trekking in the rural and remote areas. There is always a risk factor while trekking due to locations and altitudes of the trek.
You might need emergency evacuation. Emergency evacuations or helicopter rescues are expensive. By purchasing the insurance, you are keeping yourself on a safe side. Make sure you buy the insurance that will cover the high altitude treks and helicopter rescues in Nepal.
How to Trek Alone in Nepal: Is Solo Trekking Good in Nepal?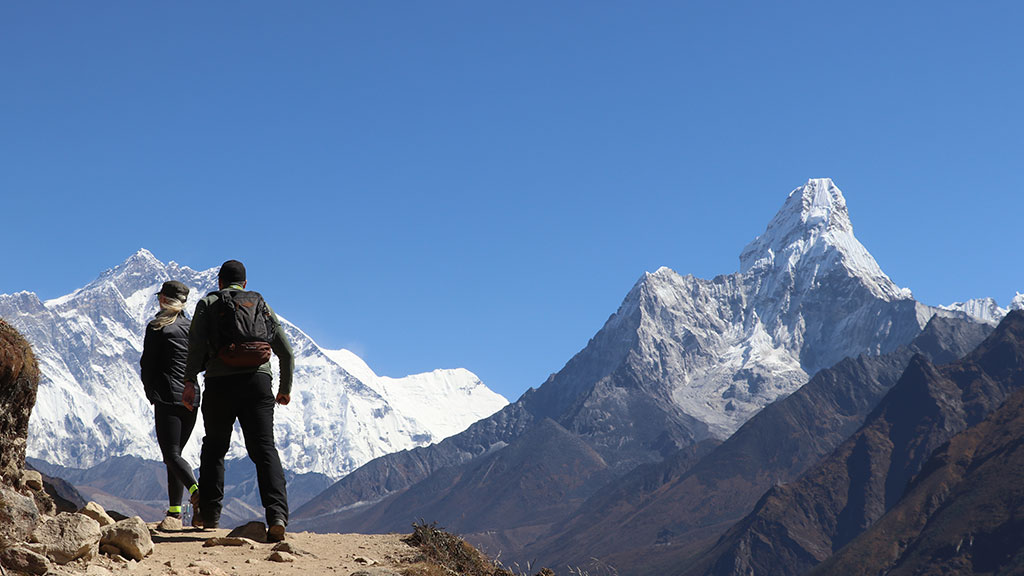 Solo trekking in Nepal is a unique experience. And, it is absolutely safe! Trekking alone is a hard decision to make. You will get lots of queries and doubts in your mind. Will I be able to trek alone? How'll I do that? Is it safe? And so on….
What do you do when you're full of doubts? Make a plan! Let all the questions be pending. Take a deep breath and go, pack your bags!!!
To adventurous trekkers, solo trekking is the best form of trekking. Unfold the mysteries that the mountains have been keeping for decades. Trust your instinct, and you're always successful.
Best Time for Trekking In Nepal Alone
Trekkers from around the world visit Nepal throughout the year. But the seasons of Spring and Autumn are the best time for trekking in Nepal. This is also the perfect time for trekking in Nepal without a guide.
April and October are the busiest time of the year. During these times, the popular trekking areas in Nepal floods with traffic. These months have a very favorable climate, clear blue skies, and wonderful atmosphere.
Also, there are least chances of weather and temperature changes during these months. Thus, these are the perfect time for solo trekkers.
Pros and Cons of Solo Trekking In Nepal
Pros
Frame Your Own Itinerary. While trekking alone, you have the authority to set your own itinerary. You can frame your itinerary according to your preferences.
Travel at a Cheaper Rate. Trekking alone costs a little lesser than traveling with a travel company. During solo treks, you will also save your fees for guides and porters.
Choose Your Own Lodges or Homestays. If you are trekking with a travel company, they will decide where you are staying. But while trekking alone, you have multiple options. You can choose to stay on the lodges or homestays where ever you want to. But make sure that you're safe.
Interactions with more people. You will have chances of interacting with the people of other groups and with the locals. If you are trekking in a group, you'll not have more interactions with the outsiders. Traveling independently is the opposite. You can have as many interactions with the locals as you want.
You won't be time-bound, though you must reach your destination early. You can make more memories with the local people while trekking alone.
Cons
You may have lots of health and safety issues while trekking alone. If you get in any troubles and need evacuation, the situations might get complicated.
You will not have anyone to help if you get injured or fall sick. This happens mostly while trekking in the off-season. It is always better to find a trekking partner for yourself rather than going alone.
Finding accommodation can be really difficult during peak seasons if you're trekking alone. You might not get room to stay at the tea houses or lodges. Even if you get a room, you might have to share it with some other person on the trek.
If you're a solo trekker, you must arrange everything. You'll have to take charge of everything. You must shop for gear, get your trek permits, flight tickets, and arrange insurance. Doing these all by yourself can be tiresome.
The amount of time required for organizing the remote treks in Nepal is tough. If you are going on the remote locations, planning the trek requires a huge logistical commitment. Can you organize a perfect trek for yourself? Do not go before you're confident as an independent trekker.
You may not have all the necessary information about Nepal, the languages, trek routes and their grades, and others. While trekking alone you'll have no one to listen and follow. So, read some travel blogs before you choose to get to Nepal. Try to get information as much as possible.
Best Treks in Nepal for Solo Trekkers
Some Additional Tips for Solo Trekkers
Take care of your health and physical fitness. Despite these, you must always be cautious about altitude sickness. Do not avoid the symptoms of altitude sickness, if any. You must cure it before it gets even worse.
Make sure you carry chocolates and extra snacks with you while trekking. These will supply your energy while trekking.
Your personal safety is the must while trekking alone. Always inform your friends or family about your plan and the places you will visit. They will know exactly where you are if you get in some trouble and call for help.
Avoid carrying luxurious items and jewelry while trekking. If you have some, you can leave it back to your hotel. It is safe there.
Carry enough hand cash with you while trekking. You might have to pay higher prices to the lodges or tea houses during high seasons. This depends on your skills in bargaining.
Do not forget to pack all the essentials. Your trek can get worse if you lack the trekking essentials.
Helicopter companies in Nepal will not send a helicopter rescue unless they have cash guarantee. Provide the cash guarantee to a travel company via your credit cards. Make sure they trust you to send a chopper for emergency evacuation.
Packing List for Solo Trekking in Nepal
Rucksack Bag with waterproof cover
T-shirts
Thermal Vest
Lightweight thermal tops
Fleece Jacket or Pullover
Waterproof Jacket for Monsoon
Lightweight, breathable and moisture wicking Undergarments
Hiking shorts
Lightweight walking pants
Fleece or tracksuit pants
Waterproof shell pants
Comfortable Hiking boots and socks
Camp Sandals
Walking poles
Gloves
Sunglasses
A good quality sleeping bag
Sunscreen and moisturizing balm for face, body, and lips
Refillable hot water bottles and water purifiers
Wipes, sanitizer, toothbrush, toothpaste, etc
A lightweight towel
Conclusion
Arranging an organized trek in Nepal on your own can be tricky. Make sure you are good at it. Else, solo trekking might not be as flexible as you think it will be.
Solo trekking gives you control over many factors of your trek. You can have your own itinerary, your own choices, and preferences. Most importantly, you must be very cautious about arranging the remote area treks. Arranging and doing them is more difficult.
If you need any help from us, you can Contact Us.