When people think about a difficult and challenging trek along with new experiences, they usually think about the Everest region trek. But, along with Everest trekking, and Annapurna trekking, specifically, Annapurna Circuit trek also has a lot to offer to adventurous trekkers. Annapurna Circuit trek offers a large diversity of wild flora and fauna along with the beautiful snow-clad mountains of the Annapurna Himalayas.
Annapurna region is a home for many rare species of plants and animals as well as magnificent mountain ranges such as Mount Annapurna, Mount Dhaulagiri, Mount Manaslu and many other mountains which are above the height of 8000 meters. All these beautiful Himalayas and the natural beauty of Annapurna will surround you as you trek to the Annapurna Circuit.
Annapurna Circuit trek 14 days will take you through the four districts of Nepal along with the deepest gorge, Kali Gandaki river gorge. 14 days Annapurna Circuit Trek with High Camp Adventures will provide you with facilities which will make your trekking experience memorable.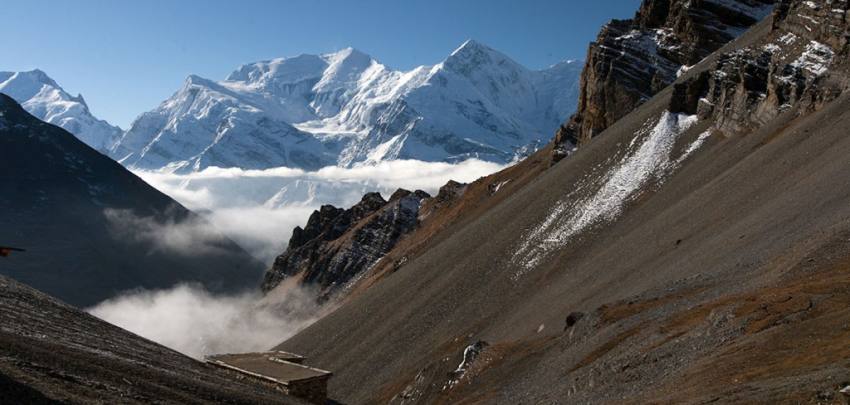 Trip Highlights of the Annapurna Circuit Trek 14 Days
Sightseeing the cultural heritage sites of Kathmandu and Pokhara.
Spectacular view of the mountains such as Mount Annapurna, Mount Dhaulagiri, Mount Manaslu and many others above the height of 8000 meters.
Exploring the local villages Chame and Manang.
Crossing the Thorung La Pass which is the highest point of this trek at 5416 meters.
Visit Muktinath Temple, one of the most popular pilgrimage sites for Hindus and Buddhists.
Crossing the Kali Gandaki gorge, the deepest river gorge in the world.
Bathing in the natural hot spring at Tato Pani.
Exploring the apple yards of Kagbeni and Jomsom.
Proper facilities of tea houses and accommodation in the Annapurna region.
Best Time to trek Annapurna Circuit Trek
The Annapurna Circuit Trek may seem a bit challenging trek, however, the trek is doable almost in every season. This trek will give you a different experience according to the time of the year you will be traveling.
Autumn (September, October, November)
Autumn has always been trekkers' favorite time in Nepal. September, October, and November are the months that fall during this season. The reason autumn being favorite among trekkers is because of the suitable weather and condition it offers for trekking.
The average temperature of Annapurna region during autumn ranges from 13 - 20 degrees during day time. The temperature of the region is comparatively low during the night. Autumn marks the end of summer in Nepal. So the temperature may be warm and humid but not too hot for your trekking.
Major festivals of Nepal such as Dashain and Tihar fall during this season. If you are someone who loves celebrations, you should definitely visit Nepal during Autumn.
Spring (March, April, May)
Spring is the time of the year when the whole greenery surrounds the country, creating the natural beauty of Nepal at its extreme level. It is the time when new plants grow and flowers bloom. You can see rhododendrons blooming in the hills as you walk along your way to the Annapurna Circuit.
Spring is one of the peak seasons for trekking to the Annapurna Circuit in Nepal. People who couldn't go for trekking during the autumn season choose spring as their next favorite time for trekking.
Spring offers a type of weather that is perfect for Annapurna Circuit trekking. Although you might expect some rainfall during spring, the temperature of the Annapurna region doesn't fall. Rather, the sky becomes clear and you can have a spectacular view of the mountains.
If you are planning on trekking to the Annapurna Circuit, make sure you book for your flights and accommodation early since Spring is one of the peak seasons for traveling.
Is Annapurna Circuit Difficult to Trek?
The difficulty level of trekking depends upon various factors such as the distance of the trek, walking duration, altitude of the trek and many other factors. Some of them are as follows:
Total Duration of the Annapurna Circuit Trek
The whole Annapurna Circuit Trek may cover the distance of 160 km- 230 km. To cover this distance, you will walk 8-15 km a day. This means for about 6-7 hours a day.
The walking duration in a day also depends upon the type of trekking package you choose. If you choose a package that has no separate day for acclimatization, you may have to walk for more hours in a day which might be too difficult for you.
Altitude of the Annapurna Circuit Trek
The highest point of the Annapurna Circuit Trek is at Thorung La Pass which is at the altitude of 5416 meters. Many trekkers around the world find difficult to cross this pass. It requires a lot of strength and physical training to cross the Thorung La pass.
While climbing to a higher altitude, you may also face the problem of altitude sickness. Altitude sickness causes difficulty in breathing. The oxygen level in the air becomes thinner when you climb to a higher altitude resulting in difficulty in breathing. If you find any symptoms of altitude sickness such as headache, nausea, and vomiting, descend to a lower altitude.
Weather and temperature of the Annapurna Region
Weather and temperature significantly determine the difficulty level of the Annapurna Circuit Trek. Trekking to the Annapurna circuit becomes quite challenging during summer and monsoon season.
The temperature of the Annapurna region falls to a minimum during winter. Because of this most of the trekking trails may be blocked of snow. You may have to carry a lot of trekking gears if you trek to the Annapurna Circuit during winter. Likewise, during summer, due to heavy rainfall, the trails to the circuit may get muddy and slippery. This results difficulty in walking which will make your trek uncomfortable. However, the trails will be less crowded during these seasons.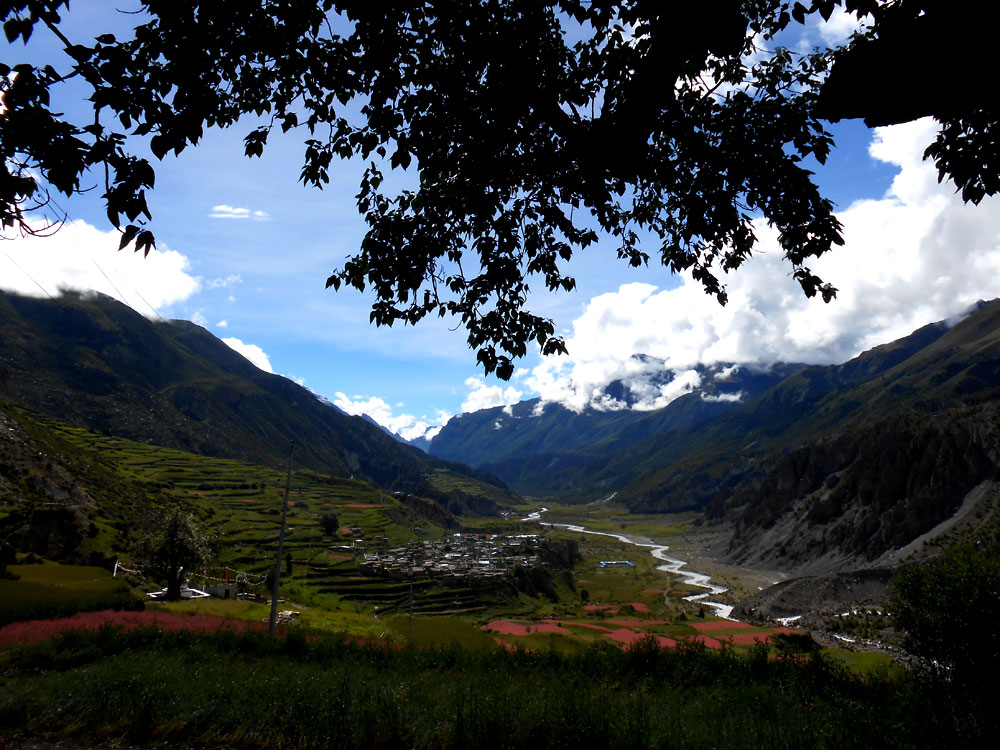 Tips for Annapurna Circuit Trek 14 Days
Hire a Guide and a Porter
Key to easy and comfortable trek is hiring an experienced guide and a porter. A guide is someone who will assist you along your way to reach your destination minimizing almost all hurdles. S/he will help you to interact with the local people of the community. You will be able to know about the actual lifestyle of the people living in a certain community. You can always learn more about a particular place when you hire a guide.
Similarly, Porters are the ones who will carry your heavy luggage. They can carry up to 10-15 kg of your bag. Hiring a porter will make you less tired. Therefore, for an easy and comfortable trekking experience, you can always hire a guide and a porter.
Walk slow
Walking slowly is one of the important tips when high altitude trekking like Annapurna Circuit. Rushing your way to reach the destination will tire you soon. You might also face some minor problems like slipping if you walk fast. Therefore, it always better to walk slowly and steadily.
Take Rest
Annapurna Circuit trek is a long distance trek where you will have to cover a distance of 160-230 kilometers. For this, you can't just walk for 7-8 hours continuously. Walking for such long hours in a day can cause a lot of pressure if your feet. So, take some breaks between your trek.
Check the Weather Forecast before the Trek
Weather condition of the Annapurna region can be unpredictable. You do not want to get caught in the rain when trekking. Do you? Hence, it is always better to check the weather forecast before you leave for trekking.
Watch Out for Altitude Sickness
It is very normal to have altitude sickness when trekking to a higher altitude. If you are an asthmatic patient, make sure you consult with your doctor before you plan to trek. Carry some prescribed medicines with you. If you see any symptoms of altitude sickness, descend to a lower altitude immediately to avoid some major problems.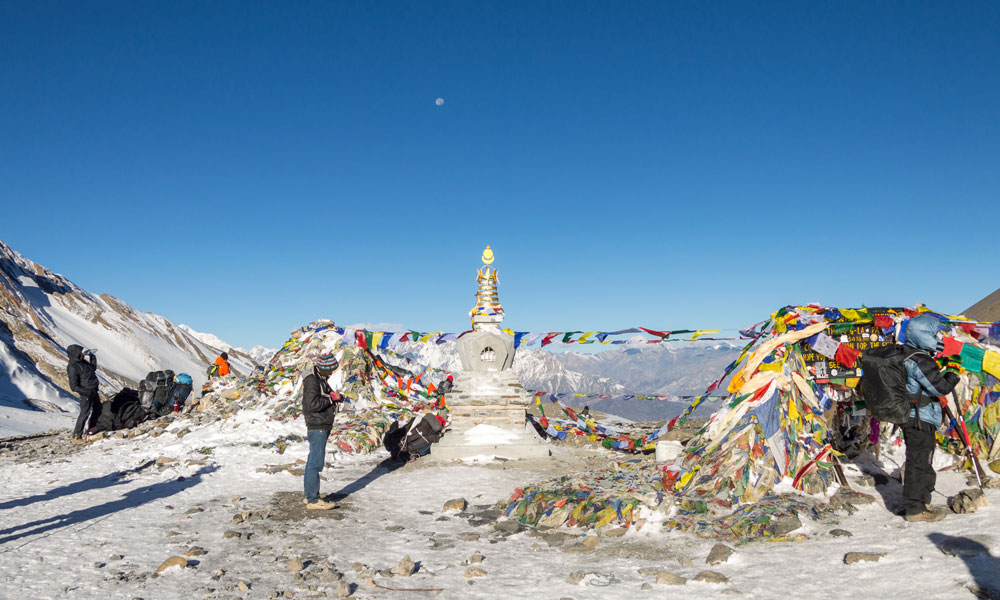 14 Days Annapurna Circuit Trek Packing List
Packing is one of the most important parts before leaving for trekking. But this might also be quite frustrating too. To carry a proper trekking gear for good trekking experience might be a difficult job. Here are some of the most important list of things you need to bring for 14 Days Annapurna Circuit Trek.
Clothing
Hiking shoes
Trekking socks
Trekking trousers
Down jackets
Fleece jackets
A couple of cotton t-shirts
hat/caps
First Aid Kit
First aid kit is important when trekking to the Annapurna Circuit. You may not find clinics or health posts in the Annapurna area. So, to avoid some minor problems from further spreading, it would be best to carry a first aid kit with you. Some of the items that you should include in the kit are:
Antiseptic creams
Diamox tablets
Vicks vapor rub
Antibiotic pills
Mosquito repellent cream
Sanitary pads/ tampons
Bandages
Scissors
Toiletries
You may have some difficulty in finding proper toilet facilities while trekking to the Annapurna Circuit. So here are some of the items you should carry when you trek to the Annapurna Circuit.
Toilet papers
Shampoo
Soap
Toothbrush
Toothpaste
Moisturizer
Cotton towel
Other extras
Camera
Batteries
Water bottle
Tent
Sleeping bag
Chargers
chocolates/ energy bars
Sunscreen
Sunglasses
Cost of Annapurna Circuit Trek 14 Days
The cost of Annapurna Circuit trek depends on factors such as travel packages, cost of permits, cost of trekking gears and other miscellaneous factors.
The travel packages of the 14 days Annapurna Circuit trek ranges from $900- $1090 per person. This cost includes the following items:
Teahouse and accommodation during the trek.
Standard breakfast, lunch, and dinner.
Private vehicle and transportation.
Cost of trekking permits such as Conservation Area Park Fees and TIMS Card (Trekker's Information Management System)
Monastery fees
This cost doesn't include any other personal expenses such as the cost of drinks and luxury hotel accommodation. For this, you will have to pay extra.
Along with the packages, you will have to pay for your guide and a porter if you wish to hire one. The guide usually charges $20-25 per day and porter charge $10-$15 per day.
Outline Itinerary of 14 Days Annapurna Circuit Trek
Day 01: Drive to Bhulbhule
Day 02: Bhulbhule to Chamche
Day 03: Chamche to Timing Village
Day 04: Timing to Dhikurpokhari
Day 05: Dhikurpokhari to Nawal
Day 06: Nawal to Manang
Day 07: Manang - Acclimatization day
Day 08: Manang to Ledar
Day 09: Ledar to Phedi or High camp
Day 10: Phedi or High Camp to Muktinath
Day 11: Muktinath to Marpha Village
Day 12: Marpha to Tatopani
Day 13: Tatopani to Pokhara by drive
Day 14: Drive back to Kathmandu
Conclusion
Annapurna Circuit Trek 14 days will give an opportunity to explore the beautiful Annapurna region. You will trek towards different rural areas of the region where you will get to explore the different ethnic diversity of people, their culture and lifestyle.
14 days Annapurna Circuit trek with High Camp Adventure will fulfill all of your trekking dreams. We provide you with excellent and experienced representatives who will guide you throughout your journey. Contact us if you have any questions regarding this trip. We also have a facility of customizing your trip to Annapurna Circuit.