One of the biggest concerns of beginners, when it comes to trekking, is the difficulty level of the trek. Also, the features that attract a lot of people like staying away from the city, and into the wild, the rudimentary settlement areas, and of course, the humans living in them, who may not understand their language, are also the ones that scares a lot of beginners. And most of the times, when a beginner cancels on his/ her trekking journey, it's not because the journey is actually tough, but rather because they've not understood the activity of trekking completely.
The solution to try to know as much about the journey as possible, which they can do by talking to experienced trekkers, or reading about trekking online. A little research would not just help them gain interest, but also motivate them to give it a try. Mardi Himal Base Camp trek is a journey that is ideal for beginners especially because its difficulty level is pretty low, and it takes them to the most outstanding villages and settlement areas of the Annapurna region. With a little bit of research on the internet, it's certain that any beginner would be attracted to be a part of this trek. This is the beginners' guide to Mardi Himal Base Camp trek.
Mardi Himal Base Camp Trek
Mardi Himal Base Camp trek is one the easiest treks in Annapurna region. It takes you to the Mardi Himal Base Camp, which is at an altitude of 4500 m. The base camp offers you amazing views of peaks in the entire Annapurna region, mainly Annapurna, Machapuchhre, Dhaulagiri, Himchuli, Singha Chuli, and especially Mardi Himal, a short yet beautiful mountain, with a height of 5587 m. Due to its easy difficulty level, Mardi Himal Base Camp trek can be considered ideal for people who've never tried trekking.
Mardi Himal Base Camp trek is a 6 days long journey. During this time, the trekkers cover villages and settlement areas like Kande, Deurali, Siding, Kokar, Dhampus, and so on. The highest altitude that the trekkers would reach on the Mardi Himal trek Nepal is that of Mardi Himal Base Camp. Since the trek keeps the tourists lower than 3000 m most of the times, no days have been assigned for acclimatization. However, there are steep ascends throughout the Mardi Himal trekking route, and you'd have to face them especially on the day you're meant to reach the Base Camp. The lowest altitude that you'll cover on the Mardi Himal trek Nepal is 1700 m, so there're an altitude jump of around 2800 m during the trek.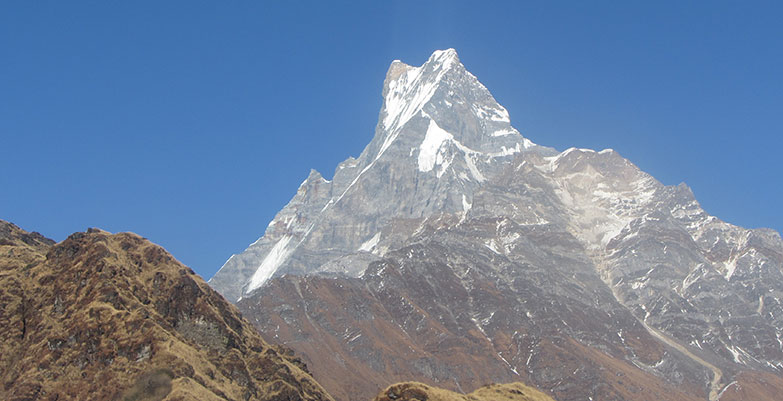 Quite like other trekking routes of the Annapurna region, Mardi Himal trekking route also takes you through picturesque rhododendron and pine forests. On your trek, you'll also come across rivers and waterfall, with crystal clear cold water flowing at a high speed in them. At times you'll have to walk alongside them, and at other times, you'll have to cross them by walking on suspension bridges. Many a times during the trek you'll find yourself surrounded by settings that are sure to amaze you, and make you want to stay here forever. The landscapes would also consist of pastures and terraced hills.
Mardi Himal Trek Map
Mardi Himal Base Camp trek is also one of the most interesting treks in the Annapurna region, with the possibilities of so many side treks. By going on these side treks, you can visit numerous villages that are not on the route, or even cover significant destinations like Annapurna Base Camp. ABC is only a couple of days to walk away from Deurali, which, as mentioned above is a village on the Mardi Himal Base Camp trek route. Now, you could depend on the guide or your trekking company to make these decision for you, or you could take control in your own hands, and this you can do with the help of a map.
Mardi Himal trek will give you an overview of the region. All the attractions on the route and off the route, possible side treks, the attractions of the side trek, nature of the attractions, whether it's natural, religious, cultural, and so on! All these pieces of information would be on the map. With a Mardi Himal trek map in your possession, way in advance, you could ask your tour operator to modify your itinerary as per your interest. Also, you could make last minute changes, and choose to visit a certain attraction in the area, if you have time in your hands. A map can help you have a distinct trekking experience.
A very crucial trek in the region whose route exists alongside, and visibly quite near and parallel to Mardi Himal Base Camp trek is Annapurna Base Camp trek. Both the treks are connected and so, one can easily serve as a side trek to the other one, depending on which trek you consider as the main. Both Mardi Himal Base Camp Trek and Annapurna Base Camp trek have similar features, when it comes to attributes like trek duration, difficulty level, views offered and villages covered. When you're trekking on the Mardi Himal Base Camp trek route, you should also try to give Annapurna Base Camp trek route a shot, provided that you have the required time and resources.
Annapurna Base Camp Trek
Annapurna Base Camp trek is a short, adventurous and beautiful trek. It is one of the most preferred trekking journeys in Nepal as it takes you to serene villages and settlement areas in the Annapurna region, and most importantly, the Annapurna Base Camp. Machapucchre Base Camp is another attraction that is featured on the trek. MBC doesn't just serve as a viewpoint, but also as a resting spot. There's no facility for accommodation in Annapurna Base Camp, so the trekkers prefer to return to Machapuchhre Base Camp to spend their night, after they've taken the day trip to ABC.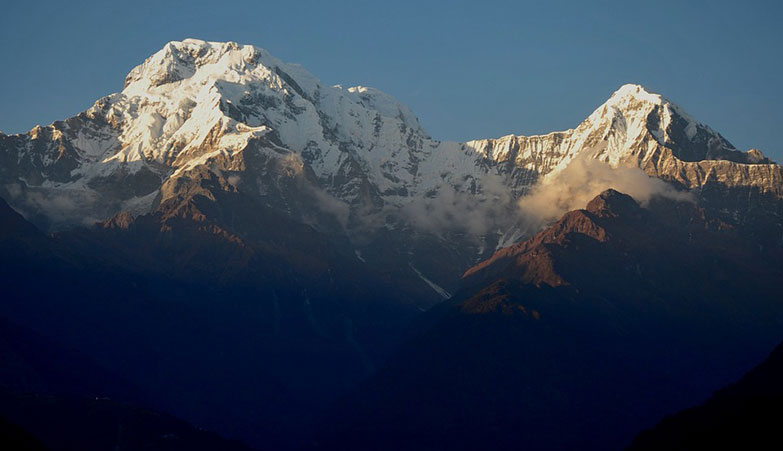 It is a 9 days long trek, and during the journey, the trekkers cover villages like Ulleri, Jhinu Danda, Deurali, Sinuwa, and so on. Poon Hill is another main attraction of the trek. It offers panoramic views of the mountains in the Annapurna region. You also get to visit the villages of Ghorepani and Ghandruk, which along with Poon Hill are a part of Ghorepani Poon Hill trek, another significant trek in the region.
Tips For The Beginners
The first and the foremost thing that you need to keep in mind as a beginner is to take your guide seriously, and keep your ears open for his words, at all times. Throughout the trip, your guide will give you numerous pieces of advice, and if you listen to him, and follow what he says, well, you'll feel motivated, energized, and quite comfortable hiking on the route.
Make sure that you don't put any food item that you find in your mouth. You might come across delicacies throughout your trek, which might seem delicious and hard to resist, but you'll have to try your best to inspect them properly before you give them a try. The last thing that you'd want to do is fall sick on a trekking journey, and be rushed for a medical emergency.
This doesn't just imply in case of food items but drinks as well. Drink only packaged drinking water. The water offered loosely could make you sick. When you're walking on the trek, you might be inclined towards drinking alcohol based drink, especially the ones that are locally prepared, but avoid them at all cost. Alcohol makes the effects of altitude sickness more intense, and causes them to last for a longer duration. This is certainly not healthy for your body.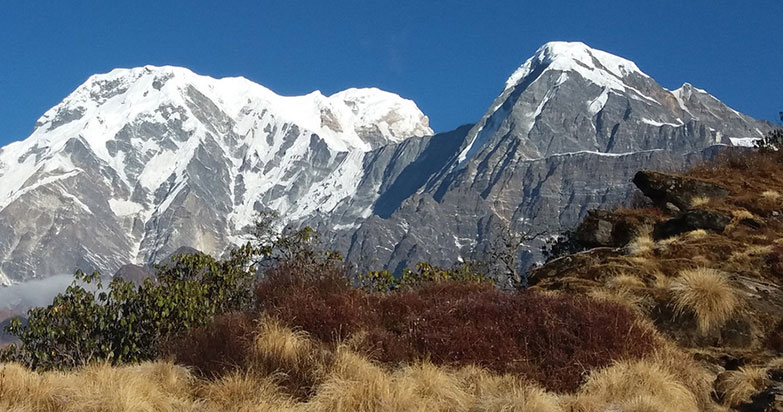 Before you book your trip, make sure that you go through the itineraries offered by numerous travel companies. By looking for options, you would not just find a better package, but also you'd get a better deal on price. However, also be a little skeptical about the credibility of the travel company that's offering you these exciting packages. Look for reviews and blogs on the internet to be sure that their services are exactly like their claims and promises.
Now, if you're someone who's never tried trekking, but would like to give it a shot, however, you're not quite sure which route to go for. Well, Mardi Himal Base Camp trek could be the right option for you. As mentioned above, the challenges of the trek are mild enough for any trekker to take on, and especially for beginners. So give Mardi Himal Base Camp trek a try this holiday season. It is guaranteed that you'll have an amazing experience on the journey.
High Camp Adventure is a travel partner that doesn't just organize your journey, but also stays by your side throughout the time, to ensure that you have the best possible time. This is one of the features of High Camp Adventure that makes it stand apart from the rest of the tour companies. Client Satisfaction is their ultimate goal, and they know for sure that the only way to achieve that is to give the control stick in the hands of the tourists. So, as their clients, you'll have full freedom to suggest changes to the itinerary, and modify it to suit your needs. They have packages with exciting activities like trekking, luxury travel, mountain flights, helicopter tours, and so on. They cover the most popular and as well as unexplored tourist destinations across Nepal, and in countries like Bhutan and Tibet. With High Camp Adventure by your side, you can be rest assured about being offered the best travel related services.