Annapurna region is one of the most beautiful and most popular trekking destinations in Nepal. The Annapurna Circuit trek is a popular trekking trail in the Annapurna region. This trek is as popular as the Annapurna base camp trekking is.
October is the best time for Annapurna Circuit trekking. It is the time of mid-autumn when the temperature is mild and so suitable for trekking. Also, there are very fewer chances of weather changes, rainfalls, and snowfalls in October.
The Annapurna Circuit trek takes you around the entire Annapurna region. You will walk around the magnificent Annapurna massif via rejoicing trekking trails. In October, the trekking trails are easy and more beautiful. Unlike in Monsoon, the trails are drier and easy to walk on. Also, the chances of snowfalls on the trails are very scarce.
This trek takes you to the highest point at the Thorong La Pass (5,416m/17,769ft). You will trek through the arid valley of Upper Manang to the pass. Upper Manang is a beautiful place. Here, you'll see the rural Nepalese life influenced by Tibetan Buddhism. Here, the houses are small and made up of stones and muds.
Along the trekking trail of Annapurna circuit, we'll come across the Kali Gandaki gorge, the deepest gorge in the world. You'll also see the astounding view of Mt. Annapurna I, 8091 meters and Mt. Dhaulagiri, 8167 meters. This trek rewards the trekkers with spectacular views of high hills, rushing rivers, natural streams, passes, and mesmerizing ridges.
The Annapurna circuit trekking is culturally enticing. During this trek, you will walk across different mountain communities of Gurung, Manangi and Thakali people. At these settlements, you'll see people living the rural life. Their way of life is far beyond life in the cities. You'll see the purest forms of culture, traditions, and golden-hearted people.
Annapurna Circuit Trek also takes you to Jomsom Muktinath trekking route. The Muktinath temple is a popular religious pilgrimage site of Hindus and Buddhist. At the temple, you can see the devotees taking holy bath at the 108 taps. The water from the taps are too cold, they melt from the snow of Himalayas. You'll also see the three eternal flames fueled by a natural gas source at the Jwala Mai temple.
This trek combines with the Ghorepani Poon Hill Trekkingalso. You can witness the best sunrise view over the gigantic Annapurna and Dhaulagiri ranges from the Poonhill. Along with the great mountain vista, you can also witness the great Gurung village also.
This trek is an opportunity to observe biodiversity as well. During this trek, you will see lots of domesticated Yaks and Himalayan Goats. Also, you will see a number of other birds and animals in their wild habitat. Some of the wildlife and birds that you might see en route are the endangered Musk Deer, Tahr, Eagles and Vultures. You'll also see diversity in vegetation ranging from (tropical to subtropical) to (temperate to sub-alpine) to (alpine beyond tree-line).
Trekking to Annapurna Circuit in October is the right decision. You'll see the polished views of the gigantic Himalayas, diverse landscapes, and many others.
If you want to go on a trek with us, Contact us. High Camp Adventure organizes the best-guided treks and tours in Nepal.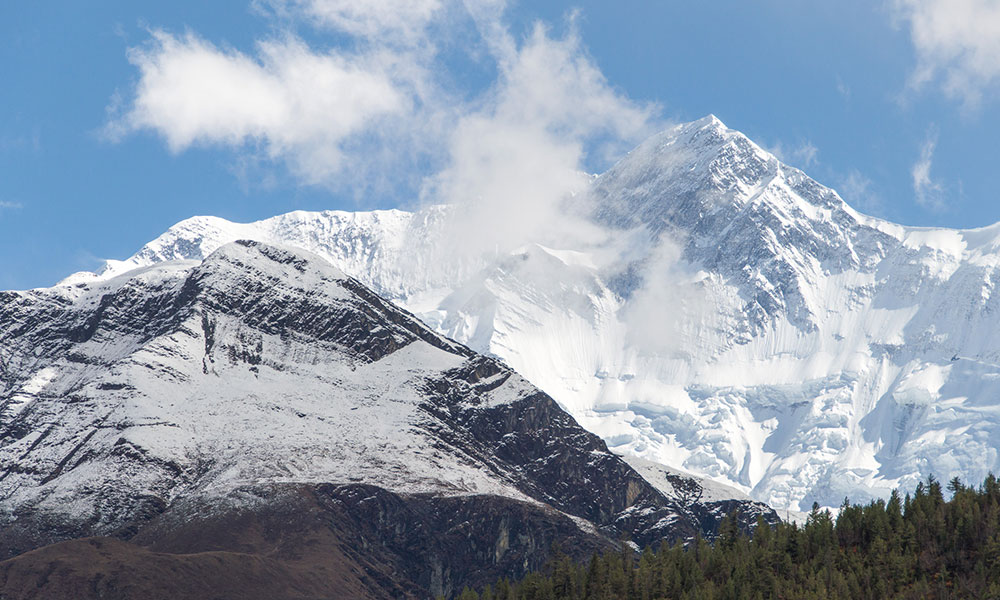 Highlights of Annapurna Circuit Trekking
Walking around Traditional Villages at Ghorepani, Ghandruk, Jomsom, Manang, etc.
Walking through forests of Rhododendrons and oaks
Crossing beautiful rivers over suspension bridges
Glimpses of Rural Nepalese lifestyle
Mesmerizing views of Annapurna massif and other spectacular peaks
Crossing the Thorong La Pass
Thorong La Pass in October
Thorong La Pass is the highest mountain-pass in the world. This pass lies at Damodar Himal, towards the north of Annapurna and between Manang and Muktinath. This pass is undoubtedly the major attraction and thrill of Annapurna Circuit trek.
The highest point on the Thorang La pass, 5416 meters, is at an altitude higher than the Everest Base Camp, 5380 meters. Crossing the pass is the most challenging task. The astounding views of white mountains and varying landscapes are out of the world.
Crossing the pass rewards you with spectacular mountain vistas. You will see brilliant views of many Himalayas like Manaslu, Dhaulagiri, Nilgiri, Machhapuchhare, Annapurna I-IV, Annapurna South, Gangapurna, Hiunchuli, Lamjung Himal, Pisang Peak, Chulu West Peak, Tilicho Peak, and the Tukuche Peak.
Crossing Thorong La pass in October is easier than crossing it in other times of a year. The stable weather and climatic conditions make October the best time for Thorong La pass trek. While crossing the pass in October, you won't have to face difficulties due to closed passes as in winter.
The temperature at the higher altitudes is always colder. The areas above 4000 meters have negative degrees temperature in October. The temperature at the Thorang La pass averages around -4 degree Celcius in October.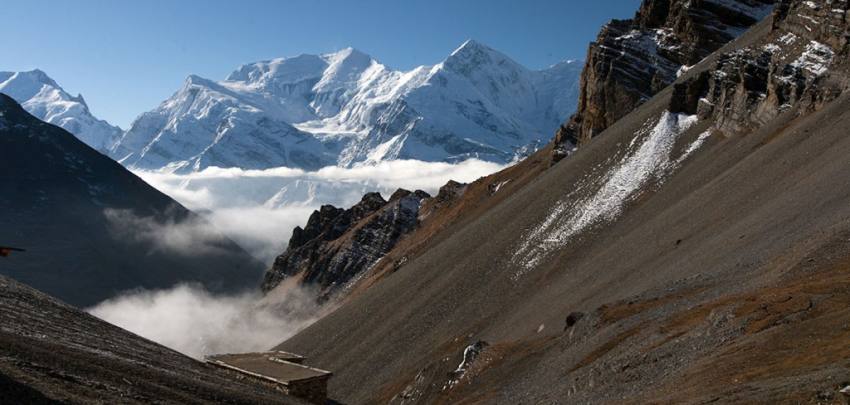 Attractions of Annapurna Circuit Trek in October
October is the most popular time of the year for Annapurna Circuit trekking. October is an autumn month that is well known for its stable weather conditions as well as improved air quality.
Here are some of the attractions of Annapurna Circuit Trekking in October:
Perfect weather
October is the month that promises perfect and stable weather conditions. Weather in October remains clear with least chances of snowfalls even at the higher altitude places like Thorong La pass. The weather changes in October are infrequent. This is a perk of trekking to Annapurna circuit in October.
Peaceful Skies and Miraculous Views
Tranquil blue skies are the highlights of trekking in October. You will see the majestic views of the sugar-coated Himalayas towering up to touch the blue sky. The clean air enhances the visibility of the surrounding. You'll see incredible views of the surrounding landscapes, lakes, gorges, and the Himalayas.
Easy Trek
One of the major difficulty during Annapurna circuit trek is crossing the Thorong La pass. Crossing the pass in October is relatively easier as compared to crossing it in other winter and summer months. This is because there will be less ice and snow on the trail.
Muktinath Temple
Muktinath Temple is a religious pilgrimage site. This temple is a sacred place for the Hindu and Buddhist devotees. The temple has many attractions like the 108 stone taps, the eternal flames, and the two ponds of icy cold water.
Early Morning Views from Poon Hill
The sunrise view from Poon Hill is the best sunrise view that you will see during your entire Annapurna Circuit trek. Moreover, the perfect weather, blue sky, and clean air provide outstanding views of the sunrise over Annapurna and Dhaulagiri ranges. The magnificent view of gleaming sunrays striking the white mountains is mesmerizing.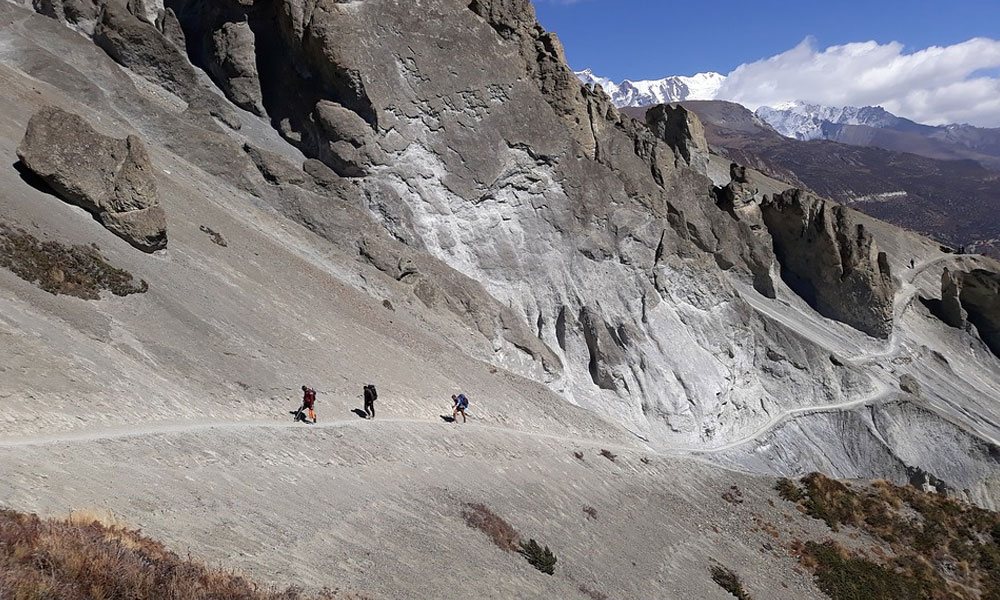 Difficulties During Annapurna Circuit Trek in October
Difficulty in finding lodges for Accommodation
Finding a place for accommodation is a challenge while trekking in Annapurna circuit in peak season. Due to the limited number of lodges and an increasing number of trekkers on the trail, you might have difficulty to find a place for staying.
Altitude
The highest altitude on the trek, 5416 meters at Thorang La pass is a hair-raising pass in Nepal. At the top of the pass, the amount of oxygen reduces to half the oxygen at sea level. This is a major challenge as the less oxygen and high altitude triggers altitude sickness.
Note: Even though October is the idle time for Annapurna Circuit trekking, you can not be so sure about perfect weather and a perfect trek. At high altitude chances of blizzards, high winds, change in weather and avalanches are unpredictable. So, you must prepare to face any kind of difficulties that might come along during this trek.
If you want to go on a trek with us, Contact us. High Camp Adventure organizes the best-guided treks and tours in Nepal.
Tips for Annapurna Circuit Trekking
Pack Light
Bring only what you need. Carrying an unnecessarily heavy backpack will make it difficult to trek. Make some researches on what gears do you need for Annapurna Circuit trekking in October. Pack all the essentials while excluding the unnecessary.
Stay Hydrated!
Your body dehydrates sooner as you trek to the higher altitudes. If your body dehydrates, it will trigger the symptoms of altitude sickness. This will add difficulty to the trek. So, drink water at certain intervals. Also, you must avoid drinking alcohol as it makes your body dehydrate faster.
Bring Good Pair of Hiking Boots
Remember! You are going on a remote area trek. The trekking trail isn't fair and easy. Instead, it is rugged and more difficult. So, get yourself a pair of comfortable hiking boots before you go. Make sure you won't get blisters on your feet because of uncomfortable shoes.
Wear The Right Clothing
Wear clothes that will be comfortable and right for the temperature and weather. October isn't a winter month. So, you must not wear or carry over-weight warm clothes. Likewise, there is no need of wearing heavy rainproof clothing. Check out on the clothing tips for Annapurna Circuit trek in October.
Get Travel Insurance
Getting travel insurance is absolutely necessary as you will be trekking to such a higher altitude. In cases when you'll need some emergency medical evacuation or some helicopter rescues, travel insurance is all that can save you. So, buy travel insurance that will cover for the maximum elevation on the trek.
Trekking Poles
Trust me! Trekking poles will save your knees during your Anapurna Circuit trek. The trekking poles are great for ascends and descend. They will be very helpful for crossing the Thorong La pass.
Pack Some Snacks
Though you will be eating three meals a day at the lodges, you still need to carry some lightweight snacks. There might be some cases when you feel hungry or low in energy and the lodge is way too far. In such cases, instant energy providing snacks like chocolates will do great.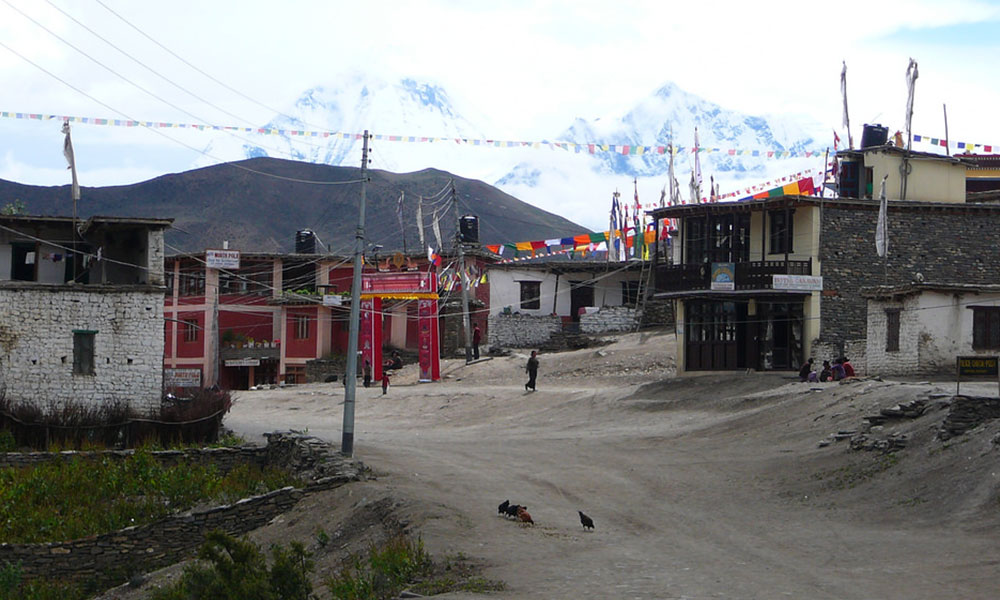 Packing List for Annapurna Circuit Trek in October
Long sleeve t-shirts
Short sleeve t-shirts
Fleece jacket
Insulating jacket
Fleece Pant
Trekking trouser
Trekking hat
Beanie or headband
Sunglasses
Headlight
Inner gloves
Outer gloves
Undergarments
Hiking boot
Thermal socks
Gaiters
Flip-flop
Duffel bag
Daypack
Daypack cover
Trekking Poles
Water bottles
Headlamps
Sleeping bag
Trekking towel
Baby wipes
Hand Sanitizer
Sunscreen
Lip balm
Shampoo
Deodorant
Toothpaste and Toothbrush
Hairbrush
Vaseline
Medication: Ibuprofen, Medical tape (for blisters), Diamox (for altitude sickness), Antibiotics in case of diarrhea, Water purification tablets
Final Say,
If you are planning to trek to Annapurna Circuit in October, you are making a right plan. Trekking in October reduces the trekking difficulties. Furthermore, you can experience the best of nature. The crispy environment enhances the surrounding views and thus provides perfect photography opportunities as well.
If you want to visit the Tilicho lake, the lake placed at the highest altitude in the world, you can go for Annapurna Circuit Trekking with Mesokanto Pass trek.
Do you want to go on treks and tours with High Camp Adventure? If yes, feel free to contact us. We organize the best treks and tours in Nepal.