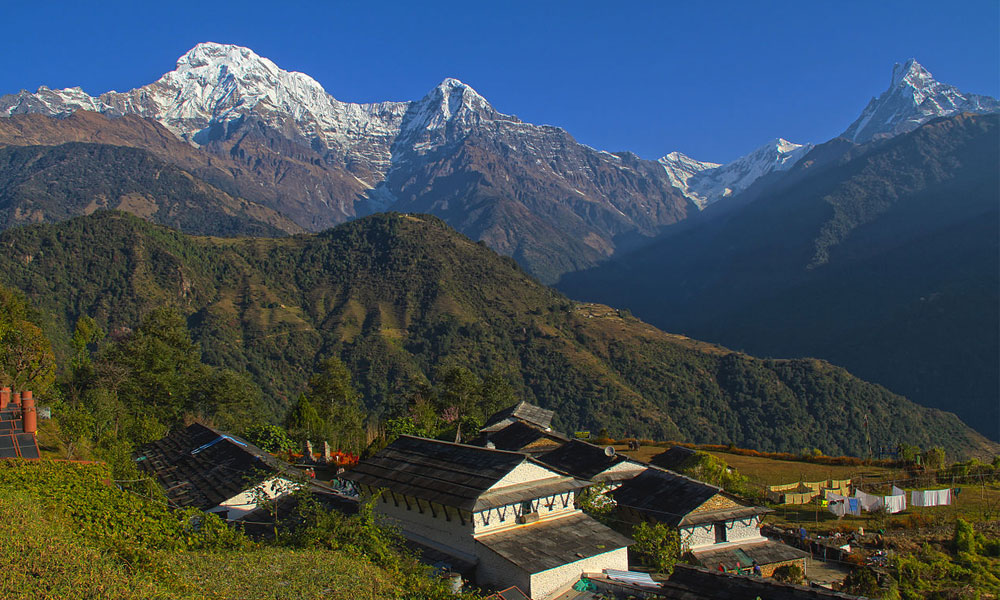 Ghorepani Ghandruk sits to the northwest of Pokhara at an altitude of 3210 meters. The trek is one of the most rewarding treks of Nepal that will offer you with the majestic views of the mountains along with sunrise and sunset views. The trek is designed for the ones who want to explore the natural beauty of Nepal within a short period of time.
Ghorepani Ghandruk is one of the most renowned eco treks in Nepal. It is suitable mostly for true nature lovers to experience the local lifestyles inhabited by Gurung, Sherpas, and Magars of the Annapurna region. It is a short and beautiful trek and can be done by every type of trekker with a basic physical condition.
Ghandruk is a village in the Annapurna region that is popular among various trekkers. The trails of the trek are quite easy and you will come across various villages, monasteries, subtropical valleys and dense forest covered with rhododendrons. One of the major attractions of the trek is Poon Hill, which will give you one of the best viewpoints of the glorious mountain ranges such as Mount Annapurna and Mount Dhaulagiri.
Your trek to Ghandruk Ghorepani starts with a short drive to Pokhara from Kathmandu. The adventure journey begins from Nayapul where you will come across a wide range of biodiversity and wildlife, rivers, mountains, and overall natural beauty. The trek is achievable in 3 - 11 days according to your choice. Join High Camp Adventure to make your trek to the Ghorepani Ghandruk thrilling and wonderful.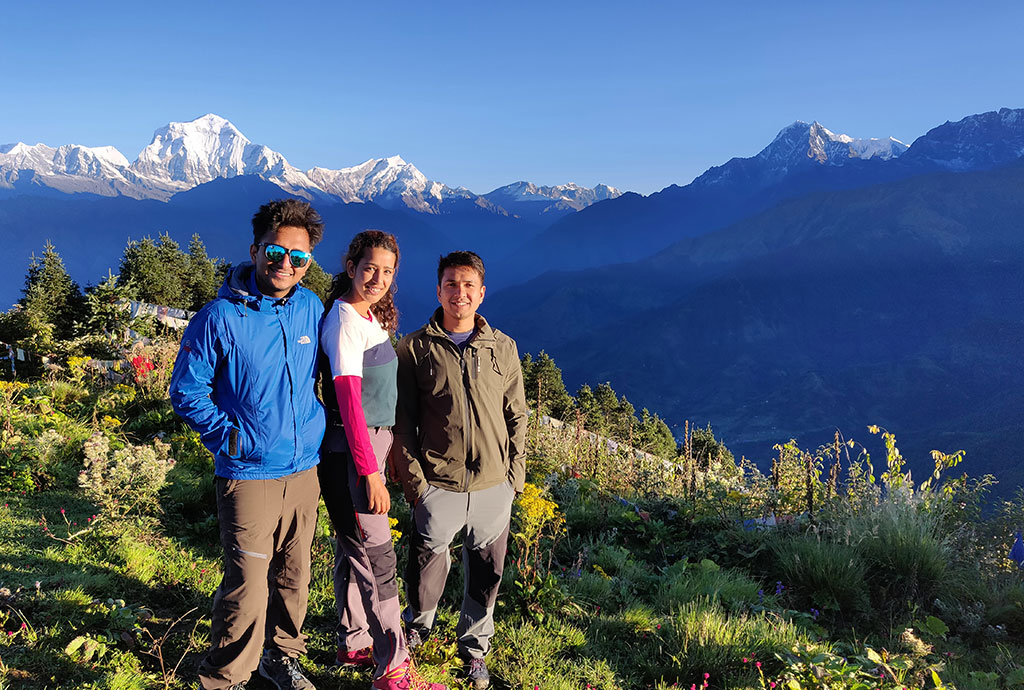 Some of the major Highlights of the Ghorepani Ghandruk Trek
Easy walking trails.
Walking along the beautiful village of Ghandruk.
Sunrise and sunset view at Poon Hill.
Excellent views of the mountain ranges such as Annapurna, Dhaulagiri, and Machhapuchhre.
Local cultural experience throughout the trek.
Ghorepani Ghandruk Trek Itinerary
Day 01: Arrive at Kathmandu airport and same day Drive to Pokhara (1350m)
On the first day, you will reach the Tribhuvan International Airport in Kathmandu and take a drive to Pokhara in a tourist bus. Our representative will come to take you from the international airport. It will take you around 7 hours to reach Pokhara from Kathmandu.
Day 02: Drive from Pokhara to Nayapul 55 km and Trek to Tikhedhunga (1540m)
After you reach Pokhara, you will take an hour's drive to reach Nayapul. At Nayapul you will have your breakfast and start trekking to Tikhedhunga. After walking for 3 to 4 hours, you will reach Tikhedhunga where you will spend your night.
Day 03: Trek from Tikhedhunga to Ghorepani (2850m)
On this day, you will trek to reach Ghorepani which is a village filled with diverse culture and stands at a height of 2850 meters. On this day you will trek for around 6-7 hours to reach Ghorepani. You will spend a night in a lodge at Ghorepani.
Day 04: Trek from Ghorepani to Ghandruk (2090m) via Poon Hill 3210m & Tadapani
On the fourth day of your trek, you will have to walk for about 7 hours in the villages of Poon Hill and Tadapani to reach Ghandruk. Poon Hill is at the height of 3210 meters which will give you one of the best points for Annapurna range and Dhaulagiri range. From Tadapani you will reach to Ghandruk walking along the traditional Gurung villages and magnificent views of the mountain ranges.
Day 05: Trek from Ghandruk to Pokhara (900m) and flight to Kathmandu
After having your breakfast at Ghandruk, you will descend your way to Nayapul that will lead to farms, fields, and villages of the area. After reaching Nayapul you will have your lunch and take a short drive to Pokhara. From Pokhara, you will take a flight to Kathmandu which will take you around 30 minutes.
Day 06: Departure for your onward flight.
This is the last day of your trek where you will stop your adventurous trek to the Ghorepani Ghandruk. Our representative from High Camp Adventures will drop you to the International Airport for the final goodbye.
Best Time for Ghorepani Ghandruk Trek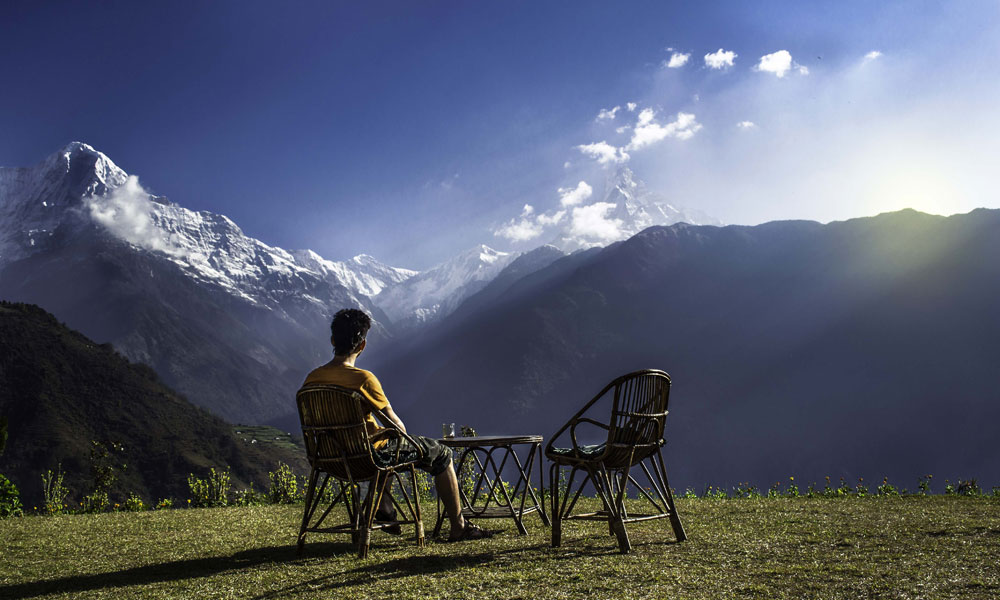 Ghorepani Ghandruk Trek is an easy trek and can be done in every season. But, the most favorable seasons for Ghorepani Ghandruk trek is during Autumn and Spring. Autumn and Spring are the peak seasons for trekking in Nepal. Spring falls in the month of March, April, and May whereas Autumn falls in the month of September, October, and November.
Autumn is also known as the post-monsoon season in Nepal. The skies are usually clear and you will have clear views of the mountains and scenic beauty. Likewise, Spring is the pre-monsoon period; the weather and temperature of the Annapurna region are favorable for trekking.
Although Autumn and Spring are the best time of the year for Ghorepani Ghandruk Trekking, during early September and late May, you may expect some light rainfall. Due to this the trails to the Ghorepani Ghandruk may be muddy and slippery too. Trekking in such muddy paths may be quite challenging especially if you are someone who is not used to trekking.
Food and Accommodation during Ghorepani Ghandruk Trek
You can find plenty of teahouses and restaurants in the Annapurna region along the way to the Ghorepani Ghandruk Trek. All these teahouses may provide you with proper food and accommodation facilities. But, most of the teahouses and lodges may not provide you with proper toilet facilities such as toilet papers, cotton towel, shampoo, etc. so, it would be better to carry your own toiletries.
During the Ghorepani Ghandruk, you will find foods which are typical Nepali Trekking food which is "Dal Bhat and Tarkari." Along with this, they have a variety of food items such as pasta, pizza, sandwich, pancakes and many more for a good price if you are willing to pay. You can also find beverages in such teahouses and restaurants such as mineral water, soda, lemon water, beer, coffee, tea, and other alcoholic beverages if you want; though alcoholic beverages are not preferable while trekking.
Similarly, you can choose your accommodation during your trek to the Ghorepani Ghandruk but, during the peak seasons, there is a high chance of the teahouses filling up. So, it is better to book for your accommodation as early as possible.
Is Ghorepani Ghandruk Trek Difficult?
Ghorepani Ghandruk trek is considered to be an easy trek which does not require any physical pieces of training. But, however, it is also best to do some physical exercises such as running, cycling and swimming before you start your trekking journey to the Ghorepani Ghandruk.
Ghorepani Ghandruk trek can be a good trekking experience for the ones who are new to trekking. You can trek to the Ghorepani Ghandruk with your family and children as well. But, you should be able to walk for about 6-7 hours a day. If you are an experienced trekker and are used to walking for hours, you do not have to face any difficulties while trekking to the Ghorepani Ghankdruk. However, during monsoon season, you must be careful with the wet and slippery paths.
Ghorepani Ghandruk Trek with or without Guide?
Is Ghorepani Ghandruk trek possible without a guide? The answer is Yes, but it also depends upon you. Are you sure if you can trek to the Ghorepani Ghandruk all on your own? It is because the routes to the Ghorepani Gandruk may not be as easy as you think. So, it would always be better to hire a guide if you want an easy and comfortable trekking experience.
Guides will direct and assist you to follow an easy route the Ghorepani Ghandruk and you can always have someone to ask questions. Guides will have help you to interact with the local people of the area. And, carrying all of your heavy backpacks and walking continuously for hours may exhaust you. So, hiring a porter will also be very effective. They will help you to carry your bags and make your trek lighter. However, if you think you can compromise the benefits of a guide and a porter and can manage the trek on your own, you can go for it. This trek may not be too difficult for you.
Well if you decide on hiring a guide and a porter it will costs you some price for their service. Guides usually charge $20-$25 per day whereas hiring a porter may cost you $10- $15 dollars a day. So, you can make your decision about the budget you have.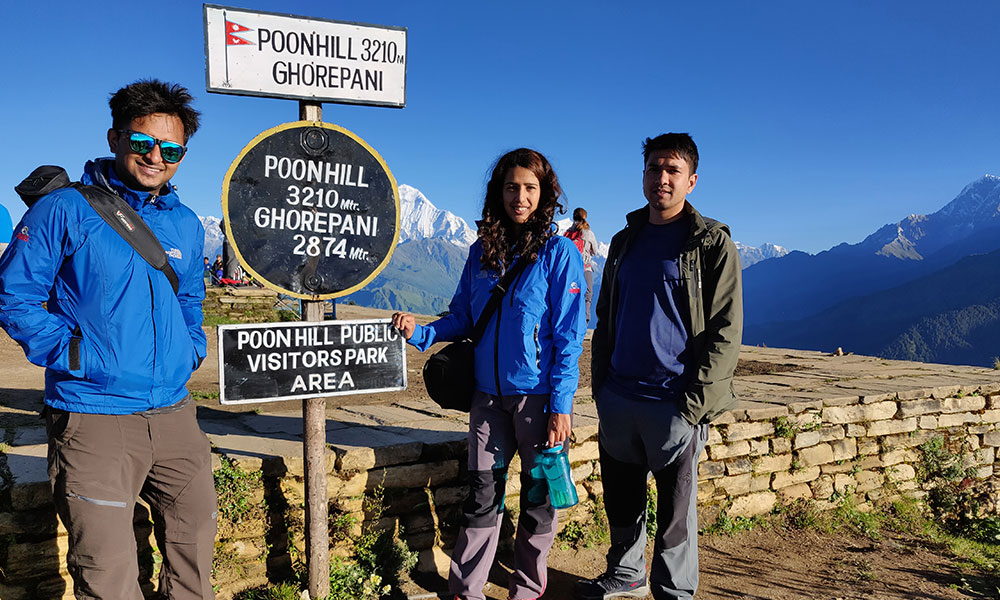 Conclusion
Ghorepani Ghandruk Trek is an easy and continuous walk to the eco-friendly Annapurna Region. Walking along the forest filled with rhododendrons will mesmerize you to the core of your heart. Get ready to explore the natural beauty of the Annapurna region along with a thrilling trekking experience to Ghorepani Ghandruk with High Camp Adventures.
High Camp Adventures is one of the well-known trekking agencies in Nepal that has been serving its customers for the past few years. We are equipped with well experienced and disciplined representatives who will help you throughout your trip from your arrival at the Tribhuvan International Airport to your final departure. Remember us at High Camp Adventures if you have any doubts regarding your trip to Ghorepani Ghandruk. Do not hesitate to contact us.