Mardi Himal trek is one of the beautiful and affordable treks in Nepal. This makes a perfect trek for those who are in a constricted time bound and yet seek an affordable budget trekking.
Mardi Himal trek is an average popular trek route in the Annapurna region. Albeit, during this trek, you will enjoy walking over the unspoiled, splendid trekking trails. It is cheaper than the other popular treks in Nepal.
Strolling on the beautiful grasslands to the base of Mardi Himal, you enjoy the spellbinding solitary and exotic trails of Annapurna region. The diverse landscapes, forests, valleys, and villages are inspiring. The views of the snowy peaks are magnificent. It is a blissful moment to have the dazzling views of Annapurna, Machhapuchhre, and Hiunchuli. Hence, makes this trek pretty much rewarding!
Do not worry about spending money on this trek. Every penny you pay for the Mardi Himal Trek is worth!
Various Factors Affecting the Mardi Himal Trek Cost
Number of days on the trek
The trek route that you choose
The time of trek
Mode of transportation from Kathmandu- Pokhara - Kande.
Package Cost: Mardi Himal Trek
Our package cost for the Mardi Himal trek starts from USD $550. The trek cost varies for different groups as the cost of your trek will depend upon your itinerary.
The Cost Includes:
Pick up and Transfer to and from Tribhuvan International Airport to your hotel in Kathmandu.
Two nights accommodation and breakfast at a 2/3 star hotel in Kathmandu.
Two nights accommodation and breakfast at 2/3 star hotel in Pokhara.
Transportation ( as per your itinerary).
Tea-house lodging during the trek.
Standard Meals including breakfast, lunch, and dinner during the trek.
A registered and experienced guide and a porter (we provide one porter for two clients).
Trekking equipment including Sleeping bag, Down jacket, and Walking poles.
Permit fees and TIMS card.
Trekking Map.
Medical kit box.
Government taxes.
Our service charge.
A Farewell Dinner in Kathmandu.
Transportation Cost
Your Mardi Himal trek begins with a flight or a bus ride from Kathmandu to Pokhara.
The flight from Kathmandu is a smooth, convenient way to reach Pokhara. It is only 25 minutes. Flight to Pokhara costs you nearly US $120 per person (one way).
Next adventurous option is you travel by roadways to Pokhara. Traveling charge via public bus, jeep, private cars, or tourist bus is different. A tourist bus will charge you around USD $10 per person (one way).
Hiring private vehicles will be costlier but more flexible. The payment is around USD $170 to USD $220 which divides USD $10 to USD $30 per person.
Once you reach Pokhara, 25 minutes drive on a local bus will take you to Kande. You can also drive to Kande on a tourist bus. The local buses charge you USD $10. The actual trek begins after you get to Kande.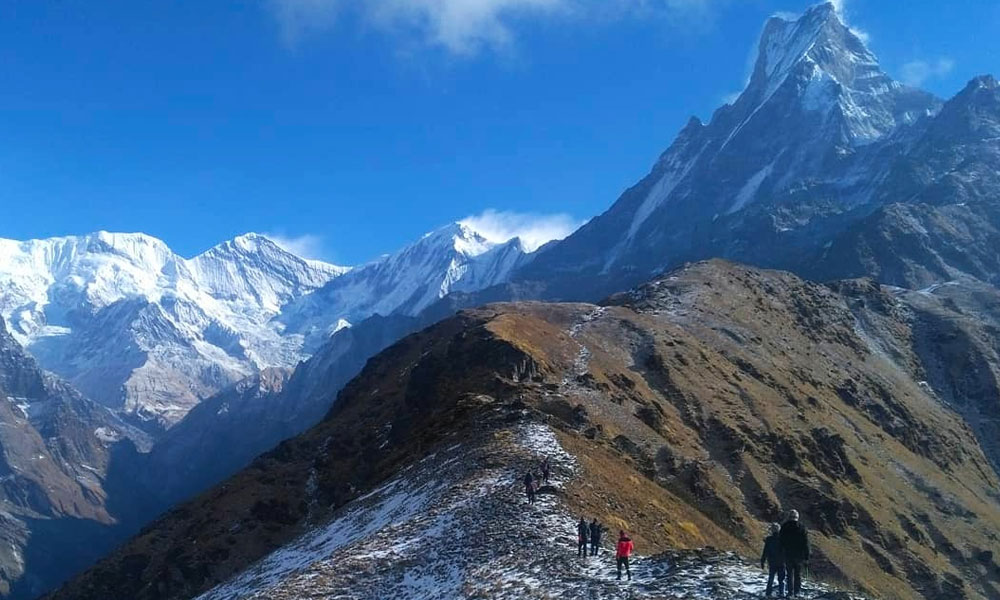 Costs of Permits and Fees
You must get the Annapurna Conservation Area permits and a TIMS card for the Mardi Himal trek.
The cost of Annapurna Conservation Area permit is Rs. 2,000 per person for a foreigner. For SAARC nationals, it costs Rs. 200 each. The cost of the TIMS card is the same for all the trekkers. TIMS card costs Rs. 1,000 each.
You can get your trekking permits and TIMS cards in the Nepal Tourism Board Office on Pradarshani Marg, Kathmandu. You can also get them at the Nepal Tourism Board Service Center in Besisahar, Lamjung. The Trekking Agencies Association Nepal in Pokhara also provides the permits and the TIMS card.
If you want to travel with us, we can arrange for your trekking permits. The only thing you have to do is to provide us with the essential documents. Contact Us.
Costs of Accommodation and Food During Trek
The trek starts with comfortable accommodation in a 2 to 3 star hotels in Kathmandu and Pokhara.
Once you get on the trekking trail, you will be accommodating in the traditional and beautiful tea-houses. The tea-houses provide basic facilities. They provide rooms on a twin-shared basis. To book the rooms on single supplement, you must pay extra charges.
The cost of staying overnight in a tea-house or a lodge is around $2-$6. So, in a 10 days standard itinerary, the total cost of accommodation rounds USD $20 to USD $30. The range of cost is variable. It depends on the time of your trek and on your negotiating skills.
The tea houses on Mardi Himal Trek offers some of the local as well as more popular international/continental cuisines (up to Dhampus). The cost of a one-time meal can range from $2-$6. This cost rises with the rise in altitude and the remoteness of the place.
They serve basic food items from their short food menus. We recommend you to eat Dal Bhat for lunch. It is a typical Nepali food that contains steamed rice, lentils, and seasonal vegetables. This makes a complete diet for trekking.
The drinks in the trek lists tea, coffee, and some flavored drinks. The bottled water charges $0.25-$4.
In the off seasons, the cost of accommodation and food might get cheaper. Also, the tea-houses might prepare you some of their local delicacies on request.
Cost of Guides and Porters
A professional registered guide in Nepal charges around USD $25 per day. This cost includes his/her fees for accommodation, food, and insurance. The cost of hiring a local porter is around USD $16 per USD $20 per day. The cost inclusion list is same as of the professional porters..
There are some porters who can communicate well in English. They are the porter-guides. Hiring them is cheaper than hiring both the guides and porters. The porter-guides costs USD $18 to USD $20 per day in general.
(The guides and porters expect some tips from you. The above-mentioned costs are their service charges. This does not include tips.)
Cost Excludes
International plane ticket to and from Nepal.
Major meals in Kathmandu and Pokhara (excluding the breakfasts).
Personal Expenses: laundry, telephone calls, bar bills, drinks, and snacks.
Personal clothing and gear.
Costs of Travel Insurance.
Shower fees at lodges, fees for recharging electronic equipment, and personal expenses along the trail.
Tips for Guides, Porters and staff.
Expenses incurred by cancelation and events beyond our control. for example weather delays, trail detours, political unrest, illness, and others.
Clothing and Equipment Costs
The costs of clothing and equipment solely depend on what brand you choose and where you buy them. Also, if you are renting, the costs of renting the trek gears will be less than buying new.
Here is a rough estimation of the costs of your clothing and other essential trek gears during your Mardi Himal trek: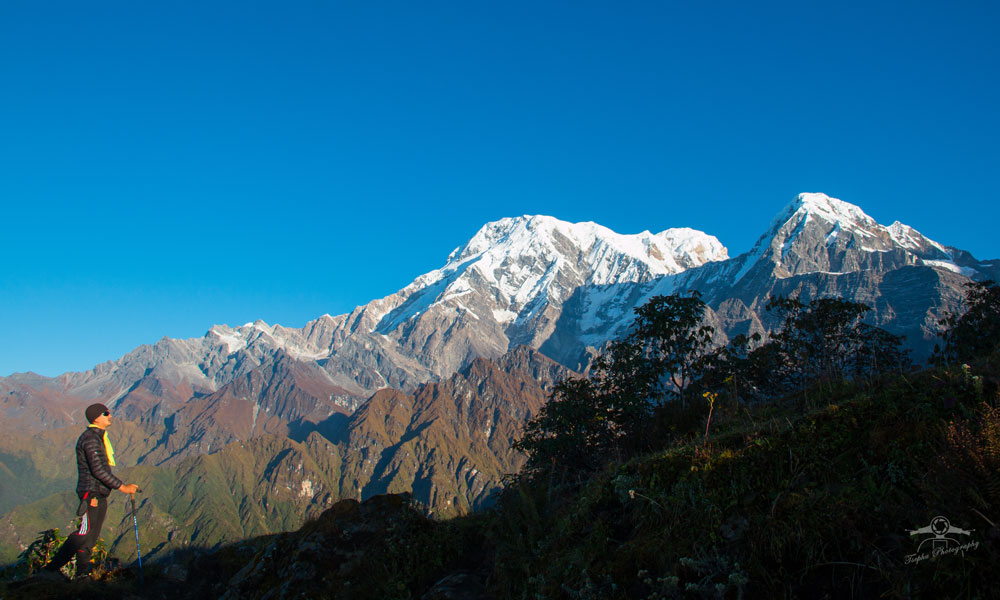 Clothing and Equipment
Hiking boots, $27-$100
A pair of socks, $5
Trekking sandals, $29
A Windcheater jacket, $29
A nice fleece jacket, $35
Trekking shirt, $32
Trekking pants, $35
Trekking shorts, $30
Sunglasses, $15
A hat/ cap, $12
Trekking poles, $21
A comfortable backpack and a backpack cover, $40
Toiletries
Hand sanitizer: $3
Tissue paper: $1
Towel (easy to dry): $4
Toothbrush: $2
Toothpaste: $3
Shampoo: $5
Sunscreen lotion: $5
Soap: %1
Female hygiene products are not easily available on the trails. If you need them, get them before going. You can rent sleeping bags and down jackets. Renting the gears will cost you $1 to $10 per day for an item.
Extra Cost
Buying Bottled drinking water. A bottle of water can cost from USD $1 to $3 en route.
Wifi services. Some of the teahouses charge you a certain amount for using the Wifi services. It costs USD $0.5 to USD $2 per hour.
Charging your electronic gadgets. They cost you USD $0.5 to USD $1.5 per hour.
Hot Showers at the teahouses. They charge around $4 for one time.
Tips for the guides and porters. This isn't mandatory. But most of them except for tips. Give them as much as you like.
Donations on the trail. You might like to donate some amount to schools, temples, and monasteries en route. Donating isn't compulsory, it's a matter of your choice.
Tips to Manage Your Costs for Mardi Himal Trek
Some of the trekking gears that you buy might not come handy after the trek. It is better to rent such items. This will lessen your expense and also keep you away from a burden of discarding them.
Carry your own refillable water bottle. Also, get some water purifying tablets or liquids. This will reduce the cost of buying expensive bottled water en route.
Get travel insurance with some beneficial policies. The insurance should cover for flight delays, trip cancellations, emergency rescues, theft, robbery, and medical emergencies.
Hire a local guide and porter. This will save you the cost of their transportation, accommodation, and food in Kathmandu and in Pokhara.
Get adequate snacks and chocolate bars. Buy them in Kathmandu or in Pokhara. They are expensive en trek route in comparison with cost in Kathmandu or Pokhara.
In-Country booking is less expensive than booking online. Book the trip after you arrive in Nepal.
Book early for your food and accommodation. The tea-houses or lodges may charge you the high amount if you arrive late without booking.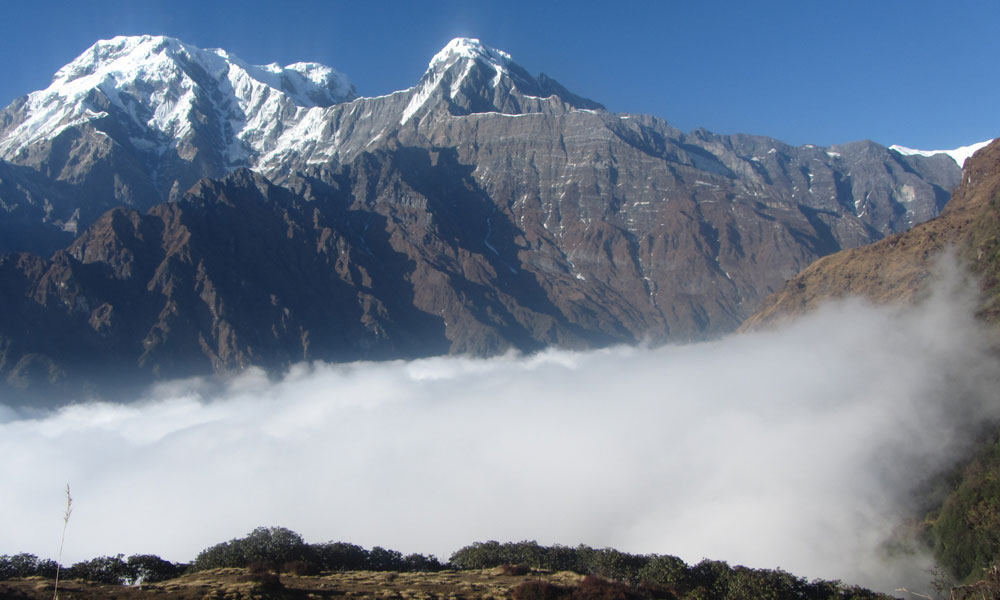 Outline Itinerary: Mardi Himal Trek
Day 01 Arrival at Kathmandu airport and transfer to hotel. Overnight at the hotel.
Day 02 Kathmandu to Pokhara by bus. Driving 7-8 hours. Overnight at the hotel.
Day 03 Pokhara to Kande and trek to Deurali (2100 mt.) Walking 3-4 hours. Overnight at guest house.
Day 04 Deurali to Forest Camp (2550 mt.) Walking for 4 hours. Overnight at guest house.
Day 05 Forest Camp to High Camp (3700 mt.) Walking 5-6 hour. Overnight at guest house.
Day 06 Hike to Mardi Himal Base Camp (4500 mt.) and back to High Camp. Walking for 7 hours. Overnight at guest house.
Day 07 High Camp to Siding (1700 mt.). Walking for 6 hours. Overnight at guest house.
Day 08 Siding to Pokhara. Walking 1 hour and driving 2 hours. Overnight at hotel.
Day 09 Pokhara to Kathmandu by bus. Overnight at hotel.
Day 10 Transfer to airport for your final departure from Nepal.
Conclusion
Have you made your mind to go on the Mardi Himal trek? High Camp Adventure organizes the best treks and tours in Nepal. This trek is customizable. If you'd allow us, we'd love to organize this trek according to your preferences. Contact Us.