Mardi Himal trekis one of the off beaten trekking routes in the Annapurna region. This trek lies towards the east of the Annapurna Base Camp Trek. Autumn is the perfect time for trekking. The Mardi Himal trek in Autumn offers clear skies and splendid mountain vistas.
The Autumn months (September, October, and November) are popular for trekking in Nepal. During this trek in these months, you will trek through exotic forests and landscapes. The forests and the grasslands en route are clean, green, and denser. The trail isn't too wet or too dry. It rarely rains or snows. Even if it does, the weather clears up very fast.
When it is autumn, the days are sunny and bright. Temperatures during days are suitable for trekking. You can enjoy the alluring views of Mt. Annapurna, Mardi Himal, Machhapuchhre, and Hiunchuli.
This trek isn't only about nature. It is culturally enticing. You will walk through several villages. The villages are beautiful and unique. You will have an opportunity to talk and live with people of various ethnicities. People in Nepal are hospitable. They are cheerful and helpful as well.
The perfect climatic conditions, the greenery, and the freshness in the air are the major attractions of trekking in Nepal in Autumn. Mardi Himal welcomes the trekkers at any time of the year. However, September, October and November is the ideal time for Mardi Himal trekking.
Carry appropriate gear. Trek with a light heart and cheerful mindset. We assure you the best trek of your lifetime. Contact Us.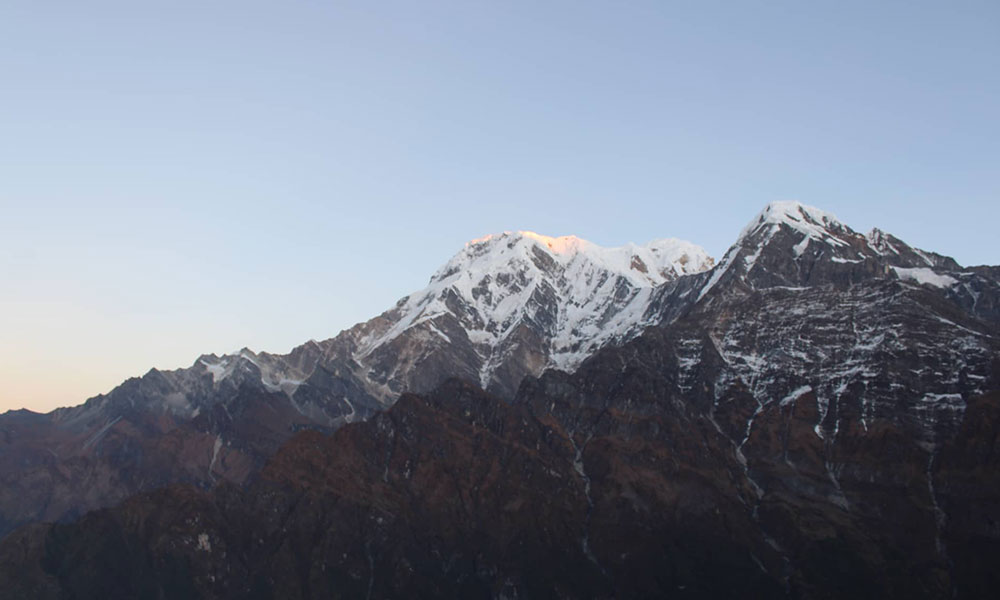 Mardi Himal Trekking Highlights in September, October, and November
The breathtaking sunrise and sunset views of glistening peaks on the clear skies.
The perfect weather in Autumn enhancing the beauty of the Annapurna region. Witnessing the socio-cultural lifestyle of diverse ethnic groups, mostly Gurungs, and Magars.
Astonishing mountain vistas of Mardi Himal and the other Himalayas in the Annapurna range.
Chances of seeing Himalayan Tahr, Musk deer, Spotted Deer, Barking Deer, Snow leopard.
Trekking along the off beaten and lonely trekking trails in the Annapurna region.
Hiking to the base of Mount Fishtail, 6993 meters.
How Difficult Is Mardi Himal Trek in Autumn?
The trek route does not involve any kind of technical climbings. There are no vertical climbings. However, the trek from Mardi high camp to Mardi Himal base camp is steep and rugged.
In Autumn, the trails are easier and less challenging than in offseasons. This is because the weather at the Mardi Himal is more stable and favorable for trekking.
If you are trekking in Mardi Himal in September, you might meet with occasional showers. Get some rain protection gears for that. October is idle time for trekking. In October, the chances of rainfalls and snowfalls are almost nil. With November, the Annapurna region becomes more colder.
Mardi Himal trek isn't so difficult in these months after you pack appropriate trekking gears. Make proper planning and preparations on the trek. You will have the best Mardi Himal trek in September, October, and November .
Mardi Himal Solo Trek in September, October, and November ?
Mardi Himal trek is an easy trek. The trekking trails on the trek are well marked. Also, being a teahouse trek, finding places for accommodation and food is easier. So, if you are a trekker having previous trekking experiences, solo trekking to Mardi Himal is easily doable.
You're trekking alone means you're the one who shapes your trek and takes decisions. Autumn is the best time to trek. The time between mid-September to early November is a perfect time to trek. This time has the most suitable trekking conditions.
But before you decide to trek independently, you must think of it more than twice. During solo treks, you have to do everything by yourself. This 'everything' includes getting permits, trekking gears, finding lodges, etc. Also, you must be extra cautious about your health and hygiene.
Remember! It is always better to go with a guide than going alone.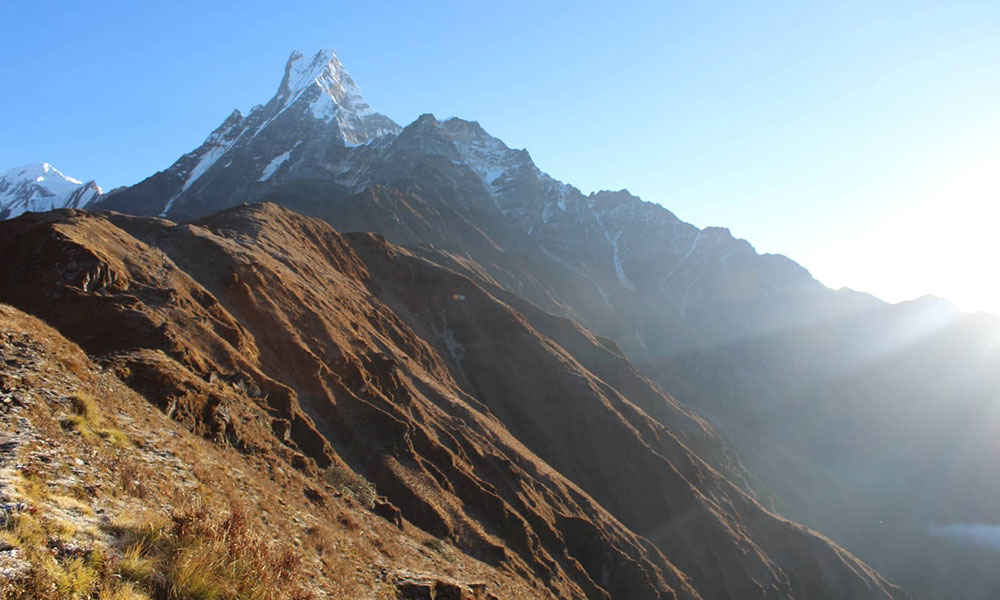 Trekking Permits For Mardi Himal Trek in Autumn
You will need two permits called the Annapurna Conservation Area Project (ACAP) and TIMS Card (Tourism Information Management System) for your Mardi Himal trek. Submit the required documents and cash for the permits. You can easily get these permits at the office of Nepal Tourism Board in Kathmandu and in Pokhara.
Weather And Temperature in Autumn at Mardi Himal Base Camp
September, October, and November is a beautiful time for Mardi Himal trek. Dazzling sky and bright radiance of sun are the highlights of Autumn. The weather in Autumn remains stable with fewer chances of rainfall and snow.
Days are pleasing with moderate temperature. The daytime temperature ranges from 15 to 20 degree celsius. Nights are colder than the days. At night, the temperature at Mardi Himal falls to nearly 5 degree celsius.
There can be slight rainfall in early September. Likewise, winter is around the corner as days progress towards late November. You might even see light snowfall at the base camp in late November.
Do not worry! Light rainfalls or snowfall will not spoil your trek. But remember to carry lightweight rainproof and warm gears.
Accommodation And Foods During Mardi Himal Trek in September, October, and November
Accommodation
Mardi Himal trek is a teahouse trek. There are many lodges and teahouses on the trekking trails for accommodation. Accommodation during the trek isn't as facilitated as in the towns. Most of the tea houses provide basic facilities.
Autumn is the most popular time for trekking to Mardi Himal. At the forest camp, there are only three teahouses. Similarly, at high altitudes, there will be fewer teahouses. So, you might have difficulty in finding places for accommodation. Also, you might not have choices for rooms even if you find a teahouse.
During the trek, you will have to use the shared bathrooms. Also, the mattresses are thin.
You can bring your sleeping bags with liners. Also, bring some earplugs and tissue paper or wipes for the bathroom.
Foods
Unlike the other popular trekking routes in Nepal, this trek does not offer a wide range of food. Most of the teahouses have Dal Bhat, Pasta, Pancakes and Chop Suey in their menus.
Most of the trekkers prefer eating Dal Bhat. It is filling, healthy and rich in calories to boost your strength. Most of the food products that you consume during the Mardi Himal trek are locally produced there.
While trekking, you must always remember to drink sufficient water. For drinks, most of the tea houses sell beer, soda, coffee, tea, hot lemon, and water. Avoid drinking alcohols while trekking. They will dehydrate your body. Candy bars and chocolate bars are also available.
The price of food and drinks goes up as you trek to the higher areas on the trek. This is because transportation of food products and other essential materials becomes difficult. They get transported to higher regions via mules and porters.
Also, you might have to wait in queue for food as autumn is high time. The tea houses may charge you more for accommodation, foods, and other facilities. Extra costs include fees for hot bucket showers, charging electronic devices, using the Wifi, etc. Make sure you carry enough hand cash that will cover all the expenses.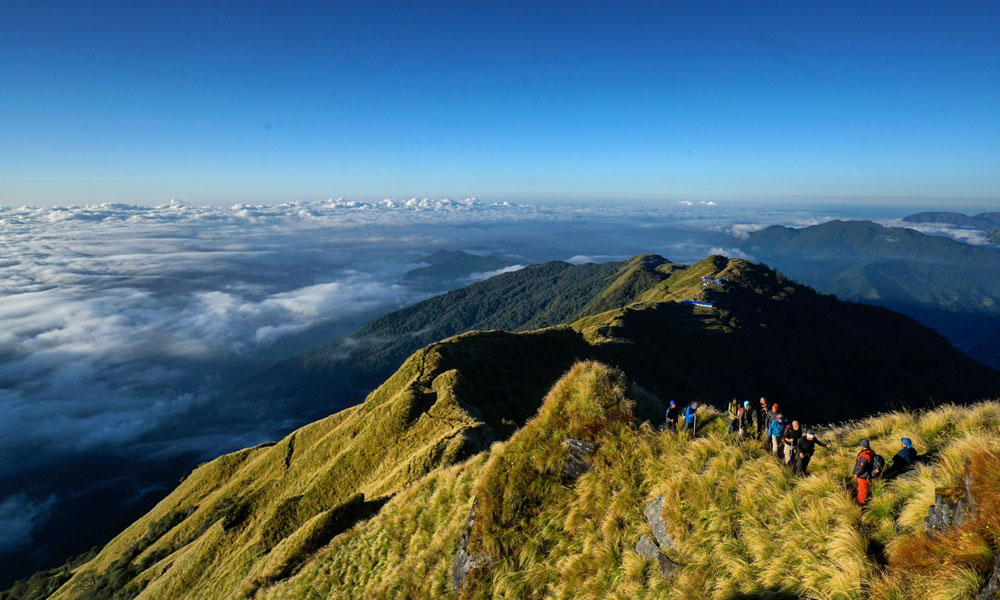 Perks of Mardi Himal Trekking In Autumn
Best Weather
Autumn (September, October, and November) is the time of year with the best weather and climatic conditions. The least chances of snowfall or rainfalls in autumn encourage lovely weather. Autumn has much stable and favorable weather as compared to other seasons.
Mild Temperature
The temperature at different places of Mardi Himal trek is moderate. The region is neither too hot nor too cold. The daytime temperatures are perfect for trekking. Nights are colder than days. However, with little warm gears, you shall have no problem with the cold.
Best Views
During September, October, and November , the skies are blue, cloudless and clear. The weather is free of specks of dust. Clean weather enhances the best surrounding vistas. The surrounding landscapes and hills are also at their best.
Best time for Photographers
Autumn starts as monsoon ends. Monsoon rain gives life to the vegetation in the Annapurna region. September, October, and November ​​​​​marks perfectly blue skies, green hills, glistening peaks. The crystal clear weather in autumn overall gives the best opportunity for photography.
Time of Festivals in Nepal
Trekking in Nepal in October allows the trekkers to experience Dashain and Tihar. These festivals are the major festivals in Nepal. The atmosphere is cheerful. All the Nepalese family assembles and celebrate the festival with joy.
Tips for Mardi Himal Trekking in September, October, and November
Walk Slow. Maintain your own pace of the walk. Have proper respites often while you are trekking.
Wear a comfortable pair of hiking boots. You might get blisters or sprains while wearing uncomfortable hiking boots.
October is the best month for trekking in Nepal. So, booking early for accommodation and food for Mardi Himal trekking at this time is absolutely necessary.
This trek takes you to higher altitudes up to 4500 meters. Thus, you must be aware of altitude sickness while you are trekking. Read about its symptoms, precautions against it and some preventive measures.
Take regular water breaks when you trek. Drink plenty of water. While you are trekking in the mountains, your body dehydrates faster. You can also take some oral rehydration salts. Make sure the water you take is clean and pure.
Pack adequate trekking gears. Autumn brings pre-winter weather. Nights are colder than the days. Pack some warm gears for the nights.
Packaging Lists for Mardi Himal Trek in Autumn
What you pack for tour trek is purely your choice. However, we recommend some items that can be necessary during your trek. Pack light! Feel light. Autumn is the best time for Mardi Himal trekking.
Here is the list of goods and items that you can include in your luggage while trekking:
Long sleeve t-shirts
Short sleeve t-shirts
Undergarments
Fleece jacket
Insulating jacket
Fleece Pant
Trekking trouser
Waterproof jacket
Waterproof trouser
Trekking hat
Beanie or headband
Sunglasses
Headlight
Inner gloves
Outer gloves
Hiking boot
Thermal socks
Gaiters
Duffel bag
Daypack with a cover
Trekking Poles
Water bottles
Headlamps
Sleeping bag
Sleeping bag liner
Pillowcase
Trekking towel
Baby wipes
Hand Sanitizer
Sunscreen
Lip balm
Shampoo
Deodorant
Toothbrush
Toothpaste
Sanitary Pads
Hairbrush
Vaseline or moisturizing lotions with high SPF.
Medications including Ibuprofen (for pain), Medical tape (for blisters), Diamox (for altitude sickness), Antibiotics for diarrhea, and Water purification tablets
Note: If you are trekking to Mardi Himal in September, carry some lightweight rainproof gears. For Mardi Himal trekking in November, get some warm gears for nights including a best quality sleeping bag.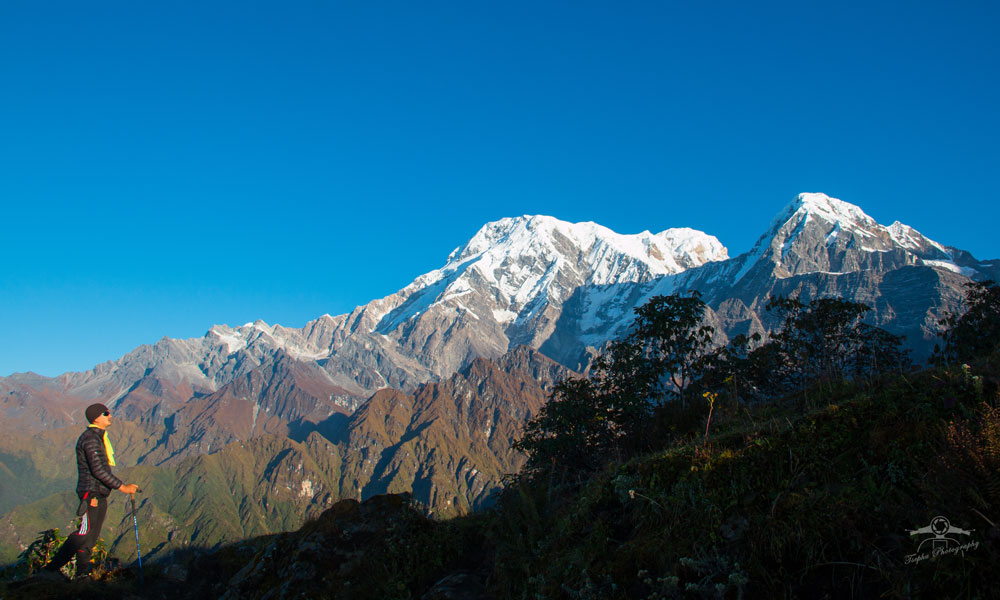 Conclusion
September, October, and November ​​​​​​​is the most popular season for Annapurna trekking. The Mardi Himal trek in Autumn is a wonderful experience. Trekking under the refreshing warm sun rays is a great feeling. The great Himalayas in the region exhibits their best appearance in Autumn.
If you are willing to go on the Mardi Himal trek in September, October, and November​​​​​​, we can arrange you a perfect trek. We will take care of everything from your trekking permits to your accommodation and foods.
We also organize other treks and tours in Nepal. If you want to know moreabout us, or if you have any queries and suggestions, contact us.