The Mardi Himal trek is an exotic trek in the western Annapurna region in Nepal. If you are wondering whether independent trekking is possible in the region, then note that Mardi Himal trek without a guide is absolutely possible.
The trek to Mardi Himal rewards trekkers with sights of the snowy Himalayas, diverse landscapes, and mixed local cultures. The trek is a moderate level trek and does not involve very tough portions.
With a moderate difficulty and the availability of the well-marked trails, Mardi Himal trek without a guide is absolutely doable. Trekking through this eco-tourism trail alone is an incredible experience.
But, before you start the trek independently, you need to make sure you get all your travel permits and other essentials as a solo trekker. You must make sure you have adequate trekking gears. Remember! Getting a good travel map and a complete first aid kit is mandatory.
While trekking to Mardi Himal base camp alone, you will feel more close to nature.On the trek without a guide, it's just you and nature. You can experience the feel of Heaven on Earth during this trek. The view of clouds floating below your feet creates an illusion of a paradise.
You'll enjoy your trek over the zigzag path of a Mardi Himalayas. Along the trail, you can enjoy the lush jungles of Rhododendrons and other vegetation. You will see the beautiful canvas of nature with images of pristine mountains craved on it.
You can enjoy the majestic views of Annapurna I, Dhaulagiri, Hiunchuli, Annapurna II, Annapurna III Annapurna South, and Macchapucchre Himal.
What to See During Mardi Himal Trek Without a Guide?
Magnificent sunrise and sunset views from several viewpoints.
The mesmerizing Himalayan vistas of the stunning peaks including Machhapuchhre Himal 6993m, Mt. Hiunchuli 6441m), Annapurna South 7010m, and others.
Amazing landscapes, diverse terrains, great countryside hills, and mountains
Diverse local villages and the warm hospitality of the local people.
Mardi Himal Base Camp and the Mardi Himal High Camp.
The diverse species of flora and fauna in the Annapurna region.
The unique lifestyles of the Gurung and Magar ethnic groups.
Is Mardi Himal Trek Without A Guide Possible?
Yes, Mardi Himal Trek is possible without a guide. You can go on the trek independently at any time of the year. But keep in mind, guided treks are always best over solo treks.
During the solo trek, you will have to manage each and everything related to your trek. The entire trek depends upon your single decision. There will be nobody to guide you or assist you during the trek.
Also, there will be no one to call for help if you need it. If you get injured, you must stand up to walk again on your own. If you get lost, you must find your own way back.
While trekking independently, you must never take the so-called shortcuts. Do not leave the standard trekking trail. Also, there are few cases of theft and robbery while trekking alone in the mountains.
You need to take care of your safety. Plus, make sure you do not wear or carry luxurious items and jewelry.
However, if you change your mind and plan to trek with a licensed guide, we are always ready to assist you with our licensed and experienced guides.
When is the Best Time for Mardi Himal Trek Without a Guide?
Trekking to Mardi Himal without a guide is an adventure but, challenging at the same time. Moreover, the treks can be more challenging if you choose an inappropriate time to trek.
Autumn (September, October, November) and Spring (March, April, May) are the best seasons for Mardi Himal trek without a guide. On these seasons, the weather is stable, bright, and clear. This creates a favorable environment with outstanding Himalayan scenarios.
Spring is the best time for you if you are a nature lover. Nature exhibits its best in Spring. You will see the lush jungles filled with colors of wildflowers. The surrounding hills blankets under the Rhododendron Blossoms.
Summer or Monsoon (June to August) and Winter (December to February) are the less traveled seasons. During monsoon, the Annapurna region experiences frequent heavy rainfalls. Due to this, the trekking trails becomes wet and slippery, hence tough.
Also, leeches are more active in the forested areas in monsoon. In winter, there can be snowfalls and the night temperatures are very hard to bear. Also, there are chances that the passes remain closed due to heavy snowfall.
Thus, trekking to Mardi Himal alone is best during Spring and Autumn. However, if you are a keen botanist, monsoon can be an interesting time for you. Also, if you wish to avoid crowds and enjoy some time alone with nature, you can also trek in winter.
The trek is possible at any time of the year with varying risks. Make sure you pack your backpack light properly. Include all the essentials and you will have a wonderful trek.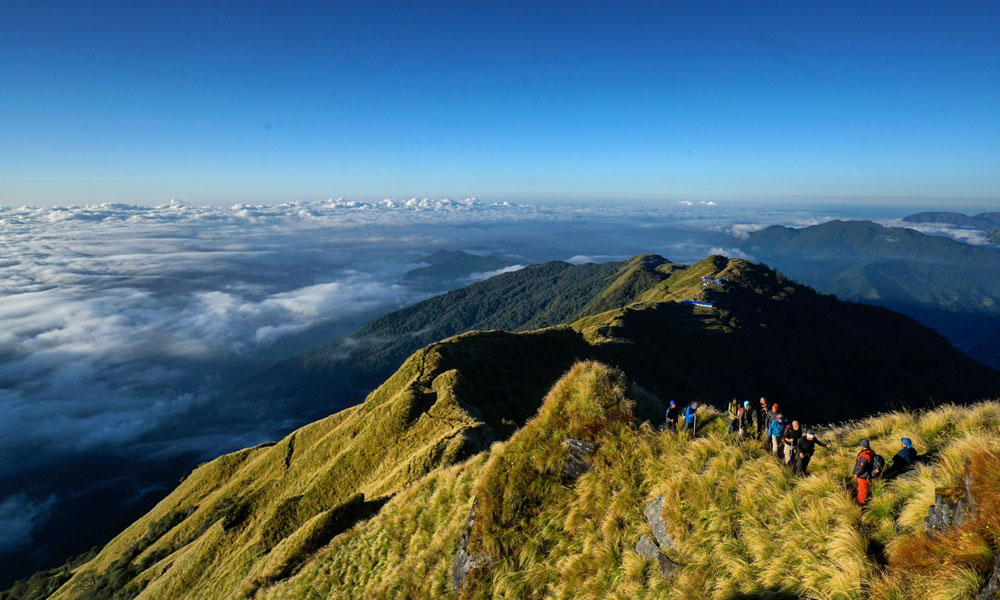 How Fit Should You Be for the Mardi Himal Trek?
The trek to Mardi Himal is an easy trek for the passionate walkers. If you can walk for 4 to 5 hours a day with a light day-pack, this trek is suitable for you.
Mardi Himal trek does not involve direct climbing sections. So, the trek does not demand super fitness. But, there are some rocky sections near the high camp and the Mardi Himal base camp. Thus, a moderate level of physical fitness is always necessary for the trek.
Are you thinking of going on the Mardi Himal base camp trek? If yes, exercising and training your body regularly for a few weeks before your trip is a good idea. This will increase your physical strength and endurance.
You must also consider the number of days that you will spend trekking. If the trek is a 1-week trek, the trek is a slow hiking trek. Anyone who is in a good physical condition can do the trek easily. But if you plan to do the trek in 4 to 5 days, it can be quite tiring. This might require huge stamina and power.
We also advise you to see your doctor for a regular checkup before you go on the trek. If you have any pre-existing medical conditions such as heart and lung diseases, you must get appropriate advice from your doctor. Also, you can consult with them about dealing with altitude sickness.
Do I Need a Trekking Experience to do Mardi Himal Trek Without a Guide?
Past hiking experiences are always a boon for trekking in Nepal. The past hiking experience is an asset for the Mardi Himal trek also. However, it is not mandatory for the Mardi Himal Trek without a guide.
The Mardi Himal trek doesn't require any technical climbing skills. So, this trek is suitable for all levels of trekkers ranging from the beginners to the experts.
Pack appropriate trekking gear, build up your physical and mental strength. Now, you are ready to go on the rewarding trek to Mardi Himal base camp.
Accommodation and Meals during Mardi Himal Trek
Accommodation
The Mardi Himal Trek isn't as popular as the Annapurna trekking and the Everest trekking. There are local guest houses, and lodges en route. The facilities provided by them will be very basic. During the trek, you will stay at the local lodges. The teahouses provide rooms on a twin-shared basis.
There are very few lodges in some places. So, finding a place to stay during the peak seasons (Autumn and Spring) is quite challenging.
Meals
During the Mardi Himal trek, you can enjoy authentic Nepalese food. You can also enjoy some common international cuisines. The lodges and the tea houses where you will stay serve breakfasts and dinners. They have their own menu with limited options to choose from.
At some places, they also serve their local food products. Make sure you eat healthy and hygienic food during the trek. For drinks, you can buy some hot drinks at the tea houses.
Eating unhealthy food and drinking spring or river waters is not good. You might face an upset stomach by doing so.
Trekking Permits For Mardi Himal Trek
For trekking independently to the Mardi Himal Base Camp, you must get two permits. They are the Annapurna Conservation Area Permit, ACAP US $ 20 per person and the Trekkers Information Management System, TIMS card US $ 20 for solo trekkers.
Difficulties During Mardi Himal Trekking Without a Guide
Here are some of the difficulties that a solo trekker may encounter during the Mardi Himal trek.
The solo mountain experiences are always thrilling. There are certain sections on the trail that can involve a risk of personal injury. While trekking alone, you might get lost into the wilderness and never return back.
The options for accommodations en route are less and limited. So, you must arrange for your accommodation by yourself. This can be quite challenging during the peak seasons.
You may experience extreme weather conditions during the treks at any time of the year. The unpredictable weather is beyond your control. Train yourself to conquer whatever comes in your way.
While trekking alone, you are the one who has to make quick decisions in tricky situations. Make sure you make the right decision. You are carrying your life on your hand.
Be aware of altitude sickness, its signs, and symptoms. You will trek to the highest point at Mardi Himal Base Camp, 4500 meters. The highest sleeping point on the trek is at the High Camp, 3580 meters. Do not underestimate the risks of altitude sickness.
The hike from High Camp to Base Camp is difficult. You must walk over the steep and rocky path. This is tiring and strenuous.
Some Useful Tips for an Independent Mardi Himal Trekking
Be careful while walking. If you get injured, you'll have no one to help you.
Walk slowly. Acclimatize properly. This will help to reduce the risk of altitude sickness.
For Mardi Himal Treks in Winter, please check with a local tour operator if the lodges are open. There are few lodges at some places en route that may not be open in the mid of winter.
Drink plenty of water. Carry adequate snacks and energy bars to boost your energy.
Make sure you carry appropriate trekking gear. Carry whatever you will need during the trek.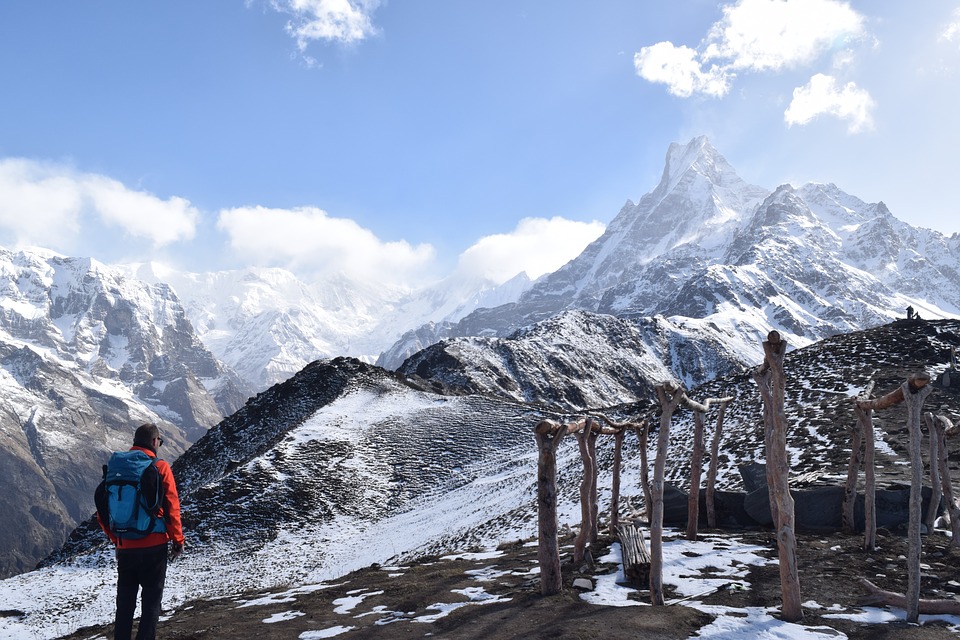 Things You Need for a Solo Mardi Himal Trek
The most important thing that you need for your Mardi Himal Trek is the trekking map. The Map should contain all the necessary pieces of information.
Make sure you pack a perfect Luggage. Include some warm clothes, a down jacket, Trousers, T-shirts, a pair of comfortable hiking boots, Shorts, Socks, and Sandals. Don't forget your hot water bottle, Sunglasses, and the Sleeping bag.
The lodges and teahouses do not provide toiletries. So, make sure you carry what you need. Add some toilet paper, Sanitizer, Moisturizers, Towels, and others. Get a first aid box with essential medicines, ointments, and bandages.
What you need varies with the seasons. Please Check our article on Packing Lists for Trekking In Nepal for detailed information.
Conclusion
By now, you must have known the cons and pros of Mardi Himal trek without a Guide. Even though the trek is possible, we always suggest you trek to Mardi Himal with a guide. Trekking with a guide not only ensure your safety but is beneficial in many ways.
If you insist on doing Mardi Himal trek without a guide, make proper preparations before you go. Get all the necessary information that a solo trekker must. We wish you a safe and sound trek.
For any inquiry or further details on the trek, you can contact us.