Trekking in Nepal is an activity that is performed for various reasons. Different people have different reasons for going on a trek. For few, it's a way to escape the mundane life of the city; for few, it's a way to explore nature; for few, it's a way to pump up their adrenaline; and for few, it's a way to get acquainted with people from all walks of life. There are, however, some, who love traversing through lands with historical significance, and who get delighted getting to know about the impact of different religions in the region. Now, if you're an enthusiast as such Tsum Valley trek is the one for you.
Tsum Valley trek is conducted in the Tsum Valley which is located on the eastern part of Manaslu region. The valley is considered to have massive religious history, and especially with Buddhism. Since the trek develops through the valley, it borrows certain values from the region as well. So, on your Tsum Valley Trek, you will come across numerous Buddhist elements, which are the major highlights of the trek.
Tsum Valley Trek
When you go on the Tsum Valley trek, you don't just get to explore nature, but also, religion, and specially Buddhism, which the region is mainly known for. Tsum Valley is often linked with the famous monasteries, rulers, and saints from Tibet. The latter two were people who were influenced greatly by Buddhism, and who spent their entire lives spreading Buddha's teachings. One of such saints was Milarepa, who is one of the figures crucial to the religion.
It is said that he came to Nepal multiple times, during the late 15th century. He mainly visited Tsum Valley, and meditated in the caves in the hills around the valley. He had a great role in creating awareness about Buddhism in this region. This is one of the reasons why its history is considered incomplete without mentioning the influence of the religion in it.
While on the Manaslu Tsum valley trek route, you'll come across numerous Buddhist heritages and relics, like mani walls, stupas, monasteries, gompas, chortens, places wrapped in prayer flags, and so on. The major one among these is Mu Gompa, which is a major trek stop towards the middle of the trek, Rachen nunnery, which you'll visit while on the way to Mu Gompa, and Lungden Gompa. To reach Lungden Gompa, you need to take a side trip from Mu Gompa.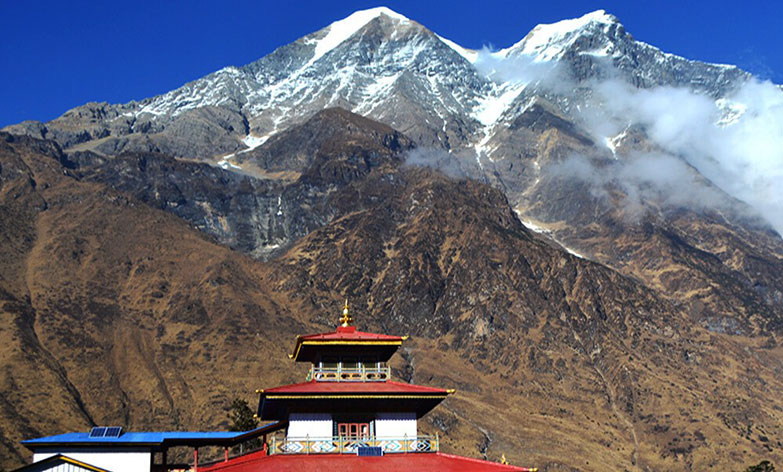 Tsum Valley trek is a 12 days long journey, and in this duration you walk continuously, every day. The starting point of the trek is Soti Khola, and the ending point is also the same. The middle point, and the main attraction of the trek is Mu Gompa. Now, while on the trek you can choose to take a small side trip to the base camp of Ganesh Himal. The villages covered during the trek are Chokang Paro, Lokpa, Nile, Chumling and so on. These settlements have have both the religious and natural spectrums to them making it an absolute pleasure for the trekkers to have them included in their itinerary.
Generally, what trekkers tend to do is, they tend to also throw in the Manaslu Circuit Trek route to their Manaslu Tsum Valley trek itinerary, making it the ultimate Tsum Valley Manaslu trek. This doesn't just add the extra thrill and adventure to their journey, but also gives it an appropriate length and body, and lets the trekkers explore the entire Manaslu region in one go.
Tsum Valley trek route shares certain traits with Manaslu Circuit trek. For instance, the starting point of both the treks are the same, and a small segment of both the trekking routes are the same. It is from the settlement known as Ekle Bhatti that the two routes divide. When you look at the map, you could feel that Tsum Valley trek is a part of the Manaslu Circuit trek itself, as they're so closely connected. By adding a couple of days to your Manaslu Circuit trek, you can explore Tsum Valley trek as well.
Manaslu Circuit Trek
While Tsum Valley trek covers only the eastern side of Manaslu Region, Manaslu Circuit Trek covers the entire Manaslu Region. It is a complete trek, and the ideal one for you if you want to explore all of Manaslu in one go. Manaslu Trek Nepal is one of those treks that is somehow connected to all the other treks in the region. For instance, it is connected to Tsum Valley trek towards the eastern side, and as well as Manaslu Base Camp trek somewhat towards the center.
Manaslu Circuit Trek is an 11 days long journey, out of which, one day is assigned for acclimatization. The trek starts at Soti Khola, and ends at Dharapani. There are so many beautiful villages on the route that you would visit during the trek. Few of them are Jagat, Deng, Namrung, Bimtang, Tilje and so on. Manaslu Trek doesn't just join all the trekking routes in the Manaslu region, but also connects Manaslu Region and Annapurna Region. It does so by uniting with the Annapurna Circuit trek towards the end.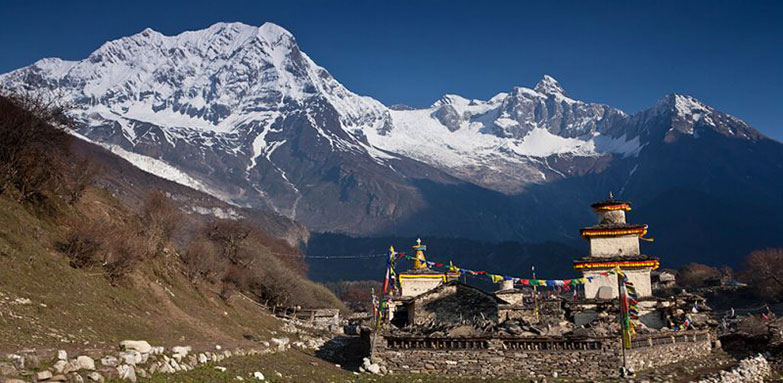 So, up to an extent, you get the best of both the treks. From the route, you get the most amazing views of peaks such as Manaslu, Shringi, Ganesh, Ngadichuli, Himchuli, and so on. And especially towards the end, you're also able to have the views of peaks such as Annapurna, Machapuchhre, Dhaulagiri, and so on, after Manaslu Circuit Trek becomes one with Annapurna Circuit trek.
Attractions Of Manaslu Circuit Trek
Manaslu Trek route is a part of Manaslu Conservation Area, which is the home of diverse and rare animals, plants and birds. It is composed of around 150 species of mammals, avian and reptiles, and around 2000 types of vegetation. You're sure to come across one or the other species during your journey through the hills, for instance, White Langur, Musk Deer, Kalij Pheasant, and so on.
On the trek, you'll also cover few high altitude places like Larkya La, a high altitude pass, situated at an elevation of 5135 m. Larkya La Pass is a significant attraction of the trek as it is considered as the longest pass in the Himalayas in Nepal. Another natural marvel that we come across during the trek is Budhi Gandaki River. At times, we'll walk alongside the river on its bank, and in other situations, we will cross the river on suspension bridges. You will also come across numerous waterfalls throughout the trek.
Another popular attraction of the trek is Tatopani, which is small village with natural springs of hot water. There are numerous Tatopanis across Nepal, and all of them have this similar feature. The hot springs of Tatopani is considered to have medicinal values. It is said that taking a dip, or immersing oneself in the waters will help the person get rid of diseases related to joints, bones and muscles.
Trekking in Nepal is an activity that features major tourist destinations of the country. The majority of land area, more that 60%, comprises of hills and mountains, which offers ample trekking opportunities to the one who are interested in trekking. Nestled in these varied landscapes are the numerous settlement areas, with people belonging to various indigenous tribes living in them. Altogether, these elements ensure that you have the best possible time trekking in these regions.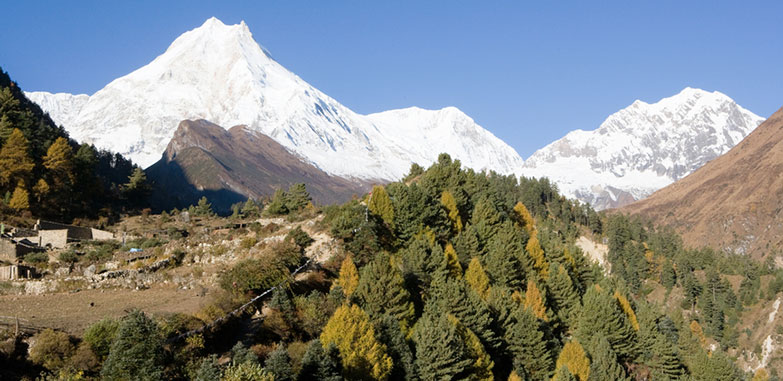 Mostly the attractions on the trekking routes are the amalgamation of natural and human elements. While the natural elements comprise of the forests, rivers, waterfalls, passes, mountains, glaciers, peaks, and so on, human elements consist of traditions, lifestyle and culture. Few of the villages and areas located on the trekking routes have a special religious importance. They are known to have connections with one or the other deities of different religions, and that's what makes them an attraction that is worth the time and effort of the trekkers.
Tsum Valley Trek is one of those trekking destinations that are religiously significant, and if you're a trekker who likes to dive in the depths of not just adventure, thrill and excitement, but also the serenity gained through religious awareness, you should definitely go for this trek. If you think that this trek is not enough for you, well, you could include the Manaslu Trek as well making it Tsum Valley Manaslu trek. It's journeys like these that make your holidays unforgettable, and add fun and values to your life.
High Camp Adventure is the key for you to visit few of the most ravishing and alluring places in countries like Nepal, Tibet, and Bhutan. With them, as your travel partner, you can be rest assured about being offered amazing tour packages at the most exciting price. High Camp Adventure specializes in trekking journey. With years of experience in the field, and the knowledgeable guides and travel operators by their side, they offer trekking journeys that would leave you speechless and ecstatic. So, if you are looking for a proper holiday destination, for either a laid back time, or an adventurous struggle, go for High Camp Adventure's travel related services. You're going to love your tour experience with them.
You might also like:
Overcoming The Challenges Of Poon Hill | Poon Hill Trek Difficulty

Closer View of Eighth Highest Peak | Manaslu Base Camp Trekking

Exploring The Spirit Of The Mountains | Manaslu Circuit Trek