Manaslu is one of those peaks that has a spiritual importance. The name 'Manaslu' is taken from Sanskrit scriptures, and it roughly translates to 'the one with the spirit'. What makes it spiritual is not just its name. The entire region of Manaslu is associated time and again with the most significant Buddhist Gurus and spiritual leaders, for having visited various areas in the region, and meditated in them. One of the best ways to explore the entire Manaslu region, and moreover those spiritual sites, is by going on a hike on the Manaslu Circuit Trek route.
In terms of exploring the spirit of the mountains, you'll also get to explore the best of nature on the Manaslu Circuit trek. The region is home to 33 species of mammals, 110 species of birds, and over 2000 species of plants. There is quite a chance for you to come across many of these animals, mainly Snow Leopard, Musk Deer, Himalayan Tahr, and so on. You will make your way through the forests of rhododendron, and banks of major rivers like Budhi Gandaki. You will also come across numerous waterfalls during your trek. The settings offered to you, with so many natural elements, in them help you connect to the spiritual side of not just Manaslu, but yourself as well.
Manaslu Circuit Trek
Manaslu Circuit Trek is also known as Manaslu Trek, and it is the most significant trek in the Manaslu Region. What makes it so important is the fact that during the trek you cover the entire Manaslu region. Also, with a couple of days of side trip added to your itinerary, you also tend to cover the two other major treks of the region, namely Manaslu Base Camp and Tsum Valley Trek.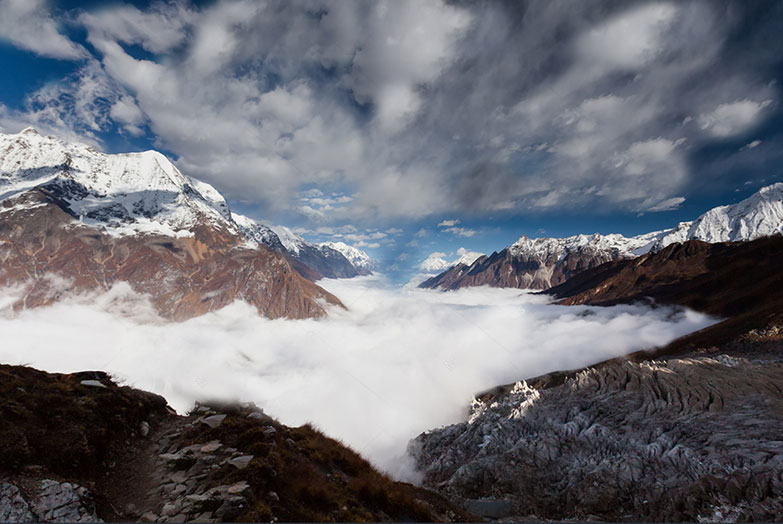 Altogether, Manaslu trek is a 10 days long journey, and in this time, the trekkers cover a distance of around 180 km. The highest altitude that you'd reach during the trek is 5135 m, which is the elevation of Larkya La, a high altitude mountain pass, also considered as the longest pass in the Himalayan region. Another crucial thing about the trek is that towards the ends, it joins the Annapurna Circuit trek route. Manaslu trek route links Manaslu region with Annapurna region, which means that up to an extent, you get the goodness of both the trekking routes and regions in a single journey.
Manaslu Circuit Trek in Nepal makes its way through the most splendid and serene set of villages that you may have ever visited. The settlement areas covered on the route are Soti Khola, Deng, Sama Gaon, Dharamshala, Bhimtang, Besisahar, and so on. These villages serve as the most amazing rest spots during your trek, offering you comfortable accommodation and delicious food. Apart from that, you'll witness people with their unique and diverse cultures living in these villages.
Throughout the trek, you will come across numerous viewpoints, offering you views of peaks such as Manaslu, Ngadichuli, Himchuli, Shringi, and so on from the Manaslu region, and that of peaks like Annapurna, Dhaulagiri, Machapuchhre, and so on from the Annapurna region. As the trek connects Manaslu region and Annapurna region, you'll spend quite a lot of time in Manaslu Conservation Area, and a brief period of time in Annapurna Conservation Area Project. Both of them are highly diverse conservation areas, with numerous species of rare plants and animals.
Manaslu Tsum Valley Trek
Yet another crucial trekking route in the Manaslu region is Manaslu Tsum Valley Trek. This route brings the religious aspect to the entire region. Tsum Valley is considered a sacred place and a significant pilgrimage site by the locals, and especially the Buddhists in the region. The region gains its sacredness because of Mu Gompa and Lungdang Gompa. It is believed that Milarepa, a widely known Buddhist saint, came to Tsum Valley in the late 15th century and meditated in the caves of the surrounding hills. In his honor, the two heritages were built. The latter one, however, is older than the former one.
The entire trek is 12 days long, and there are no days assigned for acclimatization. The trek starts from Soti Khola, takes the trekkers all the way north up to Mu Gompa, and brings them back to Soti Khola. The villages covered in the trek are Jagat, Nile, Chumling, Chhokang Paro, and so on. Apart from having religious importance, the settlements are also known for their natural beauty. They offer the views of surrounding peaks, and hills with lush green forests on them. Manaslu Tsum Valley Trek can be embarked upon as a separate trek, or as a side trek of Manaslu Circuit Trek.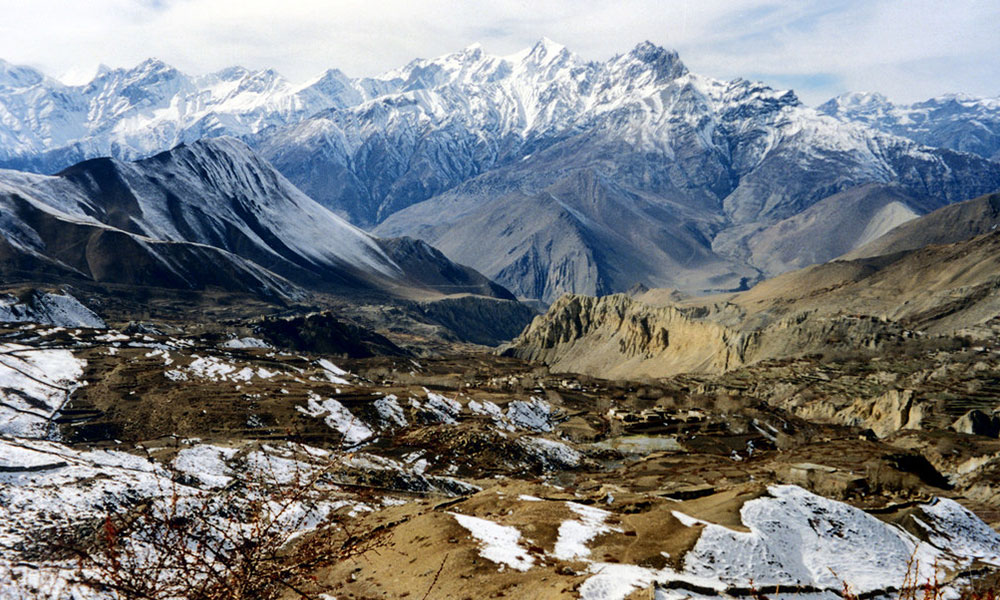 Manaslu Base Camp Trek
Manaslu Base Camp trek is more of a side trek or an extension to Manaslu Circuit trek rather than a fully-fledged trek. By adding two days to your Manaslu Circuit trek itinerary, you can cover Manaslu Base Camp in your journey. In terms of walking on the Manaslu Circuit trek route, you'll come across this place known as Sama Gaon. Generally, trekkers tend to spend one night here, and head towards Samdo the next day. Now, you can choose to walk towards Manaslu Base Camp from here.
Since it's quite a long trek, you'd have to spend the night at Manaslu Base Camp. On the following day, you return to Sama Gaon. From here, it's the same usual walk on the Manaslu Circuit trek route. Manaslu Base Camp offers the most amazing views of the mountains in the Manaslu region, and most importantly that of Manaslu, the eighth highest peak in the world.
Manaslu Trek Guide
When you're trekking in Manaslu Region, one of the most important people that you'd need on your side is a Manaslu Trek Guide. Manaslu Region, doesn't matter what trek you're going for, is full of surprises, with attractions hidden everywhere. Also, it's quite challenging. So, a Manaslu Trek Guide can prove to be quite significant during your trek.
The trek guide will point you at the right direction. A lot of times during the trek, trekkers are required to take detours. In situations as such, you need a guide to show you around. The guide will always ensure that you're moving with the pack, no matter how slow you're walking. There's absolutely no chance for you to get lost, or left behind, with a guide around you.
A guide will also be your source of information. You will come across a lot of attractions during your trek. From mountains to monasteries to rare plants and animals! Your guide will ensure that you're properly informed about all these elements. Also, if you have any queries about what you see around you, your guide will answer them to your satisfaction.
During your trek, there would be a lot of instances when you'd feel physically strained, sick and weak. A lot of trekkers tend to give up and return due to such situations, without even completing their trek. In circumstances as such, the guide would give you the tips that would make the trekking process quite comfortable. Also, when nothing seems to work, he would try his best to motivate you, get you to stand up on your feet, and complete the trek. You can't even imagine how magically the words work.
Manaslu Circuit Trek is not just a way for you to explore the spirit of the mountains, but also the one that resides inside of you. To speak the blunt truth, you don't really need to go to a certain place to explore the spirit that's within you, all you need to do is be at peace with yourself. Having said that, when you trek in the Manaslu region, you get to experience a whole new level of serenity. You will discover peace in not just nature but all the religiously significant places you'll visit.
Manaslu Circuit Trek is also not as much explored as other more popular treks, so you'll notice very little western influence here, or as the locals like calling it cultural degradation. All these factors make Manaslu Circuit trek worth an attempt. If you're someone who likes trying unusual holiday options that stand out from other tour packages, Manaslu Circuit Trek is the ideal option for you.
High Camp Adventure is one of the most dynamic trekking agencies and travel and tour operators in Nepal. What makes them so dynamic is their philosophy and attitude towards travel. They believe in change, and so, they allow their clients to give their inputs and shape their itinerary the way they want. One of the other reasons for allowing them to do so is client satisfaction, which the company is always inclined towards. High Camp Adventure offers the most amazing trekking packages covering the nooks and corners of the hills of Nepal. They also offer tour packages to interesting tourist destinations in countries like Bhutan and Tibet. If you're looking to visit these countries during your next holiday, and go for either a trek or a luxury travel, choose High Camp Adventure as your travel partner.

You might also like: