There are so many ways of spending your holiday in Nepal. One of them is to go on a Nepal Tour. When you go on a Nepal Tour, you tend to cover the most significant destinations for holiday in Nepal. In these destinations, as per your interest, you could either have a laid back experience, or if you're an adrenaline junkie, you could involve yourself in adventure sports, or numerous other exciting things.
If you've never visited Nepal, the year 2020 is the best time to do so. The government, in association with companies working in the tourism sector, is launching Visit Nepal 2020 campaign. Under the Visit Nepal 2020 campaign, the tourists from all over the world will get to enjoy special offers on transportation, accommodation, overall holiday in Nepal packages, and other related services.
So, if you're looking for an ideal destination for your holidays in the year 2020, cash in the Visit Nepal 2020 card, and go for a nice decent holiday in Nepal. It's a guarantee that during your Nepal tour, you'd have the most amazing time. Memorable, exciting, unimaginable, are just a few words to describe it. These are the best ways of spending your holiday in Nepal. The best Nepal Tour options!
Adventure Activities in Nepal
Since Nepal is a country that is full of hills, mountains, forests, waterfalls, lakes, glaciers, passes, rivers, it presents to you so many adventure activities in Nepal. There are a few of them listed below, but understand the fact that these are just the tip of an iceberg. To truly realize the dynamics of adventure activities in Nepal, you need to spend your holiday in Nepal, and try them out for real.
Bungee Jumping in Nepal
Without a doubt, Bungee Jumping is one of the most exciting activities in the world. The thrill that an individual experiences during the jump is incomparable to any other experience in the world. The fun doubles especially when you choose a destination like Nepal to try out these activities. Right before the jump when you're standing on the plank, you will get to enjoy one of the most outstanding views of the hills, mountains, and rivers existing in sync. All you need to do is jump, and your adventure in complete.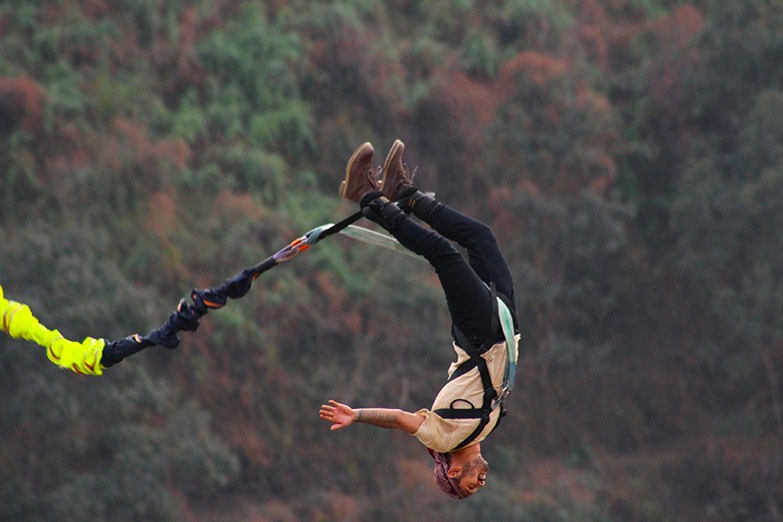 Rafting in Nepal
With so many speeding rivers in Nepal, with water as white as milk and as cold as ice, without a doubt, the country is the ideal destination for rafting in Nepal. Two of the most popular rivers for rafting in Nepal are Trishuli and Bhotekoshi. The have the most exciting rapids and currents to give you a true challenging rafting experience. But don't worry if you're never tried rafting, there are routes on these rivers that are designed for first time rafters, likewise, there are routes for the most adventurous rafters.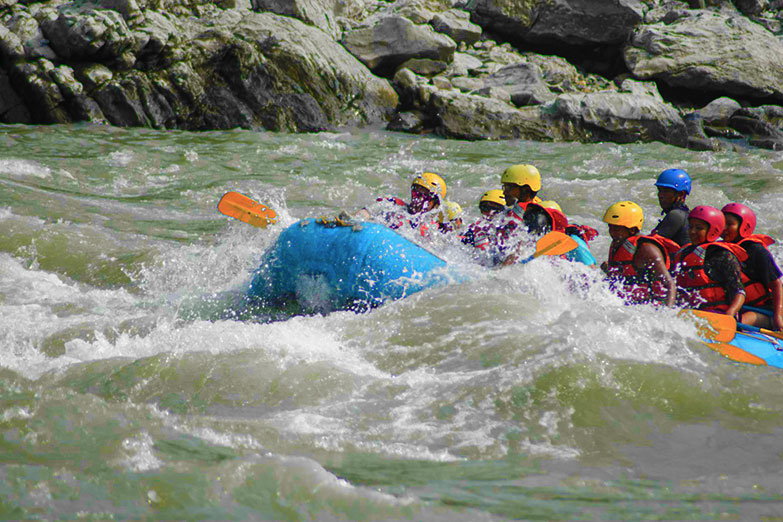 Biking in Nepal
Nepal is full of hard to reach destinations, nestled among the hills and the mountains. The buses don't go there, and the only way to reach there is via trekking. In the recent times, bike riders have created and discovered enough routes to reach these places on motorbikes. When you go for biking in Nepal, you experience the bike ride of your lifetime. Riding on the crisscrossing roads that wrap around the hills, with views of the mountains, and the cold wind hitting your face. You'll love it!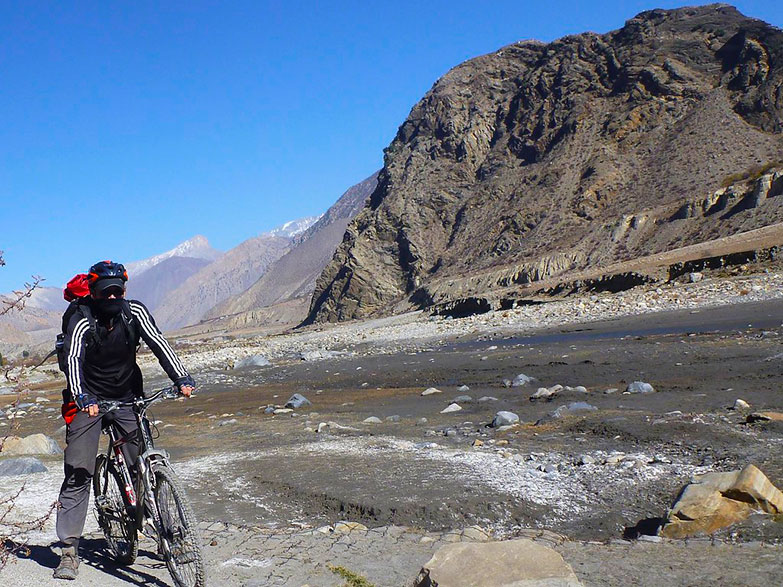 Paragliding in Nepal
If you've ever wondered, what it is like to fly like a bird and view the world from its perspective, well, paragliding in Nepal is an activity for you. The ride starts early in the morning, offering you the views of the mountain ranges glistening with the rays from the sun. You get to have the bird's eye view of the towns and villages in the area you're paragliding in. Needless to say, as the ride takes you on a high altitude, it is not for everyone. So be a little skeptical about your limits, before going on this ride.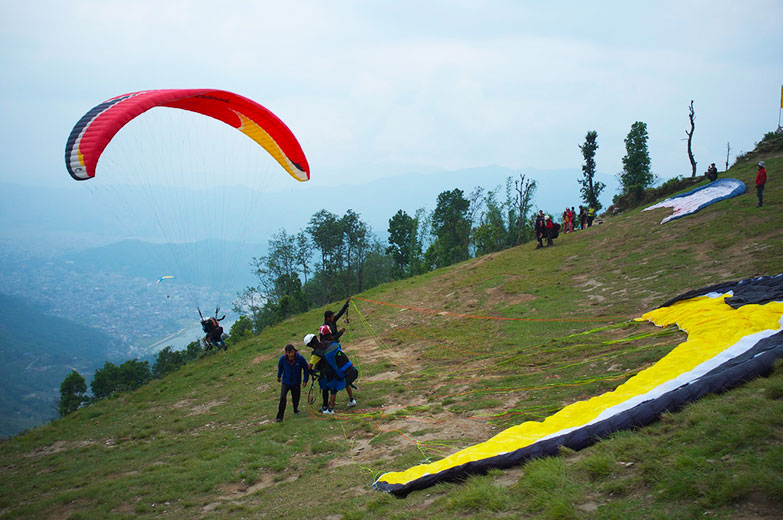 Jungle Safari in Nepal
Jungle Safari in Nepal is a great way to experience the rich wildlife of the country. Nepal is a country that is gifted naturally. It's amazing how such a small country has such dense population of numerous species of rare animals, birds, reptiles, insects, plants, and other creatures. Whether you choose to go on a jungle safari on an Elephant, a Jeep, or a Canoe, it's certain that you're going to have the best experience. The catch of the journey is not just the wildlife but also their habitat as well. Quite Amazing!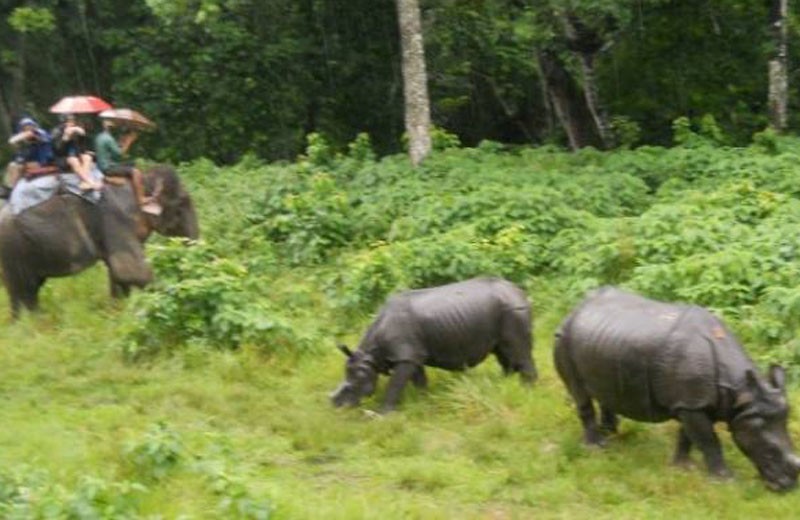 Trekking in Nepal
Trekking in Nepal is one of the most preferred activities in Nepal. Every year tens of thousands of tourists visit the country with the hope to explore the hills and mountains on foot. It's amazing to witness these great white giants standing so close to your face, when you reach the targeted destination. Whether you're an experienced trekker, or someone who just wants to have an experience, there is a trek meant especially for you. If you want to take the journey to a whole new level, you could try Expedition in Nepal. Though Expedition and trekking are two completely different activities. They go unimaginably well together. After all, it all about getting as close to the mountains as possible.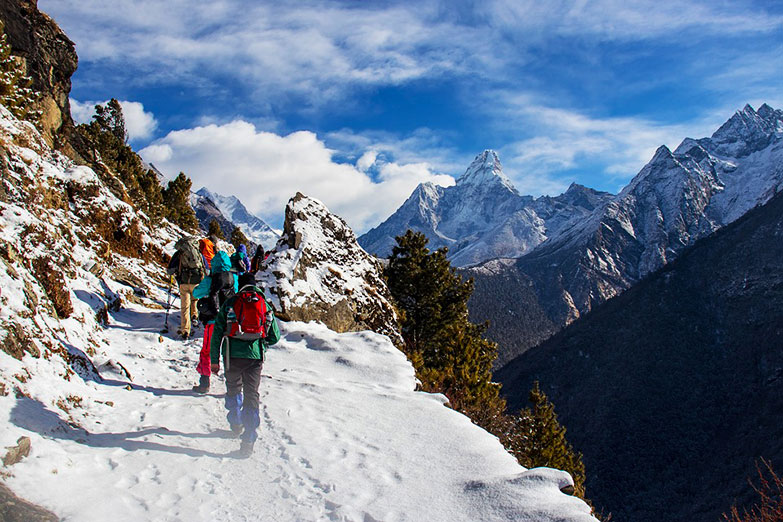 Hot Air Ballooning in Nepal
Hot Air Ballooning a classic way to reach an altitude and appreciate the views of the various spectacles of nature in the area. Though the sport is quite old in the global context, Hot Air Ballooning in Nepal started only 2 years back. Quite like paragliding, the ride starts early in the morning, and lasts for a few hours. It also gives you the most amazing early morning views of the sparkling mountains, and the surrounding landscapes. You would not realize it, and your hot ballooning time limit would be up. There's no way for you to not want to try it again.
Places to Visit in Nepal
There are so many other things to do, whether adventurous or of other sorts, in Nepal. And to experience them, you need to consider these places to visit in Nepal. The following places to visit in Nepal caters to all your needs, whether you like relaxing during your holiday, or you like experiencing goose bumps. Makes sure to try these places to visit in Nepal, during your holiday in Nepal.
Kathmandu
Kathmandu is the capital of Nepal, and it offers you so many options when it comes to things to do in Nepal. The most popular activity, however, is to go for site visits of historically and culturally significant places. But if you're someone who likes adventure, you can go on a bike tour in the hills around the valley. What makes the ride so exciting are the steep narrow bike trails, and what makes it worth going for are the wonderful views that Kathmandu tour offers of the nearest mountain range, the hills, and the entire valley.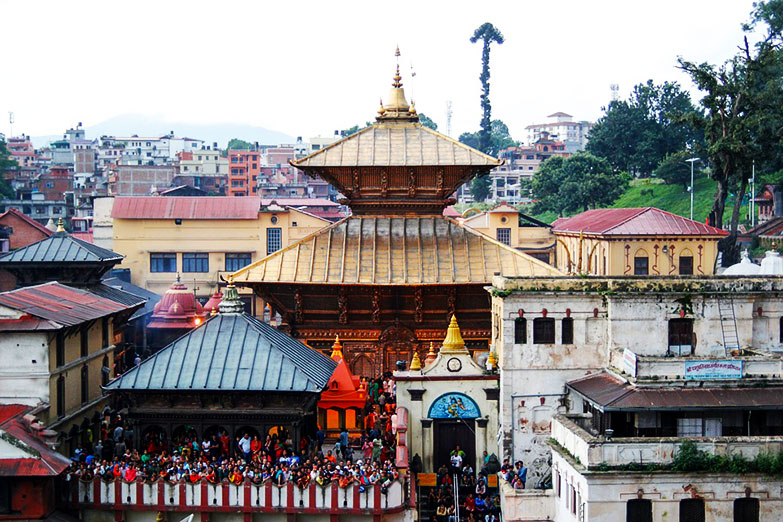 Chitwan
Generally, people go to Chitwan to visit the Chitwan National Park, which is the home to few of the most dangerous and rare wild animals, like One-Horned Rhinoceros and Bengal Tiger. Going on a tour of the park is quite an adventure, and an activity that most adults refrain from. Keep in mind that you need special permission to walk inside the park like that. For people who're not quite confident with this medium of exploration, they could go for jungle safaris in groups, which is considered as the safest way to explore these animals, the wildlife and the overall habitat inside the park.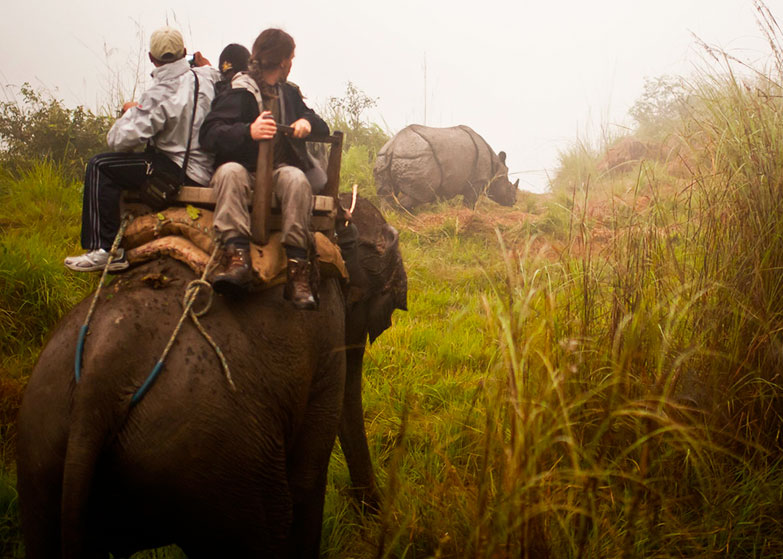 Pokhara
Pokhara is known as the land of adventure activities in Nepal, as Pokhara tour offers you so many options when it comes to dangerous and challenging adventure sports. From Paragliding and Zip Flying to Hot Air Ballooning and Hand Gliding, these are so many options for adventure sports here that you'd never be tired of this place. For people who're not quite into adventure sports, they can go for a more laid back kind of activity like exploring Mahendra Cave, David Falls, Phewa Lake, Peace Pagoda, and so on. Even sitting by the lake side, drinking and listening to some music is a different level of fun altogether.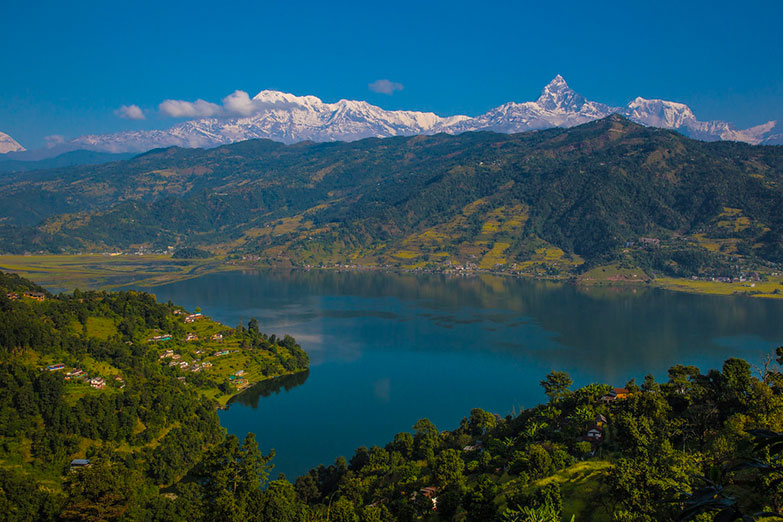 Lumbini
Lumbini is a place that is considered as the birth place of Gautam Buddha. To mark the spot Mayadevi temple was built. To verify it even further, the great Indian King Ashoka established a pillar there, which goes by the name Ashokan Pillar. While there are only limited adventure activities to do around Lumbini, you can always get your hands on a motorbike and go on a road trip to this place, adding a little bit of adventure to your journey, and making your medium of travel a little bit different than the rest.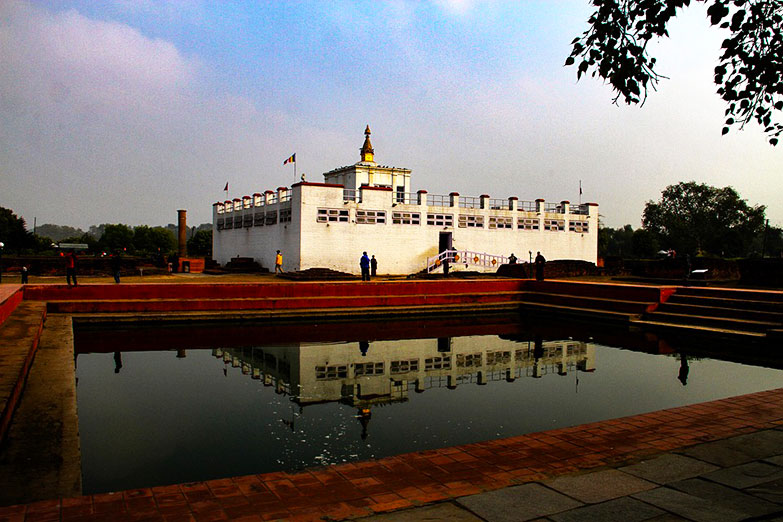 Solukhumbu
Solukhumbu is a district that is widely visited by tourists for trekking and expedition. The district is the home to notable attractions like the Sagarmatha National Park, numerous trekking routes leading to Everest Base Camp, and mainly Mount Everest. Needless to say, you can go for the most adventurous activity in Nepal in Solukhumbu, which is Everest Expedition, and even when you're not that hardcore, you can go for trekking in the region. There are all kinds of trekking routes available here to suit the needs of different levels of trekkers, from experienced to the first timers.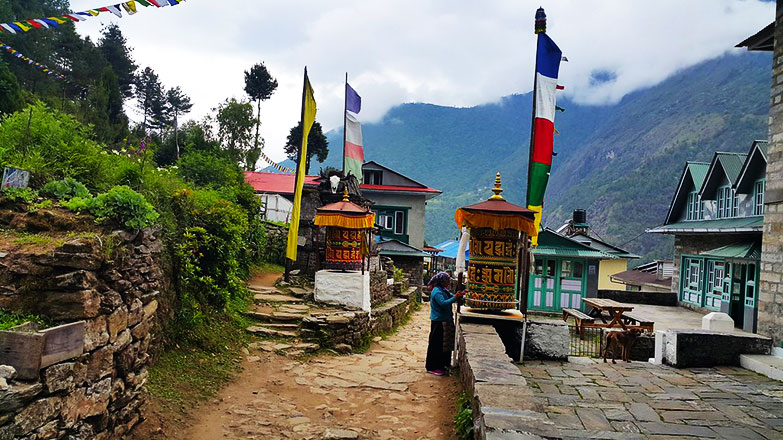 Taplejung
Taplejung is a district in eastern part of Nepal, which has the most number of inaccessible places in the country. Since these places are so hard to reach, they can be considered as virgin beauties that aren't adulterated by the swarms of tourists. The only way to reach these places is by walking; you can't even ride to these places. Taplejung is home to Mount Kanchenjunga, and Kanchenjunga National Park. People who know of this place come here for the most extreme form of trekking. But keep in mind that that you need to be quite an experienced trekker to go for this journey, and be in a sound health.
Jumla
Jumla is a district in the western part of Nepal. Quite like Kanchenjunga, it has so many hard to reach places that the only way to be there is by trekking. Jumla is rich with so many spectacles of nature, and exploring them can be a lot of fun and adventure. Combined with the neighboring district Mugu, it offers you attractions such as the Rara Lake, Rara National Park, SheyPhoksundo Lake, SheyPhoksundo National Park, and so on. Trekking routes that lead to these places are considered as the most extreme ones, considering the high altitude that it takes the trekkers to and unavailability of basic facilities.
Even when you seriously consider Visit Nepal 2020 campaign, or not, makes sure to visit this amazing country in the year 2020. And when you do so, don't forget to try out these adventure activities in Nepal, and make a trip to these places to visit in Nepal. It's a guarantee that when you include these activities and these places in your itinerary, your holiday in Nepal will be truly outstanding.
High Camp Adventure offers you the opportunity to have an amazing holiday in Nepal. During your Nepal tour, with High Camp Adventure by your side as your travel partner, you get to have the most unbelievable experiences. They offer activities such as trekking, expedition, luxury tour, helicopter tour, and so on, and feature the most popular and as well as off-the-beat tourist destinations in their package. They allow you the freedom to pick your own destinations, the medium of travel, and the different adventure activities that you'd want to try in your holiday in Nepal package. They are trustworthy, affordable, experienced, and they ensure that you have the best possible time during the journey. For these reasons, and many others, makes sure to choose High Camp Adventure as your travel services provider during your holiday in Nepal. Your holiday with them will be an unforgettable experience.