Manaslu Trek is a remote trek in Nepal. It takes you to the base of the World's 8th highest, Mt. Manaslu through rural villages. The trek is adventurous but not an easy trek.
So, how difficult is the Manaslu Circuit Trek?
For those who have previous high altitude trekking experiences, Manaslu Circuit trek isn't so difficult. But for a beginner, there are lots of things that you must prepare yourself for before you go.
Manaslu trek difficulty depends upon various factors. Make sure you can beat them all. You should be physically fit. Also, you must have good health. The trek will take you through recurring ups and downs. Sometimes, you will trek into beautiful jungles of Rhododendrons and other trees.
There are lots of strenuous sections on the trail. Walking through the airy trails above the Budhi Gandaki river is a thrilling experience.
The trek does not demand any outstanding physical fitness. With a moderate level of fitness and good physical conditions, you can attempt the trek. Make sure you can bear long hours of walking in the hilly and mountainous region.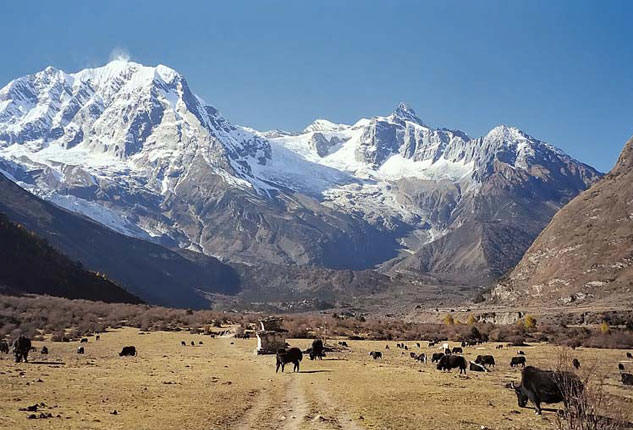 Manaslu Circuit Trek Difficulty in terms of Distance
Manaslu Circuit trek is the trek in the northern Himalayan range of the Gorkha district in Nepal. This trek comprises of widely diverse terrain. The total distance of the Manaslu Circuit trek is about 177 kilometers.
The standard Manaslu Base camp tour is a 17 days itinerary. On this itinerary, you'll be walking for 10-12 days. The other days are acclimatizing days. This means you will walk an average distance of 15 to 20 km.
Covering 15 to 20 km every day by walking isn't so easy. In the top of that, there are some points on the trail that is very difficult. The trek takes you through steep ascents to harrowing descents. Most of the trek includes walking through uphill and downhills.
The trek is a remote trek. There are places where you have to cross thrilling rivers over a temporary wooden bridge. The trail passes across windy trails sometimes.
During the Manaslu trek, you have to cover many kilometers in a day. In some days, the trail is uphill climbing only. Somedays, the trail descends continuously for hours.
The trek can be very tedious while crossing the passes. Crossing the Larkya La Pass 5213m is the most challenging day. It can be hectic for your body.
The trek demands a certain level of physical fitness. You should prepare yourself to walk at least 6-8 hours a day.
Manaslu Circuit Trek Difficulty in terms of Duration
You are living in a city with facilities and services. And suddenly you go to a remote trek for more than 10 days. Do you think it's gonna be easy?
Are you comfortable at coping with remoteness and remote treks? If no, Manaslu Circuit trek can be quite a challenging trek for you. The length or duration of Manaslu Trek depends on the package you choose. You can add or reduce the number of days according to your preferences.
The Manaslu Circuit Trek duration can be anywhere from two weeks to even a month. The trek will get you away from the hustles and bustles of city life. Trekking through remote villages, dense forests, and rivers for long can be exhausting.
You can feel exhausted because you feel low in energy. Focus on preparing a strong body and a strong mindset. Train yourself for the long duration remote trek.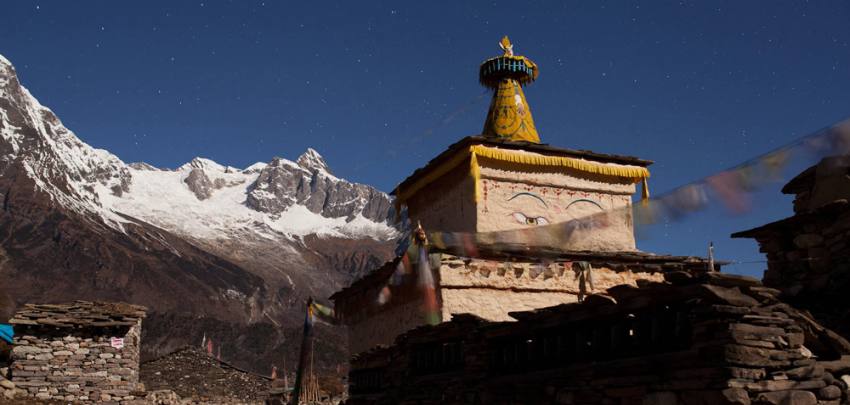 Manaslu Circuit Trek Difficulty due to Weather and Temperature
Weather is a factor that plays a vital role in determining the Manaslu trek difficulty. During the trek, you will encounter the changes in weather and temperature. The trek takes us to variable altitudes.
We will traverse from tropical, sub-tropical, temperate, subalpine, alpine, to the arctic zone. Weather and temperature keep varying in high altitude places. So, there are always chances of downpours, chill winds, and freezing nights.
Manaslu region experiences four seasons: Spring, Summer, Autumn, and Winter.
Summer (June, July, and August)
Monsoon rain dominates the Manaslu region in Summer. The region is hot and wet. The sun rays are warmer. Days are warm. But almost every evening and night see heavy downpours. The nighttime temperature drops below the freezing point.
The trekking trail is slippery, muddy, and wet because of frequent rainfalls. Also, summer is the time when bugs are active on the trail. The trail will be full of leeches.
Crossing the Larkya La Pass in monsoon is a challenging task. The steep trails are risky and very tough. Trekking boots with a firm grip are very helpful during summer trek to Manaslu Circuit.
Spring (March, April, and May)
Spring is a favorable season for Manaslu Circuit Trekking. Spring brings clear weather and clear views of the snowy peaks. During Spring, the rhododendron blossoms blankets over the hills and the forests.
During Spring, the chances of rainfall are very less. The daytime temperature is mild, around 16 degrees in average. But the nights are still colder, around 2 degrees on average.
Autumn (September, October, and November)
Autumn is the most popular time for the Manaslu Circuit trek. The weather and climate in autumn are perfect for trekking. Weather in Autumn is most stable. There are least chances of rainfall or weather changes.
It has the best weather and climate. The daytime temperature is perfect for day hikes. You can see crystal clear mountains towering to touch the blue sky.
Winter (December, January, and February)
Manaslu trekking in winter is a tough thing to do. Winter means there will be heavy rainfall in the upper elevations. Most of the trekking trail will be white, filled with snow.
The day time temperatures are warm and stable. You can see a clear view of the astounding mountains. But the temperature lowers significantly as the sun sets. The temperature drops down to -20 degree Celsius during the night and early morning.
The Larkya La pass, 5125m, is a high altitude pass en route to Manaslu trek. The pass remains closed, mostly during mid-winter due to heavy snowfall. Also, the tea houses along the trail remain closed during winter.
Pack some extra warm clothes for freezing nights, evenings and mornings.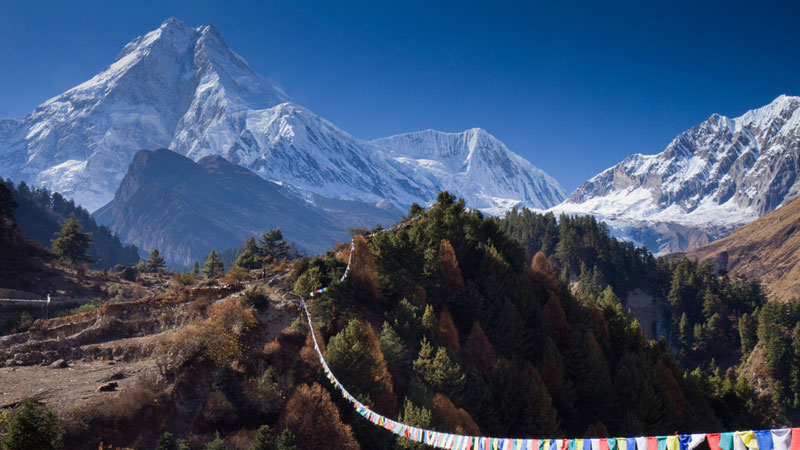 Manaslu Circuit Trek Difficulty due to Altitude sickness
When we trek to the higher altitudes, the risk of altitude sickness is always there.
Manaslu Circuit trek takes us through a wide range of landscape and terrain. We will be trekking from Soti Khola at 710 meters to Larkya La Pass, 5213. Larkya La pass is the highest point on the trek.
The base camp of Mt. Manaslu sits at an altitude of 4800 meters. With every day of walking, we will gain roughly 400-500m of elevation. One of the major Manaslu trek difficulty is your ability to adjust to high altitude.
Higher you trek, the air gets much thinner. This means the risk of altitude sickness will be more. Everyone is at risk of altitude sickness. Factors like age, gender, and fitness level have nothing to do with it.
The early signs of altitude sickness are a headache, fatigue, loss of appetite, and other. It is best to rest after you get the symptoms. Do not start again until the symptoms go away. Resting and acclimatization are the keys to successful trekking at higher altitudes.
Do not ignore the symptoms. When you have any symptoms, descending to a lower altitude is the only option. Carelessness can lead you to severe conditions like HACE, and HAPE. Altitude sickness can even be fatal if not cured in time.
Walk slowly, take regular breaks, and drinking plenty of water. Drinking onion soup can also help you stay away from Altitude sickness.
Solo Trekking in Manaslu Circuit
Solo trekking is not possible in the Manaslu region. Group trekking is your only option. A group must have 2 trekkers and a local guide or a porter. Trekking in a large group might not be a great option.
There are few tea houses at some of the places. Managing for food and accommodation is difficult for larger groups. Plan your trek with a smaller group.
Walking with a guide ensures your safety. It is helpful in having a great trek. Walk with your group and follow the instructions of your guide.
Also, you will need a restricted area permit to trek in the Manaslu Circuit. To get the permit, there are some criteria that you must fulfill. You must have a group of two people. Also, you must trek with an experienced guide or a porter.
Training for Manaslu Circuit Trek
Manaslu Trek is a long duration trek. Also, there are lots of difficult sections. You will trek into the remotest parts of Nepal. The trial is difficult due to remoteness. The trek route is not smooth.
Manaslu Trekking requires lots of stamina and endurance. To build up the stamina, get some training before you go. Start to train yourself a month before you go. Also, you must maintain your proper diet plan right after you start your training.
Strength and Endurance Training
Strength and endurance training helps to maintain your fitness level. These kinds of training are mandatory while trekking in the Manaslu route.
Expect to walk for 5-6 hours daily on average. Some days include steep uphill climbs, whereas some include steep descends. You will be trekking through the forests and the rocky hills.
To prepare your body for all these things, you can hike for a few hours to a nearby hilly area. You can practice the walk while carrying your backpack. This will help build your shoulder and arms.
During the training, drink plenty of water. Eat a diet that is plenty in carbohydrates, protein, and fibers.
Cardiovascular Fitness
Trekking into high altitude means you will be breathing in the thin air. The ratio of oxygen in air decreases with an increase in the altitude. To adjust in the thin air, cardiovascular fitness is essential.
Cardiovascular Fitness training improves the functioning of your heart and lungs during the trek. These trainings train your heart and lungs to supply oxygen-rich blood to muscles. This will be very helpful during the trek.
Cycling, running, jogging, and swimming can help you develop your cardiovascular fitness.
Mental Preparation
No trek will be successful with a weak mentality. Your strong mentality is something that keeps you going. Physical strength is something that helps you through physical hurdles. However, a healthy mentality is something that keeps on pushing you further.
Prepare a healthy mindset. Once you take it, you can do it!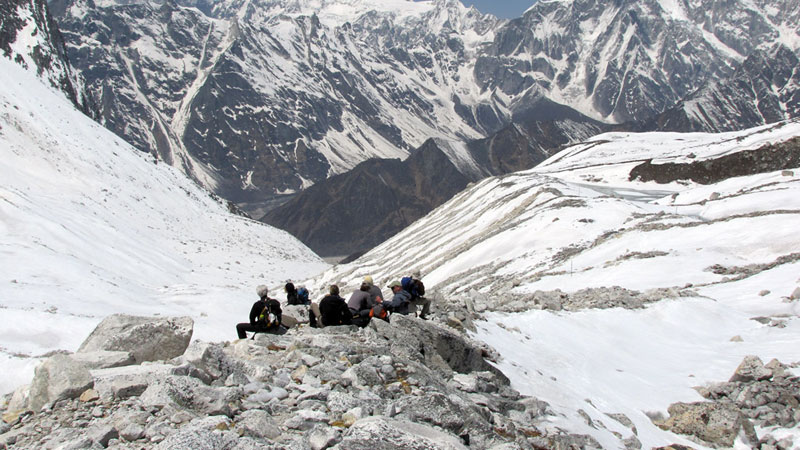 Tips to Avoid Manaslu Trek Difficulties
Keep updates on weather and temperature conditions on every day of your trek.
Book earlier for food and accommodation during peak seasons. Also, by booking earlier you can get the desired room at reasonable price.
For summer treks to Manaslu Circuit, carry along insect repellents and table salts (for leeches).
Hydrate yourself from time to time. Bring refillable water bottles and water purifiers.
If you want to enjoy the peaceful trails opt for offseason trekking.
Pack appropriate, pack wise.
Trek under a reliable guidance of a professional guide.
Conclusion
Manaslu Circuit Trek is a beautiful trek in Nepal. There are lots of difficulties that may come along the trek. Build up physical strength and endurance. Trek under the guidance of an experienced trekker and you'll have a remarkable trek.
For more details on this trek or any other treks in the Manaslu region, you can contact us.