Manaslu Circuit trek had always been one of those trekking routes that had a lot of possibilities but somehow hadn't been explored as much. It's not been long that the government lifted the ban from trekking in the region, however, it still didn't seem to receive as many trekkers. The numbers were definitely growing, but at a snail's pace. Then, something happened, and it changed everything about Manaslu Circuit trek.
The earthquake that happened 4 years ago has changed the face of Manaslu trek completely. Manaslu trek after earthquake isn't just a better trek overall, compared to its earlier self, it's also started receiving a whole lot of trekkers. Tourists have now started exploring the unbeaten path of Manaslu Circuit trek after earthquake. Though it seems a bit surprising, it's working like magic for the region altogether, and the people living in them.
Manaslu Circuit Trek
Manaslu Circuit trek includes 11 core trekking days altogether, out of which, one day is assigned for acclimatization. Depending on your mood, you could either go for a hike around the village, or take complete rest. During Manaslu trek Nepal, you will come across villages such as Jagat, Deng, Namrung, Bimtang, Tilje, and so on. Nestled among green hills and surrounded by lush forests, these villages don't just offer you beautiful natural settings to spend your time in, but cultural diversity and religious tolerance among people that you can explore. The trek begins at Soti Khola, and ends at Dharapani. You acclimatize at Samagaon. Manaslu trek is closely connected to Annapurna Circuit trek, so you'll get to explore certain goodnesses, like the view of the mountains of the Annapurna region, while staying on your main route. Manaslu Circuit trek after earthquake gives the opportunity to the trekkers to go for numerous side treks, and explore the region even further. You can modify your itinerary by including these exciting destinations.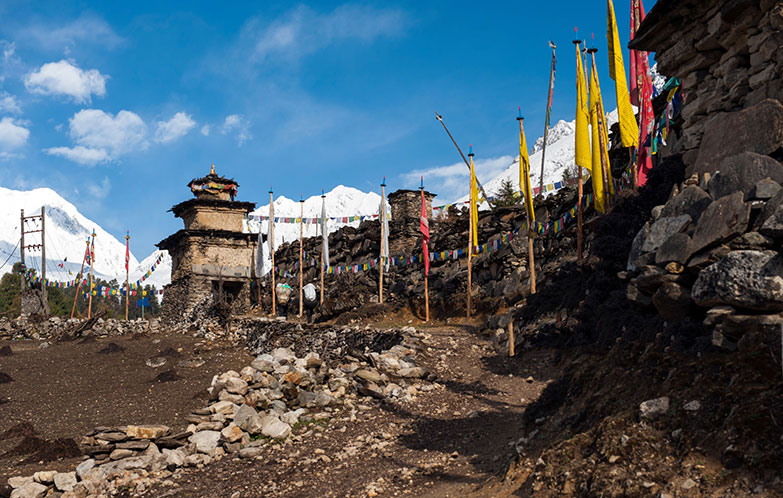 Manaslu Circuit Trek After Earthquake
Manaslu Circuit trek is one of those trekking routes that took a lot of toll from the earthquake that occurred in 2015. Entire villages were turned into debris, or wiped away completely, and the trails had huge blocks of mud and stones, as a result of landslide, occurring due to the earthquake. Due to all this, the trekkers were forced to take alternative routes, which were even more challenging to walk upon. For up to a year from the day of the earthquake, the region received very few trekkers, it was only from 2016 that the number of trekkers walking on the routes started rising. One of the reasons for this is the long time that the rebuilding process took. For up to 3 years, that is till the year 2018, resettling of the villages and the route clearing process continued. Currently, Manaslu Circuit trek after earthquake has returned to its initial form.
The locals, the government, and different support groups from around the world joined hands to make Manaslu Circuit trek after earthquake a heaven. Their intention was to not just rebuild it, but to do it in a way that it can serve more tourists during the trekking season, especially the settlement areas. As a result, Manaslu trek after earthquake has transformed completely, and it currently receives more tourists annually than it ever did. In a way, the earthquake worked as a boon to the region. When you go for trekking on the Manaslu Circuit trek after earthquake, you would not be able to trace even a single sign of the earthquake. The only ones that exist are the memorials built in order to honor the dead, who were the victims of the earthquake.
Manaslu Trek Guide
As Manaslu Circuit trek is a challenging journey overall, going for Manaslu trek without guide isn't something that anyone would recommend. Manaslu trek guide is someone who would show you the right way, and make sure that you have the most amount of fun during your journey. He knows everything about the trek, the region, its attractions, and so on; everything that you want to know about your journey, he'll tell you within a blink of an eye. Manaslu trek guide motivates you to move forward, when you're all tired and exhausted and thinking of quitting. You'll realize that his words are enough to give you that adrenaline rush that you so desperately needed. Manaslu Circuit trek after earthquake has changed up to a great extent; it's gotten more challenging and adventurous. Going on Manaslu trek without guide means inviting more difficulties, which you don't want to do in your wildest dreams.
Manaslu Trek Difficulty
Manaslu Circuit trek is one of the most difficult treks in Nepal. Though it may not be as long as Annapurna Circuit trek, or Kanchenjunga Circuit trek, when it comes to duration, it does have the altitude and terrain factors that make the Manaslu trek difficulty challenging overall. The highest altitude covered in the trek is 5135 m, which is the elevation of Larkya La, a high altitude mountain pass. Another significant settlement area covered in the trek is Dharamshala, which is located at an elevation of 4460 m. In the same way, the terrain is mostly steep and rough. With the changing altitude and location, it does change. The terrain of Manaslu Circuit trek after earthquake got ruined completely. They were either ruined by the falling debris, or they were wiped. Trekkers had to use alternative routes for a long time, and as guessed, walking on those routes was tougher, and it took longer for the trekkers to reach their destination.
Manaslu Circuit Trek Map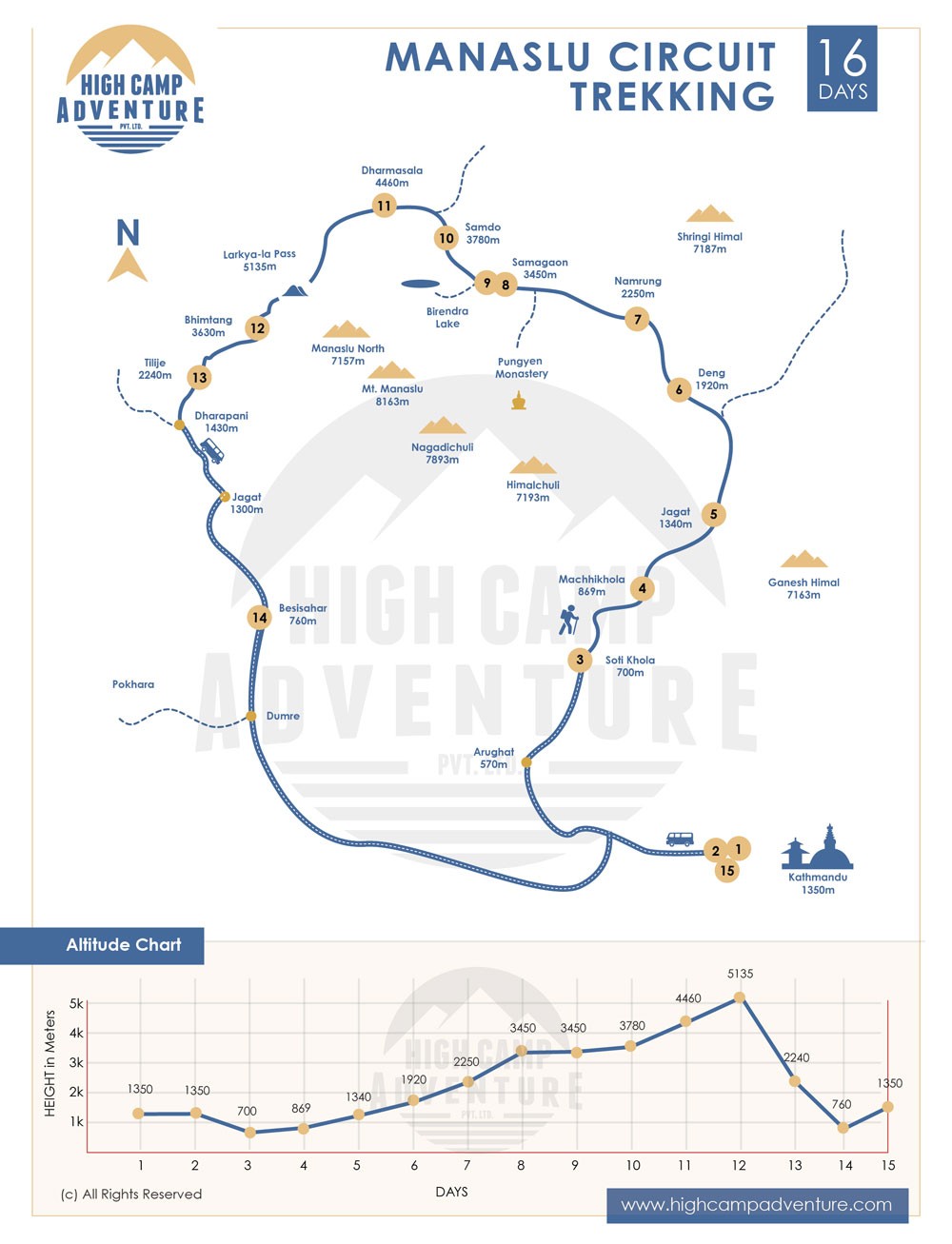 When you go for the Manaslu Circuit trek, it's crucial that you carry Manaslu Circuit trek map.with you. A Manaslu Circuit trek map gives you all the information that you need about the journey. With this information you can modify your itinerary to include different exciting destinations in your journey. Manaslu Circuit trek has so many attractions, from natural to religious and cultural. It's impossible to cover all of them in one go. You can, however, attempt to cover the few that you happened to like, and you can do so only if you have a trek map in your possession. A trek map also helps you stay on the route, and prevents you from getting separated from the group. And in case you do, which is highly unlikely, you can find your way back to your destination with a trek map. A map gives you a better understanding of the region, i.e. the attractions and the challenges, so that you can take better decisions during the trek.
Manaslu Tsum Valley Trek
Manaslu Tsum Valley trek takes you to the wonderful Tsum Valley. It's for the same reason that the journey is also known as Tsum Valley trek. The entire valley is known for its sacred stature, and trekkers who are fascinated especially by Buddhism love this trek. In the early 15th century, a well-known Buddhist philosopher known as Milarepa came to this region, and meditated in its caves. It is one of the reasons why the region is considered sacred. There are so many Buddhist relics and heritages on the route, and out of them, the main one is Mu Gompa, which is also the main attraction of the trek. Apart from the religious attractions, the trek offers you the views of peaks such as Shringi and Ganesh. Manaslu Tsum Valley trek is a complete package, and the best thing about it is that one can go for it either as an individual trek, or as a side trek to Manaslu Circuit. This would depend entirely on the interest and comfort of the trekker.
Manaslu Base Camp Trek
Manaslu Base Camp trek is an interesting side trek to the Manaslu Circuit trek. By adding just one day to your itinerary, you can cover this amazing spot. The route to Manaslu Base Camp starts from Samagaon. Trekkers, instead of going north towards Samdo, head west towards Manaslu Base Camp. It takes quite some time to reach there, and so, a day visit to the spot is not possible. You'll have to stay at Manaslu Base Camp for the night. The next day, you can return to Samagaon, and from here, walk on the regular route to Samdo. Manaslu Base Camp lies at an altitude of 5146 m, and it offers you the most amazing up-close view of the peaks in the Manaslu region, mainly Manaslu North and South, Himchuli, Ngadichuli, and so on.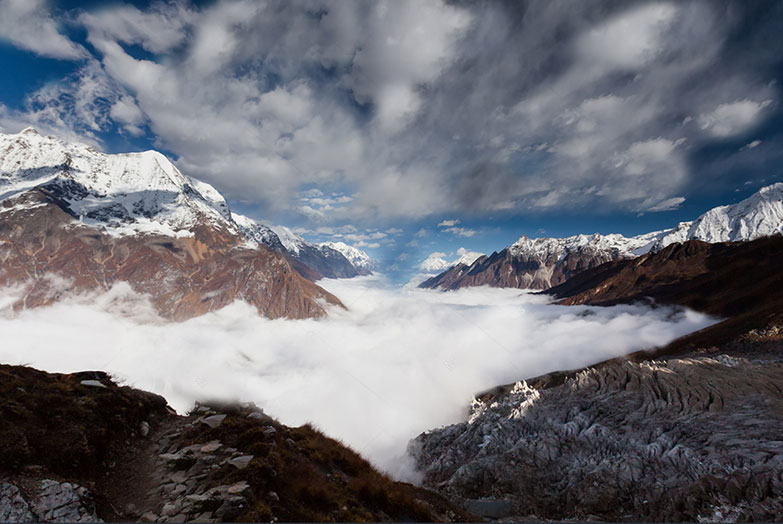 So, if you're looking for the right way to spend your holidays, well, go for Manaslu Circuit trek. Jump at the opportunity of exploring the unbeaten path of Manaslu Circuit trek after earthquake. You will not repent. Rather, it's a guarantee that you'd question yourself, "Why didn't I think of this any earlier?", and you'd want to visit the region time and again.
High Camp Adventure provides its clients awesome trek packages covering all the trekking destinations in Nepal, and especially in the Manaslu Region. What makes their services so amazing is the fact that they focus on client satisfaction, and so, they allow their customers to make changes to the itinerary as per their interest. Manaslu Circuit trek after earthquake is one of the trekking services that they offer, and without a doubt, it's among their preferred trekking packages. High Camp Adventure also offers luxury travel packages to popular tourist destinations in countries like Bhutan and Tibet. So, if you want to spend your holidays in any of these Himalayan countries, contact High Camp Adventure. With this agency as your travel partner, your holiday will never be the same again. And that's a guarantee.
Closer View of Eighth Highest Peak | Manaslu Base Camp Trekking
Untouched and Unraveled Beauty of Himalaya | Manaslu Round Trek
Manaslu Larke Pass Trek | Trek To The Highest Point In Manaslu Trek