If there is one thing that defines Manaslu trek, it's nature. Settled amidst Manaslu Conservation Area, one of the most diverse natural habitats of Nepal, Manaslu Circuit Trek gets you the best of nature. Manaslu Trek Nepal is filled with wonderful blend of natural splendors. The blend includes tall, bold and strong structures like the hills and mountains, the green and rich resources like that of the forests, the life giving pleasant bodies like that of lakes and rivers, and of course, residing within these settings, are the amazing rare species of amazing birds, animals and other creatures.
Manaslu Trek Nepal also offers you the blend of comfort and adventure. Depending on your preference, you could either go for the most strenuous trekking journeys, or a luxurious tea house travel, Manaslu Circuit trek Nepal has it all. What makes Manaslu Circuit Trek Nepal further exciting are the human elements, and the attributes that surround them. The villages that you'd cross during your journey comprise of indigenous tribes of Nepalese, who have been living here for generations.
There is a high influence of religion, mainly Buddhism, in this region. There are so many pilgrimage sites here that are of utmost importance to the people living here. The monasteries and gompas here are so legendary that they're often linked with the great Tibetan Buddhist philosophers and saints, who came and meditated here at one point of time. Natural spectacles of Manaslu trek, combined with these cultural and religious marvels, offers you an experience that will be quite hard to forget.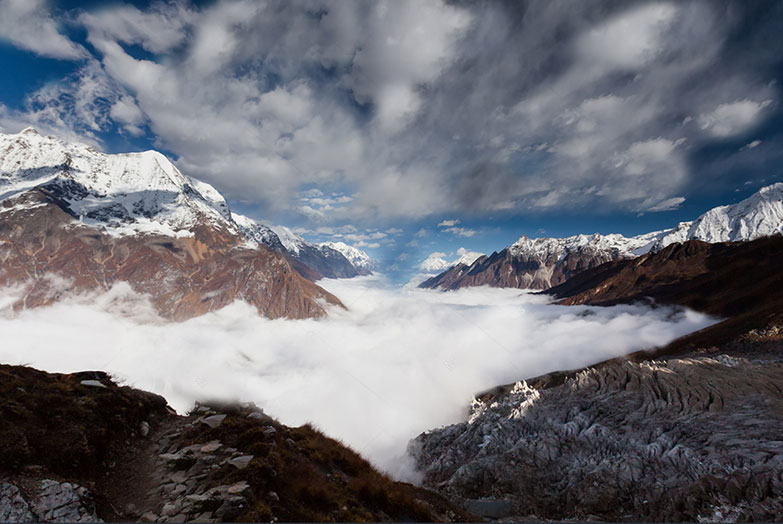 Features Of Manaslu Trek
Before going for the Manaslu Circuit trek, it's crucial that you get to know its features. These will not just prepare you for the trek, but also excite you about what's coming your way. It's always a good idea to understand what you're getting into.
Manaslu Trek Itinerary
Manaslu Circuit trek starts from Soti Khola and ends at Besisahar. During the trek, you come across villages like Jagat, Tatopani, Samdo, Tilje, Dharapani, and so on. All of these hilly settlement areas are located at settings so serene that you'd never feel like moving away from them. In these villages, you'll feel as if you're an intrinsic part of nature, as if you've escaped your mundane city life.
Every settlement area that you come across on your trek has one or the other special attribute. Tatopani is one such example. This village is known for its natural hot water spring. After a long, tiring walk, trekkers can get into these springs and let their bodies relax. It is said that these water bodies have medicinal properties, and have cured patients with problems related to their skin and bones.
During the trek, you'll get the most amazing views of the mountains, especially Manaslu, Ganesh, Shringi, Himalchuli, Pangboche, and so on. You will make your way along rivers, mainly Budi Gandaki River, and numerous times on your journey, you'll get to witness captivating waterfalls. Another attraction of the trek are the various mountain passes, one of which is Larkya La.
Two-third of Manaslu trek route is a part of Manaslu Conservation Area, whereas one-third is a part of Annapurna Conservation Area Project. These are two of the richest, and most diverse protected areas in the country. Altogether, they comprise of hundreds of species of rare animals and birds, and thousands of species of plants. Throughout your trek, you come across many of these flora and fauna, which is an amazing experience overall. Some of them can be spotted easily, whereas the others stay hidden.
Manaslu Trek Price
Manaslu Circuit is a moderately priced trek, if you're to consider all the features that the trek has and everything that you get to experience, and if you're to compare it with the package cost of other trekking journeys. It goes without saying that the cost of any form of tour depends on the facilities offered in the package and the travel partner you're going with.
A lot of times you'll realize that packages that are offered at a very low price are also the ones with the most rudimentary of facilities. For instance, option of camping over teahouses, the standard of those teahouses, quality of transportation, and so on. Now, if you can work with such services, you could go for it. The right thing to do, however, is to look for a balance. After a tiring day of walk, a hot bath would rejuvenate you completely. So, adventure is fine, but a little bit of luxury would do you no harm.
Make sure that you choose the right trekking company, by properly going through all the attributes of the package they're offering. If you have slightest of dissatisfaction about the services offered and the price quoted, you always have the option of going with another company. There are so many trekking options out there, who offer the best services at the most affordable price.
Manaslu Trek Difficulty
Manaslu Circuit is a moderate level trek. It consists of 11 core trekking days, out of which one is spent acclimatizing. The distance covered during the trek is around 170 km, during which you would go as high as 5135 m, which is the altitude of Larkya La. The lowest point of the trek, however, is 930 m, which is the elevation of Soti Khola. So, there is an altitude jump of around 4000 m during the trek.
Altitude, Climate and Terrain are the three main factors that contribute to the difficulty of the Manaslu trek. However, a lot of times, the difficulty level may also depend on the level of expertise of the trekkers, and their fitness status. When the trekkers are used to working out regularly, or doing some form of cardio, they're able to handle these situations fairly well.
The biggest challenge, which actually occurs as the result of high altitude, is altitude sickness. It impacts almost all the trekkers, with symptoms like nausea, headache, and so on. The effects can be reduced up to a great extent by taking rest and allowing the body to adapt to the environment. Also, by taking medicines, and certain food items like garlic soup, the recovery process can be accelerated.
Manaslu Trek Best Season
The best season to go for Manaslu trek is between mid-September to mid-December. During this time, the route is jam packed with tourists from all over the world.
If you're looking to avoid the crowd, you could also pick the second best season to go for the trek, which is between mid-March to mid-June. Though this is also an amazing time to go or the trek, the number of tourists visiting the region during this season is lower than the other one.
You could go for Manaslu trek in other months as well but remember to avoid extreme cold, rainfall, or snowfall. Such weather won't just make trekking an absolute challenge, but could also make you extremely sick during the trek, which is the last thing that you would want to happen to you.
Side Treks Around Manaslu Trek Route
Manaslu Circuit Trek offers so many side treks to the travelers exploring its route. The treks further extend the possibility of the trekkers coming across wonderful natural splendors of the Manaslu region.
Manaslu Base Camp Trek
Manaslu Base Camp trek is possible the shortest side trek in the region. By spending just two extra days at Samagaon, you can make a visit to Manaslu Base Camp trek. To do so, instead of heading north towards Samdo, the trekkers need to head west to reach the Manaslu Base Camp. It's a couple of hours of trek, however, it could be a little strenuous, so most trekkers prefer to stay at the base camp for the night, and on the next day, they trek back to Samagaon.
The main attraction on this side trek is mainly the Manaslu Base Camp, which is situated at an altitude of 4800 m. Reaching here means getting up-close and personal with Mt. Manaslu, along with other mountains in the region like Ngadichuli and Himalchuli. You will also come across Birendra Tal, a high altitude mountain lake, in terms of walking from Samagaon to Manaslu Base Camp.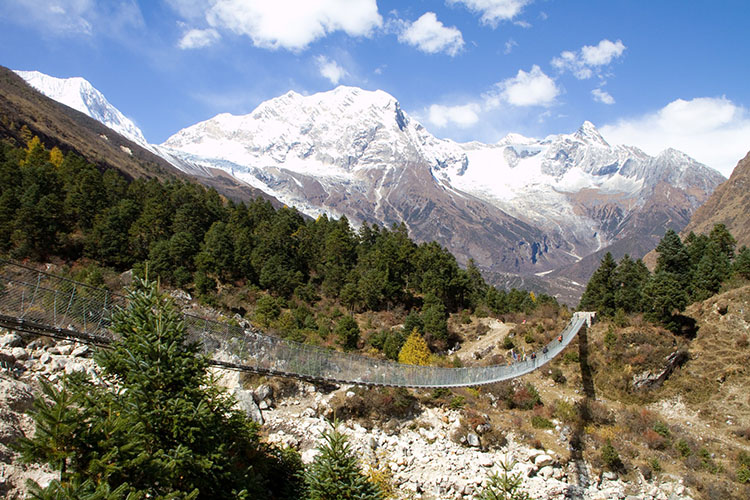 Manaslu Tsum Valley Trek
Manaslu Tsum Valley Trek starts the same way as Manaslu Trek, i.e. either from Arughat or Soti Khola. From here, the trekkers head north towards Lokpa. It is at Lokpa that the route divides into two paths. One path takes you to Deng, and lets you continue on the Manaslu Circuit trek, and the other one take you to Chumling, which is a part of the Tsum Valley trek route.
From Chumling, the trekkers head north towards Mu Gompa, by crossing settlements like Domje, Phurbe, Nile, and so on. From there, it's the same way back. Now, trekkers trekking on this route have two options, whether to go for just the Tsum Valley trek, i.e. from Soti Khola to Mu Gompa and back. Or, they could add the Tsum Valley trek to the Manaslu trek.
To walk on the Manaslu Circuit trek, they need to walk back to Lokpa from Mu Gompa, and from there, instead of heading south, they need to head northwest towards Deng, and continue walking on the route. In the Tsum Valley Manaslu Trek, the trekkers would come across attractions such as Milarepa Piren Phu Cave, named after the famous Buddhist saint Milarepa, Mu Gompa and Rachen Gompa, popular in the region for their religious significance.
Rupina La Trek
Rupina La Trek starts from Barpak, a small village in Gorkha district, in the western part of Nepal. This trek presents the trekkers an alternate route to initiate the Manaslu Circuit trek. The main attraction of the route is Rupina La, a high altitude pass situated at 4720 m. After crossing the pass, the trekkers would reach Boudha Himal Base Camp, which is yet another attraction of the journey.
On the Rupina La trek route, the trekkers cross villages like Bheri Kharka, Syangyen, Nyak, and so on. After walking for a duration of 8 days, the trekkers reach the settlement area of Deng, and this is where the route joins that of Manaslu Trek. From here, the trekkers could either continue walking on the Manaslu Circuit trek route, or they could head back towards Barpak, where Rupina La trek would come to an end.
Manaslu Trek With Or Without A Guide
The job of a trek guide is not just to show you around the route, but also to make sure that you have the best time throughout your trek. A trek guide will ensure that you remain safe, healthy, and satisfied throughout the journey. Walking on the trekking route becomes way easier and fun with a trekking guide, as he wouldn't just tell you where to go but also introduce the entire area to you. Imagine looking at a mountain and not knowing which one it is! Manaslu trekking guide will give you all the information that you'd want to know regarding the attractions that you come across.
Manaslu trek without guide is much more challenging than usual. The notorious rough terrain, the unpredictable weather, the language spoken by the locals, and so on will act as hindrances that will prevent you from having a great time. In such circumstances, Manaslu trek guide can prove to be a savior for you. He will offer you the tips to make your walking experience comfortable, and act as a translator between the locals and you. It's going to be so much easier interacting with locals, and getting to know their stories, with a Manaslu trek guide.
Numerous times throughout the trek you'd feel like quitting, it's not that easy after all. Especially when the altitude sickness hits, the trekkers start having a second opinion about continuing the trek. At dire times as such, it's the guide who would motivate you to move forward, and continue. A good guide has the ability to heal you with his words. It's for sure that you're going to miss him the most after the trek is over. It's for reasons like these that Manaslu trek without guide seems nearly impossible
Manaslu Circuit Trek After Earthquake
Manaslu Circuit trek took quite a toll due to the earthquake that occurred in 2015. The routes got wiped away, the villages were destroyed, many people, including trekkers, lost their lives, and most importantly, the earthquake sowed the seed of fear inside people that trekking in the region could be life threatening. As a result, the number of trekkers coming to the region dropped significantly.
The region took atleast a year to heal completely. All the damaged villages were reestablished, the structures within them were rebuilt, and the routes were cleared. The locals, with the help of the government, and the aid from people all over the world, pulled up their pants and worked as hard as possible to revive the trekking industry in the region. Trekking activity is a way for a large number of people here to earn their living.
Finally, Manaslu Circuit trek after earthquake is up and running, and completely safe for travel and trekking related activities. Manaslu trek after earthquake is ready to welcome the guests, and offer them the best experience. As a matter of fact, trekking in the region has been open for the last 3 years, and surprisingly, the number of trekkers trekking in the region has grown tremendously.
If you have the slightest of doubt about going in this trek, whether Manaslu trek after earthquake is safe or not, well, get rid of them. If you are an avid trekker, or a curious traveler, and you've still not tried Manaslu trek, well, you're missing out on a whole lot of excitement and adventure. The wonderful natural splendors of Manaslu trek will not just surprise you with eyes wide open, they will also excite you, and engage you, giving you a complete travel experience.
There are so many things to do and see in Manaslu Circuit trek, and with the addition of the side treks mentioned above, it all seems endless. However, with a little bit of planning, and quite a bit of effort during the trek, you can cover all of them, or most of them, and get the best out of the region. Manaslu trek is full of opportunities, when it comes it exploring the natural splendors that it offers, all you need to have is faith, and all you need to do is go for it.
High Camp Adventure is one of the most amazing trekking companies in Nepal. They offer trekking packages to all the popular trekking destinations in Nepal. The company is an expert when it comes to travel, and also offers tours to neighboring countries like Bhutan, Tibet and India. If you are looking to book a holiday package, whether an adventurous trek or a comfortable travel, remember High Camp Adventure for all your needs. They offer the best packages at the most affordable price.
Overcoming The Challenges Of Poon Hill | Poon Hill Trek Difficulty
Closer View of Eighth Highest Peak | Manaslu Base Camp Trekking
Untouched and Unraveled Beauty of Himalaya | Manaslu Round Trek