There are so many things that make a trek special. From high altitude villages and settlement areas to those white majestic peaks covered in snow; from lush green forests that houses rare endangered species to rivers, lakes and waterfalls, with crystal clear water running in them; and most importantly, the people, their lifestyle and culture. But, more than all these things, what makes a trek special is a professional trek guide. When it comes to trekking in the Manaslu Region, what makes your journey the best is a Manaslu Trek Guide.
Though the above mentioned elements are the core reasons why anyone would go for a trek, a professional trek guide is someone without whom enjoying all these attributes is almost impossible. A trek guide will make sure that you're having the best possible time in a trek. He will not just show you the right direction but also clear all your queries that you'd have about the attractions that you'll come across. If you wish to talk to the locals, and get to know about them, your trek guide will act as your translator and help you communicate with them with ease.
At times, the trek proves to be too challenging for the trekkers. The rough terrain, the extreme weather, high altitude, and to make things even worse, altitude sickness. Even one of these conditions is enough to break a trekker, imagine all of them occurring all at once. A lot of the trekkers, in situations as such, think of quitting the trek and returning. However, there's always this trek guide who talks to them, and with his words, he tries to convince them to not give up, and finish what they've started. That's why a trek guide is crucial during the trek.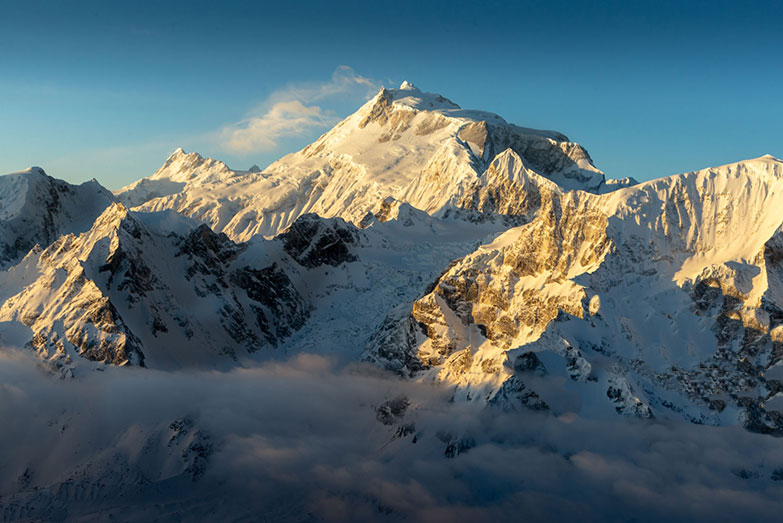 Manaslu Circuit trek is no different than other treks. It has all the above mentioned features, both positive and negative. And so, it's significant that you have a Manaslu trek guide with you, when you go for the trek. Manaslu trek without guide is difficult to fathom. When you go for Manaslu Circuit trek without guide, you won't just miss out on a lot of fun, but also lose all that help and support that you'd have gotten if you had a Manaslu trek guide accompanying you. If you're going for trekking in the Manaslu region, make sure that you're going along with a Manaslu trek guide. Believe me, you wouldn't even know, and the trip would come to an end.
Manaslu Circuit Trek
Manaslu Circuit trek is an 11 days long trek, with only one day assigned for acclimatization. During the journey, the trekkers come across villages such as Namrung, Samagaon, Bimtang, Tilje, Dharapani, and so on. The trek starts at Soti Khola and ends at Dharapani. One of the main attractions of the trek are the mountains, and during your hike, you'll get to have amazing views of peaks such as Manaslu, Ngadichuli, Himalchuli, Shringi, Ganesh, and so on.
Manaslu trek Nepal is a part of Manaslu Conservation Area Project, which is one of the most significant protected areas of Nepal. It is known for its large population of rare and endangered animals and birds,and its diverse vegetation. While you make your way through lush green forests, you're sure to be mesmerized by the beauty of the region. If you're lucky, you might come across rare animals like Blue Sheep, Red Fox and Brown Bear, and birds like Golden Eagle, Snow Partridge and Tibetan Snowcock.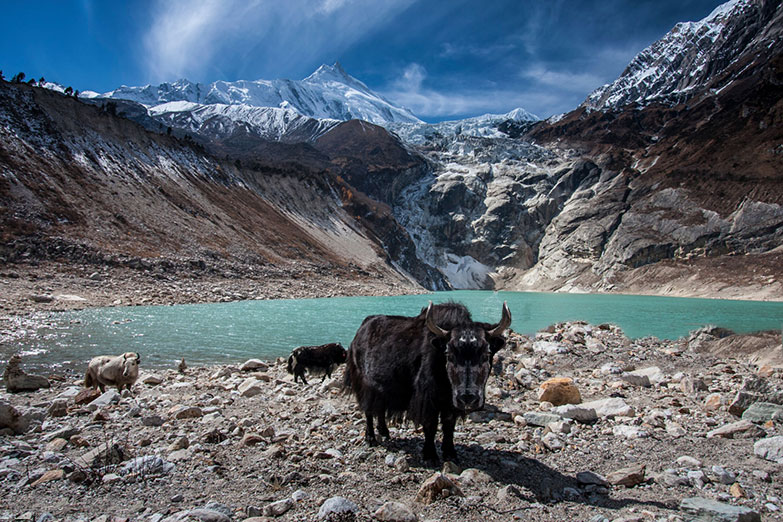 The most crucial attractions of the trek are the people living here. Most of the locals in the region have a Tibetan lineage, and therefore, the majority of them follow Buddhism. Throughout the trek you'll find numerous Buddhist relics and heritages. Their history, culture and lifestyle is sure to interest you, and you'd wish that you could stay here a little longer. A professional Manaslu trek guide will help you dive in-depth into the Manaslu Circuit trek route, allowing you to explore its best attributes, and understanding them completely.
Manaslu Base Camp Trek
Generally, trekkers treat Manaslu Base Camp trek route as a side trek rather than an individual one. To reach Manaslu Base Camp, all you need to do is add one day to your Manaslu Circuit trek itinerary. In terms of walking on the Manaslu Circuit trek, you'll reach a village known as Samagaon. From here, you're meant to head north to Samdo. Now, instead of doing that, you could head west to Manaslu Base Camp,and stay there for the night. The next day, you could return to Samagaon, and continue with your trek to Samdo. That's what it takes to cover Manaslu Base Camp on your Manaslu Circuit trek itinerary.
Manaslu Tsum Valley Trek
Manaslu Tsum Valley trek takes you to the unexplored Tsum Valley of Manaslu region. The valley is known for its religious significance. It is said that in the early 15th century, a Tibetan Buddhist priest by the name of Milarepa came to the region, and meditated in the caves of Tsum Valley. The priest is regarded highly by the Buddhists, and is considered as one of the greatest preachers of Buddhism. This gave Tsum Valley the sacred status that it currently has.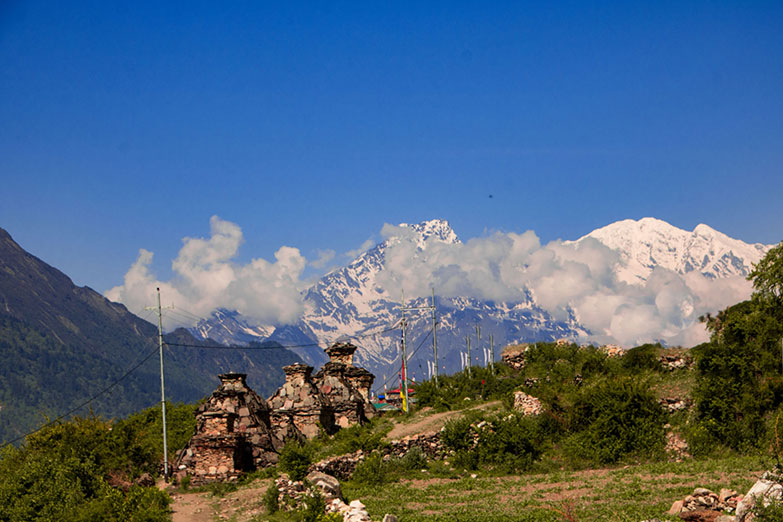 During your trek in the Tsum Valley, you will come across numerous Buddhist heritages, and the major ones among them are Mu Gompa and Rachen Gompa. As a matter of fact, the former one is the main attraction of the trek. Tsum Valley trek starts from Soti Khola, and goes up to Mu Gompa, and from there, it's the same way back.
Altogether, it's a 12 days long trek, and as the route keeps you under 3500 m most of the times, no days have been assigned for acclimatization. You can go for Manaslu Tsum Valley trek as an individual journey, or you can treat it like a side trek to Manaslu Circuit trek. Needless to say, in the latter scenario, your journey is going to be quite challenging, and therefore, more thrilling and adventurous.
Manaslu Circuit Trek After Earthquake
Quite like a lot of other regions and trekking routes, Manaslu Circuit trek after Earthquake was completely devastated. The villages got wiped off, and the routes were either erased or blocked.
Manaslu trek after earthquake took quite some time to recover, as the re-building work went on for almost 3 years. The villages had to be re-settled, and the debris from the paths had to be cleared. For the time being, trekkers used alternative routes to reach their destination. Currently, when you visit the region, you would not even find a single trace of the earthquake, except the memorials built to honor the ones who lost their lives. Manaslu Trek after earthquake has recovered completely, with wider routes and more alternative paths, and bigger villages, with more facilities, that able to serve the rising number of tourists.
Manaslu Trek Difficulty
Manaslu trek difficulty level is marked at strenuous, and it is so because there are so many aspects to the trek that make it difficult. It takes you to few of the highest altitude places in the region like Dharamsala, a settlement area that is situated at an altitude of 4460 m, and Larkya La, a high altitude mountain pass whose elevation is 5160 m. With high altitude, challenges such as extreme weather and altitude sickness come self invited. The latter one among the two is something that everyone needs to be especially aware about. Altitude sickness can make you extremely unwell, up to an extent that you might require medical assistance. Even if that doesn't happen, it can make walking on the route tough for you, ultimately ruining your journey.
Manaslu trek has an intense nature. Also, it hasn't been explored as much as the other more popular treks in the region. That is why, it's crucial for trekkers to be accompanied by a professional Manalu trek guide. A professional Manaslu trek guide wouldn't just know the ins and outs of the route, he would also know all the tweaks that would make your journey an absolute pleasure. Without a Manaslu trek guide, the trek would seem like a Michelin star dish without salt. So, make sure that when you go for a trek, and especially a trek in the Manaslu region, get a Manaslu trek guide to accompany you. Your trip won't be the same without him.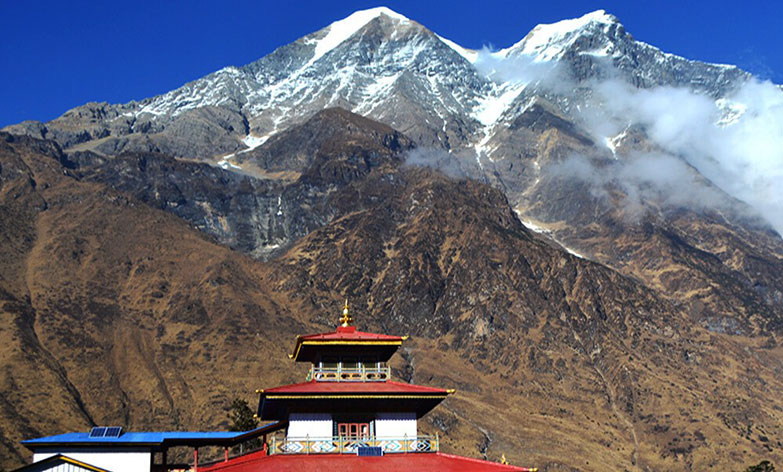 High Camp Adventure is the provider of exciting travel and tour packages to different parts of Nepal, and outside, in countries like Tibet and Bhutan. They specialize in trekking, and with their experienced travel and tour operators, trek guides included, they offer the best possible service to the visiting trekkers. Their Manaslu Circuit trek package is one of their most popular products, and to make sure that their clients have the best time during the trek, they are accompanied by an amazing Manaslu trek guide. If you're looking to go for a robust trekking journey like Manaslu, make sure to opt High Camp Adventure. You'd want to take their trekking related services again and again, and that's a guarantee.
Closer View of Eighth Highest Peak | Manaslu Base Camp Trekking

Untouched and Unraveled Beauty of Himalaya | Manaslu Round Trek

Manaslu Larke Pass Trek | Trek To The Highest Point In Manaslu Trek