The Manaslu Circuit Trek is a trek into the remote and unspoiled parts of Nepal. Before trekking to Manaslu Region, you must know about the Manaslu Circuit trek cost.
The trek is among the upgrowing trekking routes of Nepal. This trek to Manaslu Circuit takes us to the base camp of Mt. Manaslu, the 8th highest peak in the world.
This trek is rich in diverse ethnicities, cultures, landscapes, endangered flora, and fauna. Manaslu Circuit trek is an opportunity to enjoy the peaceful, less crowded environment.
You'll get to blend with nature, art, and Nepalese-Tibetan culture of the Manaslu region. This trek is famous for its unexplored and less traveled trails. The trail is less crowded and peaceful. On this trek, you'll enjoy the pristine and tranquil beauty of the Himalayas.
The Manaslu region is enchanting with beautiful rivers, modest villages, and variable landscapes. If you are a keen trekker, you must trek to the Manaslu region.
This trek is quite less expensive and more adventurous than other popular treks.
What do you have to pay for during the Manaslu trek?
Well, pay for your trekking permit, a guide and/or a porter, good food, stay, and transportation. Besides, there are some other things that will add to your trek cost.
Make sure you carry enough hand cash before you leave off for the trek. You cannot expect to find ATM machines or Banks in such a remote area.
Cost of Guides and Porters for Manaslu Circuit Trek
Unlike many other popular trekking trails in Nepal, solo trekking is not allowed in the Manaslu region. You cannot trek alone without a guide or porter in the Manaslu region. You must trek in a group of at least two trekkers and an experienced guide or a porter.
To hire a professional guide for Manaslu region trek, the fee is about USD 20 to 25 per day. This cost includes the guide's food, accommodation, and insurance.
You can also trek to Manaslu Circuit with only a porter. There is no huge cost difference in hiring a porter and a guide. You will save UDS 4 to 5 if you hire a porter. Generally, hiring a porter will cost you USD 18 to 22 per day. This cost includes food, accommodation, and insurance of the porter.
Also, there are some porters who can communicate in English, hence can act as a guide. Hiring a porter- guide costs around USD 25-30 a day. They will share the load and will guide you throughout the trek.
Manaslu region is quite tricky trekking region because of its remoteness. So, we advise you to hire an experienced guide. Trek with a guide who has good technical knowledge. Trekking with them ensures your safety.
Cost of Transportation at Manaslu Circuit Trek
The Manaslu Trek is not directly connected to the transportation facilities. It is the less traveled trekking trail among other trekking trails in Nepal.
You can get up to the Besi Sahar from Kathmandu. Besi Sahar is where the actual trek begins at. Beginning from Kathmandu, you will take an off-road local bus to Arughat or Sotikhola. If you do not want to travel on public buses, you can hire a Jeep.
If you travel by local bus up to Sotikhola, it will cost you less than USD 10 per person. Traveling in a private jeep will cost you USD 150 to 200.
The drive from Tal or Besisahar to Kathmandu will cost almost the same. You will find a local jeep service between Tal and Besisahar. It costs you USD 10.
Cost of Accommodation at Manaslu Circuit Trek
In the Manaslu region, there is less well-established tourist infrastructure than other trekking areas. But accommodation is not an issue these days. There are many tea houses that are being rebuilt after the 2015 Gorkha earthquake in Nepal. (The earthquake damaged most of the local houses and the tea houses in the Manaslu trail.)
Trekking in Manaslu is famous with unique housing. There are various tea houses along the trekking trail. All tea houses are back in business.
During the trek, the teahouses provide rooms on the twin sharing basis. The cost for one twin sharing room is around USD 6 to USD 9 a night. If you rent a room and slept on your own, without a partner, you must pay for the total cost of the room. But if you share the room, you can pay half the cost.
Camping is not required during the Manaslu trek these days. But for that, make sure you do not go off the beaten tracks.
Note: If you are willing to do camp trekking, we can organize that for you. Contact us if you have an interest in Camp Trekking. We will provide you with the required information and prices for camp trekking.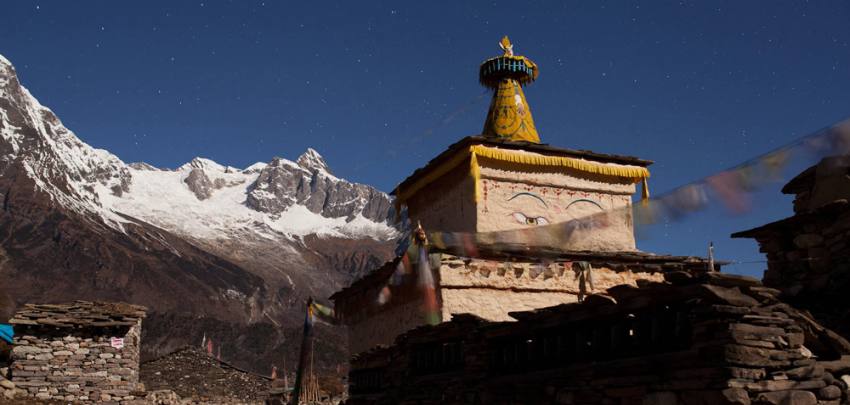 Cost of Foods and Drinks at Manaslu Circuit Trek
Manaslu is an isolated area in Nepal with no transportation facilities. So, the costs of food here are more expensive. The price of food increases with the rise in elevation. Higher the elevation, shorter the lists of foods on the food menu.
Transporting goods to remote places is very hard here. The region is so remote. Porters and Mules transport everything. For each meal, you have to pay around $5. This cost varies with your food choice and the number of meals you order.
There is a lot of effort put into a bowl of soup that you eat here. After getting into the remoteness and seeing how they transport the goods, you will fee that the cost is worth it.
Do not expect a variety of food items. In general, the lodges serve the Tibetan bread, Dal Bhat, Tsampa Porridge and some local foods.
To pay for food, $20 per day shall be enough for a day. This cost can vary on the basis of the appetite you might have in each meal.
Cost of Drinks like tea and coffee is similar to that on the other treks. In the Manaslu trek,
A cup of tea costs USD 1.5 to 4.
A cup of coffee costs USD 2 to 4.
A bottle of beer costs USD 2 to 5.
And a bottle of water or soda costs USD 0.5 to 4.
Manaslu Circuit Trek Permits With their Costs
While trekking in the restricted areas in Nepal, you must get restricted area permit. Manaslu Trek passes through some restricted areas. Get the following permits before you trek in the Manaslu Circuit:
Manaslu RAP Cost
You need to obtain a restricted area to trek in the Manaslu region. And the cost of the restricted area permit varies depending on the trekking season.
For the Manaslu Circuit Trekking in September to November, the cost for Manaslu RAP is $70 per person for the first week. If you are staying longer between Jagat and Dharapani, pay $10 per day thereafter.
In off seasons (December to August), it costs $50 per person for the first week. Pay $7 per day afterward.
MCAP & ACAP
Manaslu Conservation Area project permit and Annapurna Conservation area project permit are two permits that you need to get for the trek.
Both these are conservation area entry permits. Both they cost Rs. 2000 per person. ($200 each). The cost remains unchanged for everytime of the year.
Tsum Valley Permits
If you are visiting the Tsum Valley, get the Tsum Valley Permit. The cost of the permit varies with seasons that you trek in. For trekking in Sep to Nov, you must pay US$35 for the first 8 days. For Dec to Aug, pay US$25.
Note: You will not need a TIMS card after you get the restricted area permit. Getting Manaslu Trek Permits isn't so easy. You must fulfill certain criteria. Read our article on Manaslu Circuit Trek Permit.
Other Miscellaneous Costs
If you need any extra thing, it will always be expensive. In the mountains of Nepal, they will charge you an extra cost for almost everything.
Some of the extra costs that may add to your budget are:
Charging Your Electronic Gadgets
In the Himalayas, regulation of the small local hydropower station requires higher investments. Thus, during the trek, you must pay a few dollars every time when you charge a Camera, Mobile phone or other gadgets.
Note: Take some extra batteries for your camera. You can also carry a portable solar battery charger or a portable power bank. This might come in handy during the trek.
Bucket Shower
Do not expect full bath or daily showers while on the Manaslu Circuit trek. If you insist on taking a hot shower daily, spare a lot of money for that. For hot water showers in the trek, you have to pay a few dollars at a time.
You can carry some wet wipes instead. Use it in the interim. You can also get a soft and small towel to freshen yourself in the morning or before bed.
Donations and Tips
Giving donations is not mandatory. But you may want to donate some amount while visiting the Monasteries or Stupas. They will not ask for donations, but they do expect some. They will use your donations for the maintenance of the area. Donate as much as you like.
Your guide and porter will expect some tips from you after the completion of the trek. In general, tourists pay USD 100 on average for a 2 weeks trek. This makes USD 5 to 7 a day.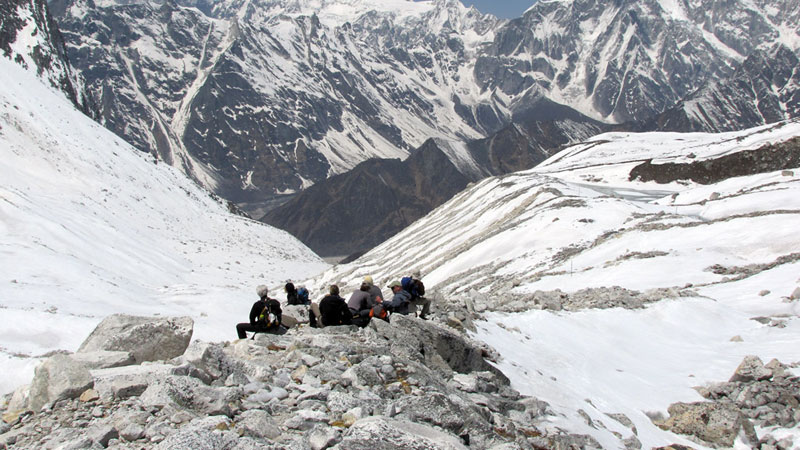 Manaslu Trek Cost for Nepalese
Manaslu circuit trek is a tourist destination for foreign as well as local tourists. Nowadays, the number of local Nepali tourists is increasing surprisingly in Nepal. The Manaslu Trek and Tsum Valley Trekking are becoming popular among the Nepali tourists.
The cost of Manaslu Trek for a Nepali traveler differs from that of a foreigner. If you are a Nepali trekker, here is a list of a few things for you to know:
The trekking permits for Manaslu Circuit is not required for a Nepali tourist. This saves the cost of the Manaslu Trek permit.
Getting a guide or a porter is not mandatory for a Nepali tourist. You can travel on your own if you think that you can. This can save the cost of hiring a guide and/or a porter.
The local Transportation fees for a Nepali tourist will be slightly cheaper. If you are a Nepali, the transportation fee for traveling from Kathmandu to Soti is NPR 600 to 700. From Dharapani to Besishar, they will charge you NPR 1500. The transportation cost from Besisahr to Kathmandu is NRP 500 to 700.
The cost of food is the same for a Nepali and a foreigner. Generally, you have to pay NRP 500 to 700 per dish while in the trek.
For overnight stays, they will charge from NRP 300 to 700 per room. This cost varies from place to place. The lodges provide basic accommodation facilities.
Carry your own refillable drinking water bottle. This will save you money from buying bottled water that costs NPR 200 to 500 per bottle. (If you are taking a refillable water bottle, make sure you get some water purifiers along with you.)
If you want to drink a Soda, a bottle of Soda costs NPR 300 to 500 per bottle.
Conclusion
Plan your trek with a registered local trekking agency in Nepal. (Read about us) Get an experienced guide. Get all your permits before you go. Contact us, we will take care of all the formalities.
Make arrangements for the trek. Get enough cash and you are ready to go on the Manaslu Trek. Always carry some extra money. You never know what might come along while you trek.
We wish you good luck! If you have any further queries on the Manaslu Circuit Trek Cost, feel free to contact us.